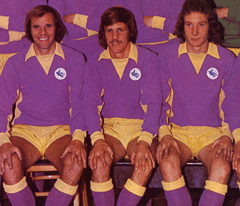 When you consider that I watch nearly all of the home games played by our senior, Under 21 and Under 18 teams, a claim like I've made in the title of this piece should be quite an accolade to those involved, but given that the senior team is the worst Cardiff outfit I've seen in terms of value for money and the Development side has forgotten how to score at Cardiff City Stadium, it's not really that impressive – 2014/15 is not a season that will linger long in the memory when it comes to the quality of football on offer unless we see a dramatic, and very unlikely, upturn in performance between now and May.
To be fair to the Under 18s, they've done their bit to keep the entertaining football flag flying this season, but, for a lot of the time, they've been fighting a lone battle – before today their matches with Brentford, Crystal Palace, Bristol City and QPR had all been good games of football and I'm afraid the seniors and Under 21s (who have been a very enjoyable team to watch in previous seasons) have not been able to manage that many between them.
Two of those four matches I mentioned were lost which proves that it doesn't need a City win for me to rate a match as being entertaining and/or enjoyable – I'm talking about a quality game of football.
So, it's not just for what must look the obvious reasons that I say that this lunchtime's 5-0 win over Ipswich by the Academy team at Leckwith was the most pleasing game I've seen a City team involved in over the last six months.
I was going to say that there has been a debate in recent weeks about the rigid and one dimensional long ball game being played by the first team, but that wouldn't be true because a debate by definition requires opposing sides to put their arguments forward and no one, not even Russell Slade, has been speaking in favour of the cave man football we've been playing.
So, while your team winning by five is always satisfying, I find it doubly or triply so when they do it by playing good, passing football completely removed from what we've had the misfortune to watch from the first team lately.
Before going on to talk about the game, I should, as always, offer apologies to any player or friends and family of a player who I may misidentify – without team sheets and names on players' shirts, it's very hard to  be certain that you are getting names right. So, bearing that in mind, I'll start by saying that the "number 10″ role has become very trendy lately or, to be more accurate, calling the player who is the creative link between midfield and strikers, a "number 10″ has become very trendy – the role, usually in central rather wide areas, is not a new one, but the name currently applied to it is pretty new (when someone like Paul Brayson or Jason Bowen played there ten to fifteen years ago it was called playing in the "hole").
Anyway, City have had two players vying for the number 10 role this season – most of the time, it's been filled by Jamie Veale, but Lloyd Humprhies has played there as well. I'm pretty sure I'm right in saying that both of them started today with Veale operating alongside captain Robbie Patten in a deeper central midfield partnership.
Having two "footballers" in your central three should mean that you will be trying to play in a way that will best utilise them and this is what City tried to do in an even first half on a pitch that wasn't exactly difficult, but hard and slightly bobbly, thus making a sure touch a requirement if you were going to be able to pass the ball well. By and large, City passed the ball slightly better than Ipswich during the first forty five minutes, but there was little to come from it in the way of an end product – in fact, apart from a shot that flew a couple of yards wide by left back Dylan Rees, I cannot remember a real threat on the visitor's goal as the game went into added time at the end of the first period.
City's lack of punch could be at least partly attributed to Ipswich's high work rate which denied the home side space in the middle of the park and on the flanks and it was the visitors who looked the more likely scorers for much of the time. In saying that, it wasn't as if they were peppering the City goal, but they were able to work themselves opportunities for first time shots from distance which meant that they were probably well clear in terms of goal attempts – none of them came close to troubling Joe Massaro in the home goal mind.
Massaro impressed though when he was quickly off his line to snuff out what looked to be a good chance for the visitors as one of their strikers burst on to a long ball around the half hour mark. I mentioned earlier that City had barely had a shot as the match went into added time at the end of the first period and yet, although Ipswich were offering little going forward as well, I found the game quite watchable because two evenly matched sides were putting everything into it – it was one of those matches where the first goal, if one was going to come, would be very important.
City continued to probe patiently, but one passing movement in which they kept the ball impressively for a long period ended when one of their centre backs passed straight to an Ipswich player and within seconds they were having one of those pot shots from distance that flew high and wide. This showed the dangers in playing like City were, but when the visitors lost possession in  a similar position about thirty seconds before half time, they weren't quite so fortunate as Abdi Noor took the ball down the right towards the byeline and then pulled back a low cross that was side footed home from six yards out by Eli Phipps.
Lone striker Phipps had done some good closing down work before that, but, overall, had not really featured much – however, give this young striker a chance and he invariably puts it away (he must have scored more than fifteen times this season by now).
So, half time arrived with City having got that first goal. Ipswich had good reason to feel hard done by given the way the game had gone, but, forty five minutes later, they could have few complaints about the outcome as City turned on the style to score four high quality goals without reply.
The first of these goals arrived about ten minutes after the interval when the ball was worked right to Humprhies who played a lovely pass out to City's right back who flighted a delightful cross for Phipps who made the yard he had gained on his marker count with a fine header into the corner of the net. City now began to play some lovely stuff with right winger Noor to the fore – first, one of his crosses looked set to provide Phipps with an easy opportunity for his hat trick until a desperate intervention by the Ipswich keeper who a minute or two later, did well to turn aside a shot by our number eleven after another good Noor cross.
Ipswich had responded positively to going two down as a cross flew dangerously close within seconds of the restart and a bit later, a well struck snapshot forced the impressive Massaro to make a flying tip over the bar, but the balance of the game had changed and, in complete contrast to the first half, it felt like there could be a goal every time City went forward. As Ipswich tired, City's clever passers in midfield were getting that extra little bit of time and space, with Humphries in particular coming into his own after a largely frustrating first forty five minutes.
With Patten yet again showing what a fine player he is at this level and Veale's neat touches becoming more of a feature, City were now dominant in the middle of the park and a third goal duly arrived when a Phipps' clever flick put Rees I think it was in down the left and his low cross was met by Noor on the near post to guide in another quality goal.
Ipswich's frustration at seeing a game they had been well in for so long slip out of their reach so conclusively boiled over after a very strong Patten challenge that the ref saw nothing wrong with and, for a short while, things looked like boiling over only for normality to be restored fairly quickly.
With Phipps and Humphries substituted, it looked like the game was meandering towards a quiet ending, but the last five minutes saw City again demonstrate the class they showed on the day with another couple of goals. I was a  long way away from these two efforts as I made my way towards my car, but I'm pretty sure it was our number eight (who I've been assuming was Veale) who got the first of them – whoever it was, it came from a powerfully struck shot from what looked like some way out into the top corner of the net and the scoring was completed when Noor I believe it was burst on to a through ball to slot home to send City into next week's match against Swansea in fine heart.
Everyone played well for City today, but, besides those I've mentioned already, I thought the centrebacks (Sam Williams and Ashley Baker I believe) both showed a promising blend of defensive solidity mixed with composed and constructive passing ability.
Finally, a very good lunchtime's work by City's youth teams was completed by another 5-0 win, this time for the Under 16s against their Ipswich counterparts.
* pictures courtesy of http://www.cardiffcityfc.co.uk/team/the_academy/