Five and a half years ago Lee Trundle and Alan Tate caused a furore after the Jacks had beaten Carlisle in the Final of some lower league tournament at the Millennium Stadium. Cardiff was told to "F*ck Off"  through a greeting on a flag the two Swansea players displayed and, ever since then, Trundle has faced the wrath of thousands of Cardiffians when he has played in the Welsh capital – until this afternoon that is. Trundle strutted his stuff and scored the first goal inside three minutes in Swansea's 2-1 win back in April 2006 in front of 42,000 spectators – today there might have been 42 watching as the man who was probably City's supporters greatest hate figure of the last decade, made his entrance at half time in the Development team's game with Neath and he flitted in and out of a game that his side lost 2-0, the term "how the mighty have fallen" springs to mind.
Trundle showed he still had the skills during a showboating half time warm up before his introduction and there were reminders of his talent during the game (notably when he forced City keeper Elliott Parish into a fine save with a well struck shot from twenty yards), but the fact that he barely moved outside a rectangle which covered a thirty yard channel from the half way line to City's penalty area and the width of the centre circle, rather gave the game away as far as his fitness levels were concerned. "Low key" might have been the best term to describe Trundle's latest, and probably last, game in Cardiff and to be fair to him and the smattering of experienced players in the City side, the setting for and circumstances behind the match were hardly inspiring.
The surroundings could hardly have been less like the Millennium Stadium as the game was moved from the hardly plush surroundings of Leckwith Stadium to the pitch across the way from it where the Under 16's play when the Academy team are at home. It was hardly surprising therefore that game took quite some time to warm up – Neath were probably the better team in the first half an hour as City struggled to put any moves of quality together apart from in the first minute when right back Jon Meades had a shot deflected narrowly wide. Parish was forced to make a decent save from the Neath centre forward, but most of the visitor's goal attempts in this good spell for them flew high and/or wide and, gradually, City began to warm to their task.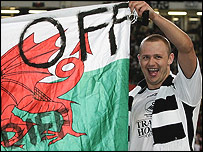 Ten minutes of home pressure was rewarded when Lee Naylor (who I thought did as well as anyone in the City team) hit a crisp left foot shot from about twenty five yards that I was right in line with as it left his boot – it looked to me as if the keeper should save it, but maybe he was surprised by the pace in the shot, because the ball seemed to burst through his hands as it flew into the top of the net. Trundle's introduction was one in a series of changes made by Neath at half time, whereas City decided to keep things as they were except for the fact that Meades and Adedeji Oshilala, who had been playing centre back, swapped positions and it was the Londoner who created the second goal around the hour mark with a fine run down the right as he beat two men and then chipped a lovely cross in which gave Jon Parkin a headed chance that he just couldn't miss. That was one of about twenty goal attempts by the Beast over the ninety minutes, the quality of which varied greatly, but there were a couple in either half which went very close.
How the score stayed 2-0 in the last twenty five minutes as play became much more stretched with tiredness setting in on both sides was a mystery – Neath had two or three shots fly just wide and deserved a goal for what was a competitive showing that kept City on their toes. If that sounds patronisng, it's not meant to be, because City were never able to completely dominate their visitors, but a bit more precision in the closing stages from a midfield that never really functioned that well, would have seen the margin of victory stretched to three or four as several promising situations were wasted by a careless final ball.
I've already mentioned Naylor as having done well and it's possible to see a way back into the first team for him, but I'm afraid that it was hard to escape the feeling that most of the other players with senior team experience such as Parkin, Dekel Keinan, Aaron Wildig and Soloman Taiwo would be better off out on loan somewhere. As for the youngsters, Meades and Oshilaja did best for me – again, I think the former is another who the club are looking to loan out, but the latter is the sort of "developing" player that can benefit from games like this, he is making good progress and must stand a decent chance of getting a pro deal at the end of the season.
flattered them slightly