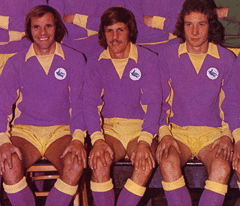 Well, I certainly didn't see that coming! Just ten days ago Cardiff City were booed off the pitch as they completed a thoroughly miserable November with their third consecutive defeat when struggling Ipswich capitalised on an abysmal second half showing by the home team to gain only their second win of the season. A battling 1-0 win over Preston on the weekend had gone some way towards turning things around, but City, with several key personnel missing, still headed up to the West Midlands to face West Bromwich Albion last night very much in the role of underdogs.
As well as having McPhail, Ledley, Bothroyd, Gyepes and Comminges missing for one reason or another, there were three players in the starting line up making their way back from pretty serious injuries and, when one of those three couldn't come out for the second half, a seventeen year old kid was sent on to make his league debut in central midfield. All of this was against the team standing second in the Championship who, with forty one goals in their nineteen games, were comfortably the division's top scorers – yet City went to the Hawthorns and deservedly won 2-0.
There is a cynical way of looking at what happened last night of course. Increasingly, the term "feast or famine" has been used to describe Dave Jones' Cardiff City side as they lurch between brilliance and bungling with, seemingly, nothing in between those extremes. Indeed, the first four months has seen awesome August followed by sad September, then overwhelming October brought on nauseating November – surely all the wins over Preston and West Brom show is that we will see a delightful December followed by a jittery January?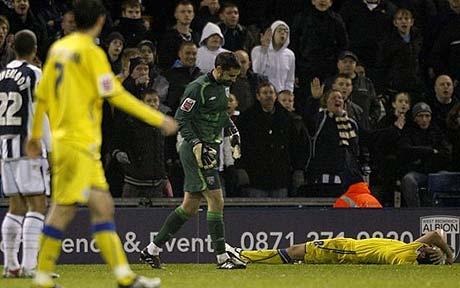 Well, leaving aside the fact that we are only a third of the way through our games for this month (so there is still plenty of time for it to become a dreadful December), there are at least some grounds for thinking that last night's marvellous win was a bit more than City having one of their flattering to deceive nights (incidentally, has anyone noticed how good our record in midweek games is this season – we've played eight times on Tuesday or Wednesday nights in all competitions and, apart from the defeat at Villa, we've won them all).
Certain things have been pretty much cast in stone during the Dave Jones years – for example, we tend to finish seasons poorly, we don't do well when we concede first and we nearly always play 4-4- f*cking 2. Despite plenty of speculation to the contrary, including from usually reliable sources, that we would see a change of system from City last night, our manager stuck with his favoured formation, but, in other respects, recent matches and in particular last nights, offered signs that the established order of things under Dave Jones may be changing a bit.
It was change for the worse against Ipswich when City fans like myself who relaxed after Peter Whittingham scored safe in the knowledge that we would get at least a point, because we never lose after going 1-0 up do we, got a very unpleasant shock, but last night offered up two matters which suggested that things are changing for the better.
Firstly, since around the time that Michael Chopra and Ross McCormack were paired together in the goalless draw with QPR last February, the received wisdom has been that we couldn't score in a brothel when Jay Bothroyd is missing. Up until last night, the facts tended to support the theory – City had scored three times in the five league matches that they have played since February without Bothroyd (he also missed eighty minutes at Doncaster) and they all came in the win over Barnsley at Ninian Park in March. However, although he was, apparently, poor playing in the target man role at Doncaster when he came on, I do think that Kelvin Etuhu can provide us with some of the power and strength we lack when Bothroyd isn't there – it's hard to come to any firm conclusions about Etuhu because he has played so few games for us so far, but I like the fact that he has pace and a fair bit of skill to go with his power and I am hopeful that he can make a real impact over the coming months.
The other theory disproved last night was the one that we don't have what it takes to win at the grounds of the better teams in the league. In the first four seasons under Dave Jones, we only won one match at the ground of a team that went on to get promotion at the end of the season and even that one came in October 2006 when we were were top of the league and we went to Sunderland and beat a side in relegation trouble at the time.
Now it might be that West Brom will end up doing what other relegated teams in Watford and Reading have done in the past two seasons whereby they went off like a train before Christmas and then ended up just stumbling over the line into the Play Offs, but I doubt that – I reckon West Brom are still good bets for an automatic promotion spot.
Mention of Watford and Reading leads me on to the real point I want to make. Two seasons ago we went to Watford when they were second in the table and conceded an equalising goal late in added time, we also allowed West Brom to come back from 3-1 down to draw with us thanks to an own goal conceded in the eighty eighth minute. At Reading last year we conceded another equaliser deep into added time, as we did at Birmingham, while we also led late on at Wolves and Burnley but had to settle for a point each time. I have long thought that this was no coincidence and have wondered if there was a lack of belief in the team that had them thinking that they weren't really good enough to go to the top clubs and win.
If such a lack of belief did exist then last night should have put an end to that because we not only got in front through the latest in a number of fine goals Chris Burke has scored for us this year, but then went on to score the late goal ourselves this time with Peter Whittingham's penalty after Scott Carson's assault on Michael Chopra – we were anything but flat track bullies last night!
One last thing, it's great to see another of our youngsters make a league debut and it's doubly satisfying that Aaron Wildig made a good job of the forty five minutes he had in front of a big crowd in a high pressure game. While it is too early to start thinking that we have unearthed another gem from our Academy, at least Wildig has proved that Dave Jones can call on him and he won't be intimidated by the situation – with McPhail and, possibly, Ledley missing for the foreseeable future and Ricky Scimeca needing to be eased back into the first team, having a youngster become available who has handled an occasion like last night with assurance is a real bonus.