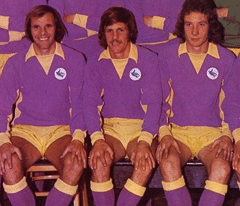 A game dominated by the antics of an inept referee brought to an end a very entertaining series of Quarter Final matches at the World Cup which saw South American powerhouses Brazil, Argentina and Paraguay all eliminated leaving a lucky Uruguay (who really should have been beaten by Ghana) as the only remaining representatives from that continent – so much for those who were telling us that the tournament would be an exclusively South American affair by now!
A developing theme of this World Cup which, for me at least, will not figure amongst the ones we all remember in a few years time, has been the almost total failure of world superstars like Kaka, Messi, Ribery, Ronaldo, Torres and Rooney to impose themselves on the tournament with only Ronaldo of those named finding the net – the matches involving Brazil and Argentina both saw them exposed as being collections of individuals as opposed to true teams by Holland and Germany respectively.
So was it a case of European pragmatism and discipline triumphing over South American flair and style? Well, not really, despite all the stereotypes about discipline, efficiency etc. this German team is a stylish and talented outfit which has played some great football while banging in goals left, right and centre. Spain (although not firing on all cylinders throughout the tournament) have far more attacking flair than the obdurate Paraguayans and a Dutch side, which has more steel than many of it's predecessors, still had the skill to match and then better the faltering Brazilians.
Uruguay can still ensure that it won't be an all European final because, unlike Brazil and Argentina when the chips were down, they have a structure and a team ethic backed by the ability of Forlan up front, but, without the suspended Suarez, they have to be big underdogs against Holland and with Germany seemingly going from strength to strength, Spain are going to have to up their game a lot if they are to keep their chances of adding a World Cup to their Euro 2008 triumph alive – it's a repeat of the 1974 Final for me and I'm edging towards another German win at the moment.