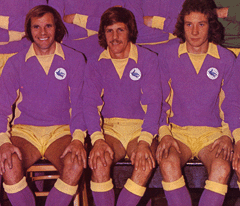 Someone asked on one of the messageboards following Peter Whittingham's goal at Coventry whether any other City midfield player had managed to score twenty goals in a season. I certainly couldn't think of anyone who had done that since I started following the club – Graham Kavanagh got sixteen in his first season with us in 2001/02, the great Ivor Allchurch managed forty three in his three seasons with us in the early sixties with fifteen in 64/65 being his best return and people tend to forget that Nigel Vaughan scored a total of thirty five times for the awful City teams of 84/85 and 85/86.
Gong back further than that there are players such as the Keating brothers Albert and Ron who scored twenty plus times in a season in the 30s, while left winger Albert Turner scored twenty times in 1937/38. Another goalscoring winger was Peter Hooper who got twenty four in 1962/63 (the season before I saw my first City match), but they are all eclipsed by the efforts of Jimmy Gill who scored twenty times in our first Football League season in 1920/21 and then followed that up with a further twenty six in each of the next two campaigns!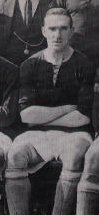 The thing is though, I think a couple of riders should be added to the figures I have just given – firstly, all of those totals include goals scored in friendly games and Welsh Cup matches where there were always the chance of easy goals to be scored. More tellingly, I would say that apart from Kav and Vaughan (who both played as advanced midfield players when scoring those goals) questions need to be asked as to whether the players named were midfield players or forwards.
For example, the research I did on Gill saw him described as an "inside forward" and it would appear that the same applies to the Keating brothers. If anyone under the age of forty is reading these ramblings of an old fogey, they might ask themselves what on earth is an inside forward – well, the term applies to the players who would always wear the number eight (inside right) and ten (inside left) shirts when I was a kid. I mentioned in my piece in this category for the Coventry match last week that the game was changing tactically in terms of the positions players took up in the 50s and 60s to something like the ones we now know, but my primary school team were still stuck firmly in the forties and fifties – I can say for certain that we used to have inside forwards because I used to be the inside right and I can confirm that I didn't have to bother too much about defending!
Although not out and out attackers like your centre forward (number nine), inside forwards were very much offensive as opposed to defensive players and so I would argue that the players I mentioned from the twenties and thirties who played in these positions would be thought of more as forwards than midfield players. In fact, with wingers not expected to do anywhere near the amount of tracking back that they do now, it's fair to say that the wearers of shirts numbers seven to eleven were all attacking players so, although some of those who saw Peter Hooper play might want to put me right on this, I would suggest that he and Albert Turner were not what we would now call midfield players – again, I believe they can be discounted when trying to answer the question about a twenty a goal a season City midfield men.
So, I would say that there hasn't been a twenty goal a season midfield player in City''s history prior to this season with the proviso that. for most of the first half of the club's Football league existence, midfield players as we now understand them did not really exist. The role of the current sitting midfield player would have fallen to one of the half backs who wore the number four shirt (right half) or the number six shirt (left half), but both of those players' main responsibilities tended to be defensive ones.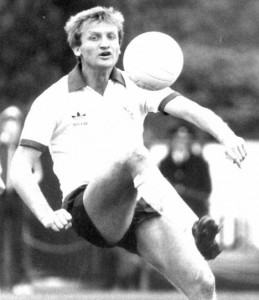 However, if you are looking for the City's highest scoring "proper" midfield player in a season then I would go for John Buchanan who managed eighteen goals in season 1978/79. Although Nigel Vaughan matched that figure in 1984/85, his tally included a couple of strikes against Methyr Tydfil in the Welsh Cup and another against the Aberystwyth and  District League (!!) in a pre season friendly – it's also fair to say that Vaughan played more like the old fashioned inside forward than Buchanan did.
Buchanan is remembered most of course for his thunderous shooting with the dramatic equaliser against Swansea in 1980/81 being one of Ninian Park's most fondly remembered goals, but his winning goal against Wrexham in the FA Cup in 1977 also showed him to be a cool finisher. Buchanan was to use both of these strings to his bow in scoring what was the best hat trick I had seen from a City player until Michael Chopra's trio against Leicester in 2007 when Sheffield United faced us in what was billed as a relegation four pointer (only two points for a win in those days) in April 1979.
While City's position just above the bottom three going into the game was much as expected, the same could not be said of the Blades who had invested heavily during the previous summer to try and put together a promotion winning team. Although not attracting anywhere near the publicity that Spurs got for their summer capture of Argentinian World Cup winners Osvaldo Ardilles and Ricky Villa, the capture of their compatriot Alex Sabella from River Plate for a then club record fee of £160,000 had pushed up expectation levels at Bramall Lane greatly – all of which made the subsequent struggles the harder to take for their fans. With relegation a real possibility, manager Harry Haslam brought in Welsh international left back Les Tibbott from Ipswich for £100,000 and Bruce Rioch (who had captained Scotland in the previous summer's World Cup) on loan from Derby just before transfer deadline day – with just one loss in their previous six matches, it looked like this had done the trick and they would move clear of the drop zone, but, with no defeats in their last four, City were also in useful form going into the game.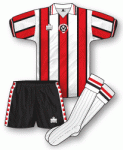 In the event, Sabella belied the image of foreigners not fancying the physical nature of the British game by being far and away Sheffield's best player as he gave a performance full of skill and commitment, but he got precious little support from his team mates as City put in a fine display to win 4-0. A Gary Stevens header opened the scoring, but Buchanan took over after that – if his typically powerfully struck penalty was fairly ordinary fare, his other two goals certainly weren't as a trademark bullet from twenty five yards was accompanied by a beautifully taken placed side footer from just outside the penalty area which made sure that his only City hat trick in a competitive game was a memorable one.
City's big win set them on the way to great finish to the campaign which saw them remain unbeaten as they reached the lofty heights (by their standards anyway!) of ninth whereas the Blades were thrashed 6-2 at Sunderland four days later as just four points from their last seven matches was not enough to keep them out of the last relegation place.
Actually, John Buchanan matched his eighteen goals in a season feat the following year, but seeing that eleven of them came in friendly matches (including eight in a game at Rhayader!), I don't think this should be held up as a challenge to Peter Whittingham's achievement this season. Although we all know that Whittingham is not the best defensively and he is not what you call a box to box player, he is a midfield player in a way which I believe that all of those I mentioned who have scored twenty goals plus in a season were not – Whittingham's achievement in scoring twenty one times, with eighteen of them in the league, is a tremendous one and, although the likes of Chris Burke and Jay Bothroyd will have their supporters,  he has to be our player of the season as far as I am concerned.
21 April 1979
Cardiff City 4 (Stevens, Buchanan 3 – 1 pen)  Sheffield United 0
City Healey; Jones, Roberts, Thoams, Sullivan; Dwyer, Buchanan, Bishop; Stevens, Moore, Evans; sub (not used) Grapes
Sheffield United; Conroy; Cutbush, Renwick, Kenworthy, Tibbott; Speight, Rioch, Sabella, Brown; Finnieston (Benjamin), Anderson
HT 2-0
Att. 10,592