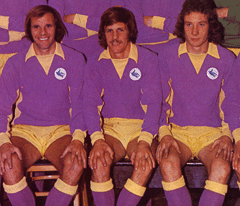 When even Wales' manager ask questions as to the relevance of last night's friendly with Sweden at the Liberty Stadium in one of his pre-match press conference then it's hard to get too worked up about the game and these musings of mine will reflect that – they will be, mercifully, short as I have to admit that the game was watched with much channel hopping and loss of concentration.
Anyway, based on what I did see when I was paying attention, the result looked about right to me. While Wales might claim to be unlucky to lose to such a fine finish from a striker who never looks like scoring when he is wearing a Bolton shirt, Sweden were just too clever for a young Wales team who were missing important players all over the pitch.
Off the top of my head, I cannot think of a more surprising absentee from this summer's World Cup than the Swedes – they are very hard to beat and have a discipline and organisation to their game which can often be enough for them to see off their supposed betters. Once that had survived a lively first twenty minutes or so from Wales, Sweden gradually choked any creativity out of the home side and it was all pretty comfortable for them once they had gone ahead.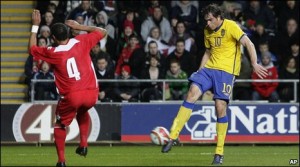 As is always the case with Wales, they had to take to the field with plenty of first choice players missing and I thought this was particularly so in midfield. There seems to be a common consent that, although Simon Davies was there last night, John Toshack wants a midfield including Edwards, Ramsey, Collison and Ledley for the upcoming qualifiers for Euro 2012 and when you consider that three of those were absent, then it's not that surprising that Wales created so little against such a solid defence. Although Edwards and Ledley both bring much to Wales in the middle of the park, it was Aaron Ramsey who was missed most, while I would also say that Ashley Williams' second match as the holding midfield player was not as successful as his first had been.
Of course, to have the four players I mentioned as well as a holding midfielder in there would probably mean Wales reverting to 4-5-1 and, if that was the case, then I think I would prefer to see another absentee, Brian Stock, who did very well in this role against Russia last September, used if he was fit – this would free Williams to play alongside James Collins in his best position.
On the Under 21 front Italy had a 2-0 home win over Hungary yesterday which leaves the table for their group looking like this – with Luxembourg having finished their fixtures, all of the remaining games see teams in the top four playing each other and, while Wales last two games, in Hungary and Italy, both look very tough ones, the fact that those two sides face a further three matches against Bosnia between them could well work in our favour.
Wales' last two matches will be played in early September at the time when the qualifiers for Euro 2012 start and you would like to think that the FAW will use the luck they have been given in being drawn in a five team group to their advantage in the early stages of the qualifying process. With five teams involved, there will always be one of them missing out when matches are played so you would like to think that the senior side will only be playing at most the once in that opening round of fixtures – this would help the Under 21's cause and, hopefully, mean that the seniors will play more matches with a fully fit Aaron Ramsey included.