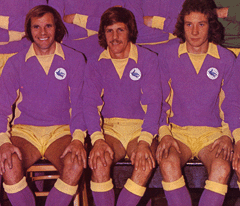 Two out of form sides and miserable damp conditions always meant that yesterday's match was never going to be a classic, but I found it one of our most satisfying of the season because we showed qualities that I was beginning to think that we no longer possessed in edging to a hard fought 1-0 win.
The match at Reading apart, every one of our victories had seen us playing quality attacking football that our opponents couldn't counter, but you cannot hope for success if you only win games when playing like that. Successful seasons are based on ground out wins exactly like yesterday's because no side can rely on being close to their best every week. Although we played well at times after the break, we were never that fluent and the win was as much down to character and spirit as ability – I have no problems whatsoever though with that, indeed, in an odd way, I am more pleased with yesterday's result than I was after the Derby game.
What the players have to do now though is show the same fighting spirit and application over a concerted period and not every once in a while as has been the case up until now. After three consecutive defeats and an absolutely appalling second half display last time out, it had reached the stage where they had to go back to basics to chisel out a win and, especially in this most competitive of leagues, hopefully the penny has dropped with some that for every one victory you gain by playing the free flowing stuff that saw off Bristol City and Coventry, there should be three where you match fire with fire and rely on a little bit of quality to see you through.
Quality was something  that was in short supply though in an even first half in which two poor sides cancelled each other out. The visitors probably came closest to scoring when Parkin's clever lob was superbly turned over by Marshall whereas, a Whittingham free kick apart, visiting keeper Lonergan was rarely brought into action as City's lack of confidence showed on the rare occasions they worked themselves into a promising position.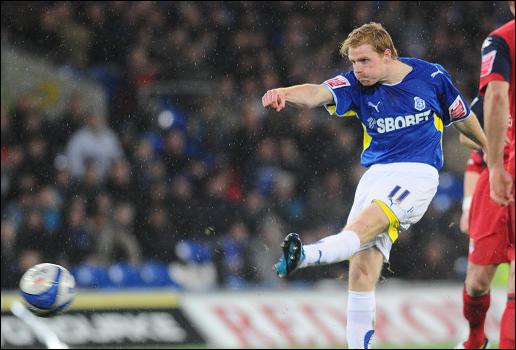 This was the case with Jay Bothroyd's wild effort after Marshall's quick distribution had set up a very promising counter attack as it had been when Michael Chopra fired wide in the early stages. Actually, the revelation that Chopra had been ill in the build up to the game means that I am not going to be as critical of him as I intended being, but an illness had nothing to do with the way he approached his chance. Early in the season he would have fired off his shot without thinking, but now there is that moments hesitation before he acts – where he used to rely on instinct, he is now having a moment's thought before acting and that is something that, for most of the time anyway, strikers cannot afford to do at Championship level.
The early signs after the break were that we were in for a repeat of the Ipswich debacle – Preston almost capitalised on City's pointless kick off routine and, from the subsequent corner, Parkin's header was cleared off the line by Kevin McNaughton. In mitigation, City were down to ten men for some time after half time after Anthony Gerrard went off with a head wound which eventually forced Dave Jones to bring on Mark Kennedy and switch McNaughton into central defence, but we were playing very poorly before that.
With us being a man short, it was understandable that keeping things tight would take priority, but things had an ominous look about them as the ball kept on coming back at us and I had only just said "I see he's fired them up at half time again" when, out of nowhere,the previously anonymous Chris Burke came up with his marvellous left footed match winner!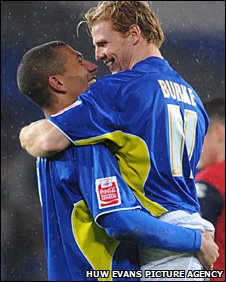 After that it was surprisingly easy for City to hang on to their lead and in truth, they could have extended it as Bothroyd, Burke, Whittingham and an impressive Ross McCormack  (on for Chopra) caused Preston's defence plenty of problems.
With Joe Ledley's injury (Dave Jones said it was a problem with his groin that forced him off, but, with all the furore last week about how fit Joe is, would he have admitted it was a hip injury even if it was one?) meaning that City had used all three subs by the sixty fourth minute, the side had a bit of a makeshift look to it in the closing stages and Preston made three changes of their own soon afterwards (the disappointing Paul Parry being one of the players withdrawn) as they looked to capitalise on the lack of height in City's defence.
However, with McNaughton showing the defensive qualities that have been much missed this season and Hudson continuing his good form of the last month, Preston's aerial bombardment proved to be something of a damp squib. City showed more of a willingness to push forward when defending a 1-0 lead than they had done in their last two home matches and the five minutes of added time were seen out in the right manner with us winning throw ins and free kicks high up the field.
Yesterday's win was primarily down to a solid team performance rather than outstanding contributions from individuals, but I must mention forgotten man Ricky Scimeca who made his first  start of the season. Scimeca didn't do anything spectacular, but his tackling and effective passing meant that our central midfield functioned better than it had done in our previous three matches and his experience and coolness was very handy in the closing stages. At the age of thirty four and with his recent history of injury and illness, I don't see Scimeca being a long or even medium term answer to our problems in the middle of the park, but, yesterday he showed people like me who had begun to think he was finished at Championship level that this was not the case – maybe the decision to award him another contract wasn't as daft as I thought it was!
However, despite the much needed feelgood factor provided by the win, perhaps the best news for City fans yesterday was that Dato Chan Tien Ghee (TG) was there, sat side by side with Peter Ridsdale, watching and, apparently, much enjoying the victory. Since it emerged on Monday that the club had, for reasons I cannot even begin to fathom, opted not to tell TG about the winding up order brought against them by HRMC, I have had a fear that this would lead to him and the other Malaysians pulling the plug on their planned investment into the club – given that TG was there yesterday with his wife, it seems safe to assume that this hasn't happened and so maybe the future for the club isn't as bleak as I was beginning to fear it was.