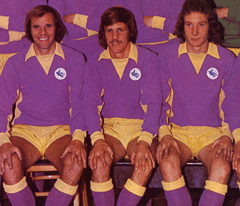 I've been trying to think of better away results in competitive matches for Wales than last night's 3-0 win in Haifa over Israel and I must admit I'm struggling to come up with many.
In the past, good Welsh qualifying campaigns have been founded on home performances – giants of European football such Spain, Germany and Italy have all come a cropper in this country and, going back a bit further, I can remember the Polish team which went on to finish third in the 1974 World Cup being beaten 2-0 in Cardiff and the 1976 European Champions Czechoslovakia being hammered 3-0 in Wrexham.
However, even in those qualifying groups when we almost made it to the Finals, it's tended to be worthy away draws to back up some of those excellent home victories that have helped take us close – away wins of any type, let alone against higher ranked teams, have been thin on the ground.
Thinking back, there was a marvellous 5-2 win in Slovakia in a meaningless qualifier for Euro 2008, a good 2-1 victory over Scotland in 2013 and our closest miss in recent years (Euro 2004) was founded on a 2-0 win in Helsinki over one of the better Finland sides, but I'd say you'd have to go back thirty years to come up with a game that may rival last night's.
In early 1985, a superb Ian Rush goal earned Wales what was thought to be very important away win. Once again, the victims were Scotland and what made this match different from the others I mentioned, with the possible exception of the Finland match, was that it involved two teams with realistic hopes of making it through the qualifying phase.
Of course, in the return match on the night Jock Stein passed away, another dodgy penalty for the Scots ensured that the 1986 World Cup became yet another tournament that was not graced by a Welsh team, but, after last night, you have to start thinking that there might, just might, be a different outcome this time.
It's hard to put into words as to why, but I was always pretty optimistic about the outcome of the game. Pre match reports about the relaxed attitude of the squad and management was encouraging and then the was the matter of the national anthem.
Now, I've got admit to being a complete hypocrite here, because, speaking as someone who sometimes bridles at things like the increasingly nationalistic coverage by the BBC in major sporting events like the Olympics and the importance given to medal tables, my attitude changes completely when Wales, and not the united Kingdom, are involved!
For example, Welsh gold medals in the Commonwealth Games are celebrated far more than British one's are in the Olympics and, my occasional moans at the playing of National Anthems at sporting events change to that feeling where the hairs on the back of your neck stand up if it happens to be the Welsh anthem that is being played.
Therefore, I took the fact that, for the first time in ages as far as I'm aware, all eleven members of the team were singing the anthem as a positive sign and also, with no sleight meant to Ashley Williams and Hal Robson-Kanu, I must admit that it was good to see nine Welsh born players in the starting line up.
I must add here mind, that the feeling of optimism I've talked about only really extended to a belief that we could get a draw, which would maintain our solid, but not really inspiring, start to the qualifying campaign, it never stretched to thoughts that we might get a win with style which must surely have left followers of one of our main rivals feeling pretty devastated.
The opening minutes saw Wales showing that the pre match confidence was not just an act as they looked to take the game to their opponents, while this was happening though, I was waiting for the inevitable Israeli response.
While Israel are, historically, hardly a footballing powerhouse, their first three games strongly suggested that this was one of their most powerful teams. Having started with a win in Cyprus (no mean feat at all) and then coped with Andorra's awful artificial pitch far better than we did, a 3-0 win over the Bosnia side we were pretty happy to draw with in Cardiff was a surely a sign that we were in for an examination almost as hard as the one we had faced in Belgium.
I waited and waited, but there was no stepping up of pace or pressure from Israel – to be fair, they will point to the fact that they had to play more than a third of the match with ten men and to the injury that forced their top scorer Omer Damari off just before half time, but the truth is that the writing was well and truly on the wall for them before then.
That was the real surprise about last night's events for me – although I wasn't expecting a win, I could envisage that we may get one, but it never ever occurred to me that we would do so with such comfort.
3-0 really didn't flatter Wales – there were more goals there for them if they had needed them and I believe that last night offered evidence that if our "big three" are all fit and firing we can give any team in this tournament a serious test.
The identity of two of that big three I talked about will come as a surprise to no one, but maybe the inclusion of Joe Allen will do. However, Joe Allen playing as well as he has been doing in recent weeks for Liverpool is a good quality Premier League player and that's what he looked yesterday as he tidied up defensively and kept things ticking over in midfield – I thought he was our best player overall.
Aaron Ramsey showed some classy touches (his goal was another example of what a good all round footballer he is – heading wouldn't be seen as a forte of his, but it was a lovely finish that couldn't have been bettered by a Toshack or a Rush).
It was Gareth Bale who the Israelis really struggled to cope with though – he made Eylan Tibi's life a misery and it was almost a merciful release for the defender when he was shown a red card by the very good Serbian ref Milorad Masic for a second cautionable offence against the world's most expensive player.
Rather than jeering him, Real Madrid fans (who make City fans look like amateurs when it comes to being fickle!) should maybe be demanding to know why he takes so few free kicks from outside the area for them. Yesterday's effort was from a position that the pros regard as being difficult to score from because there is so little room to get the ball up over the wall and down under the crossbar, but Bale managed it comfortably – perhaps he should start giving lessons to Cristiano Ronaldo who is going through a Whittingham like drought when it comes to scoring from free kicks!
Ramsey and Bale combined well for the third goal, but, especially in the latter's case, you feel there is more to come from them in this qualifying phase. There was some evidence that Bale's confidence has been affected to some extent by the stick he has being received from "fans" of his club, but this still didn't stop him from being the most dangerous attacking player on the pitch by a distance.
It would be wrong to think that Wales were so good solely because of their "big three" mind. With just two goals conceded in five matches, Wayne Hennessey, Williams and co are, obviously, doing their jobs very well and Robson-Kanu has ensured that Sam Vokes (who made his first Welsh appearance in a year when he came on, and almost scored, for the last twenty minutes last nigh) was not missed as much as he could have been, while there is a maturity to Joe Ledley's play these days which I believe has come through playing regular Premier League football.
It would be wrong not to mention Chris Coleman as well – in one way, he is a lucky man to be in charge of this group of players, but I liked his more attacking approach last night and, for me, he's got our tactics spot on in our last two games.
Wales now top the group with eleven points, but with Israel taking on Belgium in Jerusalem on Tuesday in what will be real indicator of how much this loss has affected the home team, only a draw in that match will keep us in that position. The Belgian's 5-0 home win over Cyprus and Bosnia's 3-0 win in Andorra following our game means that the two favourites to qualify automatically originally are still in the hunt with the first named still the favourites to finish up winners in my book.
However, Wales now have a great chance of getting through automatically as well – with half of the matches played, it's all in their hands. For the first time, I can see a chance of a win against Belgium in our next match, but I'd still make it the least likely of the three outcomes, Cyprus away will be awkward and I won't be taking a win for granted, but, the nature of their defeat yesterday will make it tough for Israel when they come here. Bosnia away will be a stern test and I'd take a point now if it was offered, while Andorra at home is as close as you'll get a guaranteed three points in this tournament.
Even taking a pessimistic outlook, I can see us getting seven points from those games which would put us on eighteen points and leave Bosnia (who have to go to Belgium) and Israel (who travel to Bosnia, Belgium and Wales in their final six matches) needing to play very well to overhaul us.
* pictures courtesy of http://www.walesonline.co.uk/