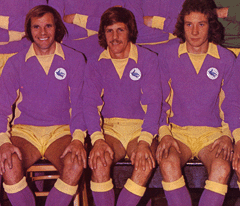 Snappy title eh?  Answers tomorrow as usual.
60's. Which unfortunately named goalkeeper played for us in our 5-1 home win over Reading in September 1962?
70's. City drew 1-1 at First Division West Ham in 1971/72, who was the full back who made his debut for the club that night and who was our rather portly goalscorer?
80's. Another question about debuts, name the £100,000 signing who made his first City appearance in the First Leg of a 2-1 aggregate win over Chelsea in 80/81.
90's. City were beaten 3-0 at home in the First Leg tie with Southampton in 95/96, can you name the on loan Wimbledon player who started for us in this match?
00's. The Spurs team which beat us 1-0 in 2002 had two Welsh internationals in their starting line up as well an Irish international who was strongly linked with a move to Cardiff less than a year later, name these three players.
10's.The Peterborough side which beat us 2-1 at London Road in 10/11 included one player who is now on our books and another who is a self proclaimed Cardiff City fan, can you name them?
Answers
60's. Maurice Swan.
70's. Ken Jones and Alan Foggon.
80's. Peter Kitchen.
90's. Gerald Dobbs.
00's. Simon Davies, Ben Thatcher and Gary Doherty.
10's. Joe Lewis and Aaron Davies.