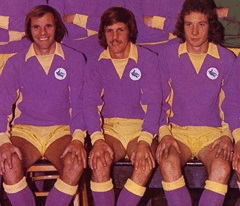 Six Wolves related questions before our top of the table clash with them – I'll put the answers on here tomorrow.
60s. Can you identify this Wolves player, who shares a surname with a current Wanderer, from this decade from these clues?
This locally born forward spent eight years at Molineux before his career took a very strange turn in 1962. At that time, transfer-listed players who would have commanded sizeable fees when moving from one League club to another were able to drop into non-League on 'frees'. So it was, that a bunch of Essex boys, bankrolled by a wealthy chairman eager to get his club into the Football League, were able to bring in a player Wolves were asking £22,000 (probably around £10 million by today's valuations) for, despite interest from West Brom, Watford and Cardiff.
The non League club also spent big to bring other established Football League players in with the plan being that they would romp to the old Southern League title and make it impossible for them to be ignored when the ninety two League clubs would vote as to whether any of the quartet of teams at the bottom of the Fourth tier should be replaced by a club from outside the structure under the old re-election system.
The trouble was that the League went on to vote to outlaw any club who had signed players in this fashion and disqualified them from making application for membership for five years – as it was, they fell well short of winning their own league title anyway!
Our subject's next move was a short one to a London club, who were beaten 6-1 this week, with whom he made a return to Molineux during his new team's only season in Division One/Premier League, thus completing a possibly unique First Division, non league, First Division career journey over a period of one year!
70s. The player seen scoring in the photo below was never a regular first teamer with Wolves, making exactly one hundred appearances, in which he managed a scoring rate of very nearly a goal every four games. in his six years at the club. He later played for a team based in Norfolk County and then for the blue and white half of what is a bitter rivalry with some claret and blues, but who is he?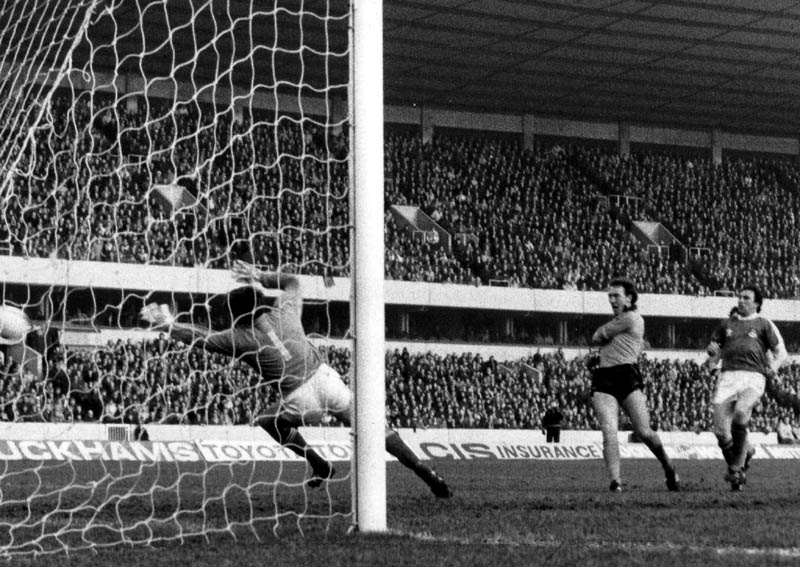 80s. A convoluted one this! What links Wolverhampton Wanderers with a song written by Scott English and Larry Weiss which reached number fourteen in the UK charts fifty years ago, Leigh Centurions Rugby League Club and a band which released only one recording, an EP, and played a single concert (at Keele University in 1981), yet one of their tracks reached number three in the American charts when it was re-released in 1985?
90s. Making his debut for the club in a 4-0 win over Swansea (he would later have a loan spell with the jacks), the midfielder pictured below was a regular in a Wolverhampton side we recorded two high scoring victories over as both sides were promoted from the old Division Four. Although all of this occurred in the eighties, the bulk of his more than three hundred appearances for Wolves came in the following decade. Eighteenth times capped by his country, he finished his career in non league football with Hereford, but who is he?
00s. Wolves won at Ninian Park nine years ago on their way to winning the Championship and their side that night included someone who played against us this week, someone who has scored in the Premier League this season and someone who scored a midweek Championship goal, can you name them?
10s. Which member of the last Wolves squad we faced, who was once accused by his manager at one of his former clubs of getting himself sent off on purpose, is now playing for Oxford United?
Answers.
60s. Bobby Mason, who dropped down four leagues to play for Chelmsford City and then made the return journey when he joined Leyton Orient.
70s. Norman Bell, who played for New England Tea Men (based in Foxborough, Norfolk County, Massachusetts) and Blackburn Rovers.
80s. Hi, Ho Silver Lining (adopted as Hi, Ho Wolverhampton by Wolves fans) written by Messrs English and Weiss and performed by Jeff Beck is played before games at Molineux and Leigh Centurions. Beck was a member of the Honeydrippers, along with huge Wolves fan Robert Plant and the likes of Jimmy Page and Brian Setzer (formerly of the Stray Cats) – their version of Sea of Love was a top three Billboard hit in 1985.
90s. Robbie Dennison.
00s. Richard Stearman started for Sheffield United on Tuesday, Steven Ward scored for Burnley last weekend in their win at Chelsea and David Jones equalised for Sheffield Wednesday in their 1-1 draw with Sunderland on Wednesday.
10s. Mike Williamson, after a 3-0 defeat at Leicester on their way to relegation in 15/16, former City player and Newcastle manager John Carver accused him of getting a red card on purpose.