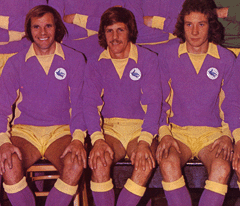 Six questions about West Ham, answers on here tomorrow;-
60's. City played West Ham twice in three days over Easter as they unsuccessfully fought relegation from the First Division in 1961/62. The first game was lost 4-1, but the return game at Ninian Park was won 3-0 in front of just 11,274 fans. City's scorer at Upton Park was a Neath born winger who has contributed to this blog on occasions, while in the home match, their goals were shared by a couple of Barry born forwards – can you name all three players?
70's. Name the West Ham player who was hospitalised after drinking bleach from what he thought was a lemonade bottle following the 0-0 draw between the clubs at Ninian Park in May 1979.
80's. City avoided relegation by drawing 0-0 with West Ham in May 1981, their squad that night included six Welshmen – three of them started in the back four, another defender came on as a sub, another one was a midfield player who could also play left back and the last one was a winger cum striker, can you name them all?
90's. West Ham only had four managers during this decade, the first was a former Scottish international midfield player, while the other three were all former Hammers players – one is still in management and is currently in charge of a Championship club, another is something of a club legend having appeared 663 times for them and the third, who played in midfield for the club over three decades was appointed caretaker manager for just one game, can you name the four men?
00's. Two players got their first City goals in our 4-1 win over West Ham in November 2004, can you name them?
10's. Name the winger, capped more than fifty times by his country, who made his only appearance for West Ham that season when he came on as a sub during our win at Upton Park on the opening day of the 11/12 campaign – one of only fifteen that he made in all for the Hammers.
Answers.
60's. Tony Pickrell in the away game and Derek Tapscott and Dai Ward with two in the home match.
70's. Pat Holland.
80's. Phil Dwyer, Keith Pontin, Linden Jones, Rod Thomas, John Lewis and Tarki Micallef.
90's. Lou Marcari, Harry Redknapp, Billy Bonds and Ronnie Boyce.
00's. Joe Ledley and Jobi McAnuff.
10's. Pablo Barrera of Mexico.