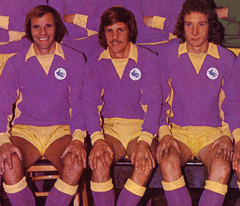 Six Spurs related questions, answers on Saturday.
60's. Crews Hill golf course became relevant to Spurs during this decade, why?
70's. Which Spurs FA Cup Final goalkeeper played Second Division football at Ninian Park in 1977 and how many goals did he let in? Also, who was the only Tottenham keeper to have played for them in a league match in Cardiff in the half a century before their visit in September of last year?
80's. My recollection is that in 86/87 Spurs became the first Football League side to use this now common tactical ploy – what am I referring to?
90's. Two Spurs players from this decade for you to identify;-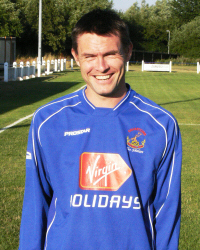 This midfield player was capped at Under 21 level by the Republic of Ireland and was once a Premier League record holder (youngest goalscorer at that level). He went on to play for a host of other league clubs including Portsmouth and Rotherham before heading into non league football – his final club was one with a strong Cardiff City connection (the photo above was taken while he was with them).
 His only league match for Spurs came in 95/96, he was very much involved in one of the most memorable days in City's fairly recent history and played in the Football League earlier this week.
00's. The closest City came to scoring in the 0-0 draw between the sides in the Third Round of the FA Cup in 06/07 was when Michael Chopra shot wide when put clean though on goal, who supplied the pass which opened up the Spurs defence?
10's. On a similar theme, whose pass was it that put Fraizer Campbell in on goal in an incident which, arguably, should have seen Hugo Lloris red carded for handling outside the penalty area during the match with Spurs earlier this season?
Answers.
60's. It was where Spurs' Scottish midfield player John White was killed at the age of just 27 in 1964 when he sheltered under a tree during a lightning storm.
70's Milija Aleksic played for Luton in the famous match in April 1977 when Robin Friday gave him a v sign. He let in four that day, but did better six months later when Luton won 4-1 at Ninian Park.
80's. Clive Allen scored 49 goals for Spurs in 86/97 and for much of that season he was used as a lone striker in a 4-5-1 formation.
90's. The first player is Andy Turner who ended his career at Chasetown and scored the winner for Spurs in 1992 in a match with Everton at White Hart Lane – at the age of 17 years and 166 days.
The second one is Chris Day who was in goals for QPR in the Play Off Final in 2003 and kept a clean sheet for Stevenage against Crewe on Tuesday.
00's. It was a back pass by Spurs' South Korean left back Lee Young-Pyo.
10's. Another poor back pass, this time by Kyle Naughton.