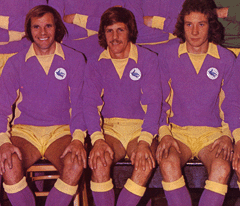 "Who is Cardiff City's best manager of the last fifty years?" – that's a question which would have taken some answering a while ago, but not any more. With Mo Farah winning another gold medal on the weekend, I'm going to use the analogy of a 10,000 metre race to answer the question I posed – Malky Mackay is hearing the bell as he laps second placed Jimmy Scoular on his way to an easy victory.
That's some claim given what Scoular did at Cardiff in league and Cup Winners Cup, but, for me, Malky Mackay has brought levels of professionalism, attention to detail and clever media relations to the club that no one else can match. All of those things wouldn't count for a great deal if there weren't the results there to back them up, but in taking a hastily put together side to Wembley where they were only denied a major Cup win by a penalty shoot out loss and then running  away with the Championship last year, Mackay has simply blown the competition away.
Those first two paragraphs should surely get across how highly I rate our manager and so I hope what follows here won't be viewed as an attack on him in any way, it's just my way of outlining one or two concerns I have about Malky's approach to the coming season.
To go back to an athletics theme for a moment, City's domination of the Championship could be likened to a distance runner whose lead is so big that they have the luxury of enjoying the reception they get in the home straight, while, some distance behind them, other competitors frantically battle it out for the silver and bronze medals. The fact that City needed just one point to clinch their promotion from their final four matches shows that, despite the jitters caused by previous failures that supporters like me suffered from at the time, it was all pretty comfortable for the team. However, the side which led from November to May were not so dominant in the goalscoring stakes – fourth placed Watford scored thirteen more than them and fifth placed Palace also scored more times. City's total of seventy two league goals was not to be sniffed at (in fact, it was more than QPR and Reading managed in winning the division in 10/11 and 11/12 respectively) , but with so many of them coming from set pieces, I would argue that we didn't have the aura of Champions when it came to scoring goals, or creating chances, in open play.
Before continuing with the point I'm making, I should say that I believe that by managing to get three players into the club in Gary Medel, Steven Caulker and Andreas Cornelius who I would have given us absolutely no chance of signing back in May, I think enough has been done now by Malky to prove supporters like myself, who urged the more cautious approach when it came to our transfer dealings of aiming for more "realistic" targets, wrong  - the ambition shown by the club has paid off and I'd like to think that the three players I mentioned will all prove to be excellent signings.
That said, I must admit to a couple of concerns going into the new season. There's not much that Malky could do about the first one – it's entirely down to a fixture computer which handed us seven very tough home games to start the campaign off with. Many pundits are talking about the importance to our survival hopes of turning Cardiff City Stadium into a fortress in the coming months, but it will be virtually impossible to do that with Man City, Everton, Spurs, Newcastle, Swansea, Man United and Arsenal all due here before December. I think that  a point a game would  be a good return from these matches, but it could easily turn out to be quite a bit less than that and if that happens, it's going to, firstly, be very tough to get the away results to compensate and, secondly, even though home fixtures look a lot more winnable from December onwards, the damage might already have been done in terms of confidence at Cardiff City Stadium.
My second concern takes me back to creating chances from open play. So far, we've made five signings, a goalkeeper, a right back who will, hopefully, give us a bit more of an attacking threat from that position if he can establish himself in the team, a tall centreback, a midfield enforcer who goes by the nickname of "Pit Bull" and a six foot four striker. I accept that the outfield signings we have made are not all just one dimensional players, but it does seem to me that, so far, we are strengthening in the sort of areas where we were strong already – i.e. defensively and in terms of attacking and defending set pieces and not really improving the squad in areas where we were, relatively, weak.
It has to be said of course that all of the above would be much more relevant if it were being written on 3 September after the transfer window had closed and we were facing up to four months where we couldn't improve a squad which looks short on creativity and guile to me – Malky still has time to rectify what I see as a bit of an unbalanced squad and the rumours linking us with players such as Jefferson Montero and the bid for Tom Ince suggests he is going to try to do that – will he stop at just one "flair" player though? I hope he doesn't.
Every team in the Premier League (including the two who came up with us) are capable of dominating their games with us and testing the resolution, organisation and tenacity that formed a big part of our success last season, but, by the same token, there are about twelve or thirteen sides in the division who I would like to think we could do the same to on a good day. Those teams will be better at defending set pieces than the opposition we've been used to facing and, although we'll probably be able to score our fair share of goals from them, it would be unrealistic to expect us to be anywhere near as successful as we were in 12/13 from that aspect of the game.
So, in an effort to make up for the dead ball goals we will probably be losing, does the manager who, rightfully, made much of his knowledge of the Championship as he put together a side which, mostly, ground their way to the title change tack in an environment that he is much less familiar with (aren't we all!) and do the same as Lennie Lawrence did ten years ago when a team which were hardly fluent in gaining promotion were transformed into an exciting, attacking outfit in their new setting or does he go for more of the same? My instinct is that Malky the pragmatist will look to keep things tight and rely on three or four players to come up with the creativity which might make all the difference in those games where we get on top.
Much as I'd like to see him go down the more adventurous route, City fans don't say "in Malky we trust" for the benefit of their health – our manager has earned the right to be trusted by all of us over the past two years and whichever way he goes, he'll have my support. More importantly, I'd like to think he's done enough already to ensure that he has the backing of the club's Board for the whole of this season even if things don't go as well as we all hope they do.