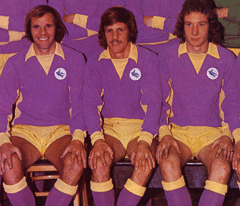 I think I am right in saying that all of my recollections of previous matches on here have been of games played at Ninian Park. There are a couple of reasons for that, firstly, there are so many more games to pick from compared to ones I saw away from our old ground, but, more important than that, there is  a higher chance that anyone reading about it, who is old enough, will have seen the match themselves. I'm going to break that habit today though because I am going to talk about the away game in which I first became aware of the true nature of the Cardiff/Swansea football rivalry – I saw Ronnie Bird miss a penalty that day as well (a unique event in his Cardiff City career).
I am from the generation which, I believe, have the biggest problem in accepting all of the hype that goes with the South Wales derby because, deep down, I do not see Swansea as our main rivals – I am not saying that all City fans around my age feel that way, but I think it's fair to say that a significant proportion of them do. I can fully appreciate that younger City supporters, as well as those who have followed the club since before the early sixties when I saw my first game, will have trouble understanding this, but the simple fact is that we never played Swansea enough during my formative years for them to have that much of an impact on me.
On 20 April 1970, City played a Welsh Cup Semi Final replay at the Vetch Field – I had been supporting the club for nearly eight years by then, but, from memory, I had only seen us play the Jacks twice (both times in the Welsh Cup), whereas I had seen us play Bristol City on seven or eight occasions. Because of this I regarded the English club (who are the same distance away from Cardiff as Swansea is) as our main rivals and still do. However, looking back, there were clues in those two previous matches as to the intensity of feeling between Cardiff and Swansea when it came to football if I had bothered looking for them. In the first, in 1966, City were strolling to a win at 3-0 up when Don Murray and Swansea's Jimmy McLaughlin got involved in a brawl the like of which I had not seen before (and I'm not sure I've seen since!) – both players were sent off and, incredibly, Swansea came back to win 5-3. The second match had taken place six weeks earlier at Ninian Park and had finished 2-2, but a crowd of 18,060 (which was around the level we were getting for league matches at that time – Welsh Cup matches generally tended to attract crowds about a third, or less, of the size of our league attendances) and this gave a clue towards how City supporters out of my age group felt about this derby match.
I had been to three away games before this one. In the first of those (at Fulham in 1968), my eagerness to get to the game above all else resulted in my uncle and I being stood on the terraces at Craven Cottage about an hour and a half before kick off – this meant that we were able to watch a group of City fans "take" the Hammersmith end of the ground opposite us only to be inevitably followed by the shenanigans that arose as the home supporters started to arrive. I can also remember my father's shock and annoyance at the damage caused by City fans to one of the coaches on the train which we returned from a game at Oxford in a year later, so it wasn't as if I was unaware of the possibility of trouble at City games, but, even so, what I saw in Swansea that day was something of an eye opener.
England's defence of the World Cup in the summer of 1970 meant that the domestic league season finished unusually early that year and so the game took place on a Saturday. If this hadn't have happened, I doubt it very much if my parents would have given me permission to join the group of about ten of my schoolfriends who were going to the game. We travelled to Swansea by bus and even before we got to the coach station we were seeing groups of Swansea fans "welcoming" us. Once we got to the station, there were what seemed to be stacks of Swansea fans about and it was obvious that their intentions weren't friendly. Some of the City supporters on our bus weren't backward in coming forward either and it wasn't long before there were scuffles breaking out all over the place.
Our group were all in the thirteen to fourteen age range so were too young really to get involved that much and, anyway, bar one or two exceptions we just weren't into football violence at all. Because of this, we had little bother in sticking to a maxim which I followed throughout the next couple of decades in the days when I was a pretty frequent away supporter – if you don't look for trouble it doesn't tend to find you. Therefore, while the mayhem was going on around us, the large majority of us, just went quietly into a nearby cafe and had our lunch while we waited for the police to disperse things with the result that we had a completely trouble free walk to the ground about half an hour later.
Maybe my memory is playing tricks with me, but I think this game saw my first experience of crowd segregation as I seem to remember that there were City fans all around me in the old double decker stand at the Vetch, but, even so, I could still feel a hostility towards the City team from the packed ground which I had not experienced before.
As for the game itself, well, although there were two divisions between the sides at the time, the first match at Ninian Park had been evenly contested. As well as that, City had finished their league campaign in poor style with just three wins from their last ten games as their promotion bid tailed off in disappointing style to see us finish seventh – furthermore, John Toshack, who had started the season in great goalscoring form, was now going through a drought which had seen him not score a league goal since January and so he found himself dropped to the bench.
After the adrenalin rush of a couple of hours earlier, the game seemed something of an anti climax as the two sides largely cancelled each other out in the first half and I remember that we entertained ourselves keeping a running score on the number of times Dave Carver booted the ball out of the ground – I think we needed more than the fingers of one hand to count them! Playing toward us in the second half though, it felt like City were gradually getting on top and their pressure was rewarded with not much time left when they were awarded a penalty for a foul in the box.
In those days, City being given a penalty was virtually as good as them being awarded a goal because Ronnie Bird (who I always find it hard to separate from Chris Pike for the award of the best penalty taker I have seen at the club) never missed. This week has seen Gareth Bale hailed as the best left sided player in the world, but Ronnie Bird was doing much the same as Bale did against Inter Milan on Tuesday forty years ago – that is knocking the ball past his full back and then beating him for speed. Where the Bird/Bale comparison tends to break down though is in what happened when Ronnie got past the full back because his delivery tended to go spectacularly wrong on occasions!
If Ronnie was something of a hit and miss footballer who maybe could have done with a cooler head at times, this certainly didn't apply to his penalty taking. He took some real high pressure spot kicks during his time with us, but never let the pressure get to him. There wasn't much wrong with his penalty this time either, it was placed towards the corner of the net, but Welsh international keeper Tony Millington (who I remember as being a great shot stopper, but dodgy on crosses) sprang to his right to make a brilliant save.
The only penalty miss of Ronnie's City career meant that the match went into extra time, but it was somehow typical of the man that he put things right shortly afterwards when he scored with a shot from outside the penalty area (Ronnie's long range shooting tended to be a bit variable, but when he got it right he was capable of scoring some spectacular goals – I would rate only John Buchanan and Graham Kavanagh rate above him in that department as far as City players I have seen are concerned). Peter King added a more straightforward second goal in the dying moments and City were through to another Welsh Cup Final which would see Ronnie score in both legs as they completed a routine 5-0 aggregate win over Chester.
Ronnie Bird was the City player who had to step aside when we signed the superb Ian Gibson that summer and the 1970/71 season proved to be his last with us as he moved on to Crewe Alexandra, but, like so many of our team from that era who were not locals, he settled in this area and I can remember having my hair cut by him in his barber's shop on Churchill Way in the mid seventies. However, it was as the landlord of the Golden Cross and the Romilly that I got to know him fairly well during the eighties and the nineties and I can remember him saying ruefully that he got asked about his penalty miss against the jacks by City fans more than any other incident in his career with us when I happened to bring it up one evening.
Ronnie went on to be employed by the club on the hospitality side and also did a summarising job during match commentaries on their official site at times, but having, seemingly recovered from Leukaemia first contracted in 2003, he suffered  a relapse two years later and passed away on 20 March at the much too early age of 63 – you get used to people saying that they never heard anyone say a bad word about a person who has just died, but, in my experience, this really was true about Ronnie Bird who was a modest, decent man with a ready sense of humour.
25 April 1970
Welsh Cup Semi Final replay
Swansea City 0 Cardiff City 2 (after extra time)
City Davies; Carver, Murray, Harris, Bell; Lea (Toshack), Sutton, King (1), Bird (1); Clark, Woodruff
HT 0-0
Att. 16,000