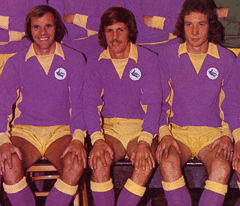 I'm not going to say much about last night's Week In Week Out programme for a couple of reasons. Firstly, because it didn't really add anything new to what anyone familiar with Cardiff City messageboards in particular are already aware of and second because there was a game played last night and, speaking as someone who is heartily fed up of all the financial talk which has become a staple diet of Cardiff City fans over the past six years, I would much rather concentrate on that rather than our Chairman talking himself up yet again.
However, seeing that he has been acting completely out of character by barely speaking in public since the turn of the year, I suppose what he had to say deserves some comment, so here are two observations regarding his interview in the programme;
1. Prefacing something with the words "I have already told you" doesn't make what you say any more true (especially when you have "previous" like Mr Ridsdale).
2. Our Chairman thinks the last four and a half years have been "remarkably successful". Well, as I look out on a current Cardiff City landscape that sees players dropping like flies from our paper thin squad as injuries mount, others (who would surely be rested from games at other clubs given their condition) barely managing to complete matches, my club facing a winding up order in three weeks time for non payment of taxes after having paid back only just over a third of the original £2.7 million owed, supporters angry at being exploited by their club over a season ticket deal which contained promises that the club, surely, knew they couldn't keep, a debt of £33 million and some non footballing staff being ridiculously overpaid, I find myself thinking "Yes, we truly have never had it so good" – I'm being sarcastic there by the way just in case anyone thought I had taken leave of my senses.