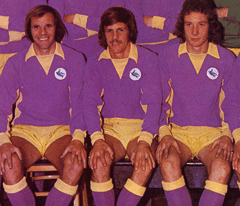 Coventry City must be heartily sick of Cardiff City after suffering their sixth consecutive defeat against us at Cardiff City Stadium yesterday. City have scored twice in all six of those matches, but, the three played in Cardiff have seen them lucky to escape without conceding two or three times that figure. The main reason why yesterday's defeat was no worse than 2-0 for the Sky Blues was the magnificent display by their highly rated keeper Keiron Westwood who pulled out half a dozen top quality saves as you sometimes got the impression that he was playing us on his own.
Older supporters may remember a goalkeeping masterclass that Rotherham's Tom McAllister put on in a 1-1 draw at Ninian Park during our 1975/76 promotion season which I have always rated as the best performance by a goalkeeper that I have seen in a City match – Westwood might not have quite hit those heights yesterday, but I think I wouldn't use up all the fingers of one hand when I tried to think of better ones. Although I didn't have the best view of it because I was side on to the action, Westwood's best stop looked to me to be the one he made in the first half from a close range Michael Chopra effort simply because he had so little time to react to it, but two others from the same player, a couple from Craig Bellamy and one from Chris Riggott were all candidates for that award.
I wouldn't be surprised if there were other fine Westwood stops that I have forgotten because City's dominance was so complete that they had nineteen efforts at goal, ten of which were on target (must admit, it seemed like more than that at the time) in an overall performance which I would rate as our most complete this season. Yes, Coventry did have a five minute spell in the second half when they did look a bit of a threat, but, unlike against Doncaster, Leeds and Norwich in other matches where we have played well, there was never a stage where I thought our opponents were on top.
Every match has two perspectives to it though and, understandably, Coventry manager Adie Boothroyd sought to look at his own side's deficiencies rather than his opponent's qualities. Boothroyd said that his side didn't get going for the first fifty five minutes or so and seemed to pay us too much respect – although I've not seen enough of them to comment too much on this, a glance at the league table suggests he might have a point. Coventry are still in the Play Off positions (albeit having played more matches than most of the teams around them) and, in true Boothroyd fashion, they have thrived this season because they have made themselves very hard to play against.
So, especially when you bear in mind what City had been producing in the seven matches preceding yesterday's, was yesterday's victory more to do with a very poor display from the visitors than anything special on our behalf? All things considered, I reckon it was more down to us being good rather than Coventry just not turning up.
I say that because in the aftermath of City's victory at the Ricoh Arena in October, Adie Boothroyd reacted to Jay Bothroyd's derogatory comments about Coventry's playing style on his Twitter page by saying "Maybe we'll remind Jay about that on Boxing Day". Now, if Adie Boothroyd is one thing, I would say he is a motivator and, leaving aside the fact that Jay was missing again yesterday through injury, you would have thought that reminding his players of what was said by a former Coventry player after the first meeting between the sides would have played a part in the pre match build up. Boothroyd teams just don't pay the opposition too much respect and I find it very hard to believe that we weren't facing a highly motivated team yesterday (after all, victory for Coventry would have seen them pull level on points with us).
Straight from the off though, Coventry found themselves on the back foot against a City team that looked brighter and more confident than it has done for weeks and, in the opening stages at least, no one epitomised the change in the side better than Seyi Olofinjana. I have, perhaps, been more critical of him than any other City player over the past seven weeks, but yesterday he issued a reminder of what an important player he can be for us while also showing with the high quality finish for his goal that those who see his role merely as being a midfield ball winner are guilty of under estimating his role in the team.
If Olofinjana's claims for a City man of the match award tended to fade a bit after the break, this had more to do with others maintaining and then improving on the high standard they had shown early on throughout the match rather than any dramatic falling away in his performance – by the end though, I thought there were four of our players with more realistic claims to be our best player on the day over him. Firstly, Chris Riggott marked his very long awaited first outing in a City shirt with a composed and effective sixty five minutes which played a big part in us keeping our first clean sheet in nine matches – he was beaten once or twice by Marlon King (who, very questionable character notwithstanding, is a quality player at Championship level), but, overall it was a promising first game.
Andy Keogh had the best game I have seen him play for us and he played a prominent part in, hopefully, consigning the "we can't play without Jay" argument to the dustbin forever – he did show in the second half why he will never be a top quality finisher with a scuffed effort straight at Westwood and he doesn't have the silky ball skills of one or two of his team mates, but there was a cleverness to a lot of, very promising, link up play with the likes of Chopra, Whittingham and Bellamy which offered promise that he will become more of an influence in the second half of the campaign than he has been in the first.
Mention of Craig Bellamy brings me on to a personal performance of his which fully lived up to all of the hype. Coventry right back Richard Keogh is generally reckoned to have been a very good Bosman free transfer signing from Carlisle for Coventry during the summer (I saw him described as "the white Cafu" by a Coventry fan recently!), but Bellamy made his life an absolute misery as the right back picked up only his second yellow card of the campaign for a cynical late tackle on his tormentor in the build up to the second goal which made the game safe and a, frankly, pathetic attempt at trying to get an opponent in trouble with the ref by feigning an injury did him no favours at all.
Bellamy was on his game throughout, but was quick to praise my City man of the match Steve McPhail afterwards. I've not seen McPhail play better this season and when he gives us what he did yesterday, it's hard to see how he can ever be left out of the team. For me, so much of the improvement we showed yesterday was down to the simple fact that we went out with the intention of passing the ball. In recent matches we have been leaving Peter Whittingham to get on with the passing while all of the other defenders and midfielders seemed to want to hoof it in the general direction of the obligatory "big target man", but with McPhail in there, that doesn't happen and, surely, it's no coincidence that Andy Keogh played like he did when he was employed as a target man, but a target man who had the ball played into his feet.
As always. there has to be a note of caution. I've got to admit to being disappointed to hear Dave Jones imply after the game that the decision to play more of a passing game was taken because of the way the opposition play. This tends to suggest that we will see a change of approach when we play a side who aren't as physical and direct as Coventry are – surely what we saw yesterday proves that we get more out of the talented players we have when playing less of the long ball stuff? Also, one good display doesn't mean that everything is tickety-boo now for Cardiff City. Our recent results have been described by some as a "blip", but, at the moment, yesterday's performance is the blip in a run of miserable form which has seriously threatened our automatic promotion hopes – unless we carry on yesterday's performance into the next few, very testing looking, matches, then it will be no more than a temporary break in a continuing downward spiral.