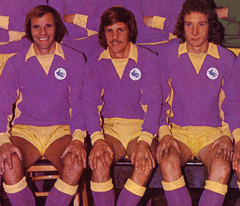 For as long as I can remember, Cardiff City's Academy team have been set up in a 4-5-1 formation with a lone striker tending to get support from two attacking wide midfielders. They certainly played with that formation in their recent Youth Cup defeat by Chelsea where they barely had an attempt on goal and that lack of an attacking threat (albeit against a very strong team) might be why there was a change of approach for the lunchtime game with Barnsley at Leckwith today which ended in a hard fought, but deserved, 2-1 win for the home team.
For whatever reason, Tyler Roche, Abdi Noor and Yora Enzam, the front three used against Chelsea, were all missing from the starting line up as City went with a strike pairing of Jake Watkins and Eli Phipps. As to how they lined up behind those two, well it was interesting, and occasionally difficult, to work  out what the formation was – at times it looked like a straightforward 4-4-2, but, overall, I'd say it was 3-5-2 with Dylan Rees and David Tutonda being used as wing backs.
Anyway, whatever the system was, there were definitely two strikers up front! Although there are a few sides doing well in the Premier League who are in the habit of playing with a front two, it does have rather an old fashioned feel to it these days, but, fair play to Watkins and Phipps, they dovetailed well as the two of them played big parts in a win which made it seven league games unbeaten for the Under 18's as they look for the top two finish which would put them into the end of season play off's.
Phipps was the matchwinner with his two sharply taken goals to go with a couple more he got earlier in the season when the Academy lads came back from a couple of goals down to get a draw with Crystal Palace, but Watkins was equally impressive for me with his hard work, hold up play and all round awareness to the fore in a very good target man display.
It was the front two who combined to break the deadlock around the half hour mark when good build up play by Watkins enabled Phipps to cut in from the right and fire a fine shot high into the net from just inside the penalty area. Up to then, City had the better of things, but, apart from a smart save by the visiting keeper to turn a shot from one of City's centrebacks around the post, there was little to show for their midfield domination. Indeed, Barnsley were having their best spell of the match when they fell behind – twice shots flashed just wide of Joe Massaro's right hand post before Phipps' goal and within a minute or two of it a lob over the keeper had bounced agonisingly wide of the same upright for the visitors.
City's best moments for the rest of the first half came when they combined nicely in midfield and Rees was only foiled by an alert piece of goalkeeping as he looked to burst on to a clever through ball by City's number ten* who I don't think I'd seen play before (he was probably the smallest player on the pitch, so I'd guess he was a bit younger than the rest of the team).
Barnsley may have been a little unfortunate to be trailing at the interval, but the third quarter of the game saw City take complete control. Much of this stemmed from the domination of Robbie Patten and Tom Burridge in the middle of the park and the number 10's ability to play the right passes in attacking positions, but it was Tutonda who helped set up the second goal a couple of minutes after the break as Phipps again finished well – this time with a volley from about ten yards out.
Shortly afterwards, a great pass by Patten put Phipps through on goal, but he missed out on his hat trick as his shot flew narrowly over. At this stage, it looked like City could be on for a big win as the Barnsley led a charmed life at times. This was exemplified by a three minute spell when Patten's shot bobbled over the keeper's dive and came back off the post and within seconds the number ten's sweetly struck effort from the corner of the box was deflected just wide. Shortly after that, Watkins poked a close range shot on to the crossbar and the visitors defence somehow kept out the follow up when  a goal looked inevitable.
Barnsley were able to weather the storm though and while they wasn't much suggestion that they could get back into the game, it no longer felt like they were going to concede a third goal at any moment. However, the value of Barnsley just about being able to stay in touch with City was shown with about a quarter of an hour left when they conjured up a goal out of nothing with a thumping shot from twenty five yards which beat Massaro all ends up.
City really should have killed Barnsley off during their dominant spell, but now they had to face a more nervy last ten minutes or so than they could have imagined. To their credit, they coped with the pressure of holding on to their narrow lead pretty well for most of the time as they showed impressive composure in maintaining possession to keep Barnsley at arm's length. However, they did have one major scare as the game went into added time when Massaro came a long way into crowded territory to try and claim a hail Mary type pass forward, didn't get there and the ball was headed on to the City crossbar in the ensuing scramble.
That was as close as the visitors got to equalising. City deserved their win, but, to use the sort of geographical strereotype I usually try to avoid at all costs, their gritty Yorkshire opponents had made them fight much harder for it than had seemed likely at one time.
Just to finish by saying that if anyone is interested in getting to one of these matches, this was the first one in a series of four at home in the next fortnight – according to the official site, we face league leaders QPR next Saturday lunchtime, Charlton on Tuesday 11 (kick off 1 o clock) and Brentford the following Saturday.
* A thank you to messageboard regular Loramski who informed me that City's number ten was Jamie Veale.