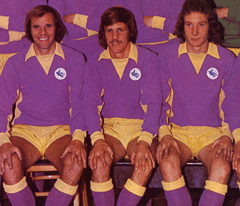 Before I start, I'd like to apologise in advance for any errors in identification I make in this piece – this is what tends to happen when you go to a football game with your reading glasses on instead of your distance glasses!
Anyway, it's been nearly two months since I last saw the Under 18's play and, frankly, they could have been playing until now and still failed to have scored given how poorly they performed in the 2-0 defeat by Birmingham at Treforest on August 16. Since then though they have upped their game and, before this lunchtime's game with Sheffield United at Leckwith Athletics Stadium had only lost once in the seven matches they had played since that defeat.
An 8-1 Welsh Youth Cup win over Merthyr last weekend means that the average of three plus goals a game scored since that Birmingham match when they looked so short of ideas in front of goal gives a slightly misleading impression, but they'd scored fourteen times in their last six league games before today's and they added two more as they recorded a hard fought, but ultimately deserved 2-0 win.
More than half of the league goals the Academy have scored have come from striker Eli Phipps who netted four times in the 5-3 win over Crewe last month – it's difficult to know exactly how many he's scored so far, because the clubs website only records the scores, not the goalscorers for Under 18's matches, but he got one more today and that makes at least eight he's got so far.
City's first goal arrived courtesy of a visiting defender though – I was about five minutes late arriving for the game and the first thing I saw as I made my way towards the stadium was a low cross from the right by Jake Watkins I think it was being turned into his own net by one of Sheffield's centrebacks. Buoyed by this early goal, City were completely dominant for about a quarter of an hour after that with many of the problems for the visitors coming from a productive link up on City's right between Watkins and full back Dylan Rees.
Phipps had the ball in the net again with about a quarter of an hour played, but a linesman flag cut short any celebrations and City almost had a freakish second goal when the ball rebounded off attacking midfield player Jamie Veale who was about fifteen yards from goal and a frantically backpedaling keeper did well to touch the goalbound ricochet over the bar. There were further examples of desperate defending by the visitors as City looked dangerous virtually every time they went forward and, for a while, it looked like City could be on for a really big win, but United gradually began to improve and they had the two best chances in the second quarter of the game.
For the first, their number eight I think it was raced through a gaping hole in the middle of the City defence, rounded keeper Joe Massaro and rolled the ball towards the empty net, only for centreback Ashley Baker to get back and make a great clearance a little kike Fabio's in the recent win over Sheffield's other club. It wasn't just for this clearance that I made Baker my City man of the match – his calm and assured play, along with some fine anticipation and positional work reminded me of Tom James who has been an unused sub for recent first team games and was doing a very similar job for the Academy team this time last year.
The second chance for the visitors came when their number nine cut in from the left to aim a shot towards the far corner only for Massaro to dive across and turn the ball away – this was the centre forward's last real contribution as he was unable to recover from an injury suffered when he was fouled by City's other centre back, Rollin Menayese (his frustration was evident as he went off and, judging by the loud clanging sound that came from the visitor's metal dug out shortly after he entered it, he took a pretty hefty kick at it in his disappointment!).
A pretty entertaining first half ended with City a goal to the good and, just as in the opening period, the home team had the boost of a goal inside five minutes when the game restarted. It was a fairly a strange affair as well, with Watkins chasing a through ball that the Sheffield United keeper looked to have reached before him, but the ball spilled loose as the two players collided and, if he had have been able to get his bearings correctly as he got up, the City player would have been left with a simple tap in, but a defender got in to partially clear the ball before the striker could react. Unfortunately for the defender, he could only divert the ball to Phipps who made scoring look a lot easier than it actually was by drilling a shot into the bottom of the net from the corner of the penalty area.
Somewhat disappointingly, City barely threatened again after that as they seemed happy enough to sit on their lead and with Robbie Patten doing an effective job in the defensive midfielder cum ball winner position that the first team are so lacking in this season, they didn't have too many problems keeping their clean sheet.
To their credit, the visitors kept on chasing the goal which would have got them back into the game and there were a couple of times when they put together neat moves which threatened to breach City's defence, but a great block by Rees for the first and then a smart smothering save from Massaro from the second denied them – for me it was a deserved win for City's youngsters, but, maybe a two goal victory margin flattered them somewhat.
Finally, just to say that, at the same time, the Under 16's were playing out a 1-1 draw with their Sheffield United counterparts on the other pitch at Leckwith
* picture courtesy of http://www.cardiffcityfc.co.uk/