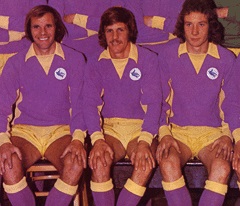 Neil Warnock probably went for the right approach as he talked about his team's 4-2 Boxing Day defeat by an impressive Fulham side which saw the ending of City's unbeaten home record.
Our manager almost always finds some refereeing decision or another to be critical of when his side is beaten and there was a reference to one or two advantage decisions which went against us (I can remember one of them). However, by refusing Fulham what looked to me like a certain penalty early on when Bruno Manga brought down Stefan Johansen, referee Simon Hooper more than made up for any other more minor decisions which benefited the visitors – I thought the linesman on the Ninian Stand side had a bit of a shocker in the second half, but the ref wasn't too bad throughout. Indeed, Mr Warnock's heart didn't seem to be in his criticism of the officials and, in the end, he just admitted that "they were better than us".
In fact, it seemed to me that this was Fulham back to the standard they set in the second half of last season when they were, in my view, the best team in the Championship and really should have gone up via the Play Offs.
This time around, the Londoners have been far less impressive. Until fairly recently, they had just the one home win as a series of draws at Craven Cottage held them back and they have been inconsistent on the road – obviously, they have not been playing as well as they did yesterday, because they wouldn't find themselves eleventh and six points out of the Play Off zone if they had been.
City played Fulham at home twice in the first two months of 2017 and the second of them was my favourite game of last season. That day, Fulham showed the combination play which marked them out as being different from other "passing" sides in the league, because they were able to retain possession while moving the ball forward and you had the impression that City were at times hanging on by their fingertips to contain the visitors.
However, led by a rampant Kenneth Zohore, City had a string of early opportunities which could have brought two or three goals and they continued to cause the Fulham defence problems right to the end when Declan John (who signed for Rangers on a three and a half year contract last week) hit the post in the last minute as we chased a winner.
We might not have been as easy on the eye with our passing as Fulham were that afternoon, but our more direct game had a vibrancy and a doggedness to it which, if anything, left us as the team with perhaps the stronger claim for the the win after a pulsating ninety minutes ended 2-2.
Unfortunately, although our will and team ethic meant that we were still in with a chance of forcing a draw deep into added time, yesterday's match was more reminiscent of the FA Cup clash between the sides some six weeks or so earlier when Fulham strolled to an untroubled 2-1 win after falling behind via a deflected Anthony Pilkington free kick early on.
City spent most of that lunchtime chasing shadows as the visitors won largely as they pleased, but at least had the excuse that it was virtually a second string side they had out – we are without important players through injury currently, but,up until quite recently at least, we were coping well enough to maintain a top two placing – the early season dynamism may have been missing, but we were doing enough to pick up a series of largely deserved victories.
Actually, there is one player, who was only injured quite recently, who, on yesterday's evidence, is being sorely missed. Much maligned by some, captain Sean Morrison's injury at Reading is looking increasingly like a key moment for us.
There are sections of the local media which call for Morrison's omission on a regular basis as they refer to what the so called dream partnership of Sol Bamba and Bruno Manga could give us. This tends to concentrate on what those two can do when they are in possession of the ball as the defending part of their game is taken for granted – we would have to be better with Bamba and Manga passing the ball out from the back than Morrison hoofing it surely?
Now, it needs to be said, that Fulham do not play with an obvious targetman and attack in a way that Morrison would not feel comfortable in dealing with, so I make no claims that we would definitely not have conceded four yesterday with him in there. However,  we have now conceded six times in our last one hundred and five minutes of football and we've not come remotely close to a record as poor as that with Morrison (who had played every minute of the Championship season for us before he went off at Reading) in the team.
Yes, Bamba did make some trademark interceptions and tackles and Manga did come up with those classy moments he is also capable of producing, but there were plenty of times when they looked uneasy individually and as a pairing, while I saw plenty of fairly aimless centreback hoofing of the type Morrison is frequently accused of yesterday.
If we looked a lot more porous at centreback than normal, then the same could be said about our full backs.
Back in our Premier League days, we were frequently opened up by passes played inside our full backs which dragged a centreback out of position and created overlaps through the middle which were usually exploited by out opponents. Fulham were able to do that to us virtually from the word go yesterday – they'd already got into dangerous positions in that channel ten to fifteen yards from the touchline three times before they managed to do it again in the lead up to their opening goal and their second one came from a similar situation as well.
Therefore, Lee Peltier and Joe Bennett were two others who were some way from their best. Of course, these days, and especially under this manager, our two wingers are supposed to do their bit defensively. Junior Hoilett and Nathaniel Mendez-Laing also found this side of the game a struggle and as, in my opinion, they were as poor going forward as a pair as I've seen them this season, those who were not there in the flesh or able to watch online can begin to see that we fell well short of the standards we have set for ourselves in most areas of the pitch yesterday.
However, nowhere was the difference between the two teams more marked than in central midfield.
I thought most of the momentum Fulham had from about this time onwards last season came from their midfield where Johnasen, Kevin McDonald and Tom Cairney represented a high quality blend of different styles which combined perfectly.
This season they've added Oliver Norwood, another good technical player with the ability to produce something special who was an unused sub yesterday, on loan from Brighton. Now, the league table tells you that, although the influential Cairney, who was nominated by some as the best player in the Championship in 17/18, has been absent through injury for a portion of it, these players have not been playing to their potential as a unit and probably individually.
Nevertheless, I'd like to see any of that quarter in our midfield, but would Neil Warnock?
I've mentioned before that I've heard our manager often talk about Aron Gunnarsson and Joe Ralls as "bread and butter" players. I think most of us will know what our manager means when he uses the term in that way, but, just to be sure, I've looked up "bread and butter" in a few online dictionaries and found things like "everyday", "ordinary", "basic" and "reliable", but "essential", "important" and "key" are there as well.
So, "bread and butter" is a complimentary description, as well as the fairly mundane one that I must admit I think of first when hearing it applied to footballers. Our manager is right therefore – every side needs it's "bread and butter" midfielders (I happen to think that Fulham might well be in the Premier League now if they'd had, say, a Gunnarsson in their squad last season), but do they need as many of them as we seem to have?
We went with three midfielders yesterday in Ralls, the fit again Craig Bryson and Loic Damour, but you can throw in the injured Gunnarsson as well and, certainly compared to Fulham, they all look much of a muchness.
On an individual basis, I thought that, apart from being caught out when Ryan Sessignon scored his obligatory goal against us to make it 3-1, Ralls played well yesterday, Bryson did better in the second half after an opening forty five minutes where, once again, there was plenty of activity with hardly any end product and Damour wasn't poor either, but as a threesome, they were a long way short of the trio directly opposing them – there was none of the "jam" that Fulham possess.
By and large, City don't do "jam" in midfield under Neil Warnock, they do have someone who has provided that something extra in slightly advanced areas of where Gunnarsson, Ralls etc. are most comfortable playing, but he was nowhere to be seen as City laboured for the creativity to unlock a Fulham defence which is far from impregnable.
However, leaving Lee Tomlin aside just for now, I have to say that I just don't get why a side struggling to retrieve a two goal deficit would not use all three substitutions available rather than the two seen yesterday – with our wingers struggling, why not give Liam Feeney a try or use Pilkington to provide some support for Kenneth Zohore who spent most of his afternoon chasing those aforementioned hoofs forward (i.e. lost causes)?
The truth is though that out of the subs available to Neil Warnock, Tomlin for me was the obvious first choice to come on and try to change things – especially when we wasted quite a few promising positions in that thirty yards from the opponent's goal areas which are his natural habitat.
Now, I'm not as much of a fan of the Lee Tomlin who is playing for us as I was of the one who played for Peterborough or Middlesbrough and I rate him very much as a disappointing signing so far. I don't think his displays so far merit a starting place in the team every week either, but he has shown in matches like Sheffield United, Ipswich and Reading that he can give us things that other players in our squad cannot- you need a bit of the rapier when the bludgeon isn't working.
It's impossible not to consider Tomlin's non use yesterday without making reference to his substitution fifteen minutes after himself coming on as a sub at Bolton on Saturday. If Tomlin had started against Fulham or had been introduced as first change on, say, the hour mark, then the reason given by Neil Warnock for what happened in the previous match (he was taken off before he was sent off) would ring true, but it's harder to accept it now – the impression created yesterday was that our manager has, for now at least, given up on Tomlin, but, if that's the case, why have him on the bench in the first place?
Instead of Tomlin, we saw Rhys Healey come on for his first taste of senior team action since he sustained that injury against Rotherham last February. Healey has been described as the only player we have who can make runs beyond our main striker from the number ten position – that may not have been what he produced yesterday, but his burst of acceleration, backed up by a strong run and a lovely, weighted, pass to put Zohore into space just as the game went into added time, represented just about the first example of us creating something which opened up the Fulham defence from open play in the whole game.
Zohore's "worldy" from twenty five yards just after Fulham's second goal owed nothing to smooth build up play  and so Healey's run and pass and Peltier's cross (the best one we produced all match) seconds later that enabled the other sub, Callum Paterson, to head home represented the clear high points, in terms of creativity, of a frustrating, very cold and wet afternoon.
Vincent Tan was there against Fulham watching his third game this season and, although he reiterated that the days of spending "silly money" are gone, he did confirm that there is some available to Neil Warnock next month. For his part, our manager heavily hinted that we will be looking at a couple of loan signings, one of whom is at a Premier League club and the other is with one in the Championship.
With the injuries to Danny Ward and Gunnarsson being specifically referred to by the manager, it's widely accepted that we are talking about a striker and a midfield player coming in – in the case of the latter, I enjoy bread and butter, but do like that something extra to give it a bit more flavour now and again.