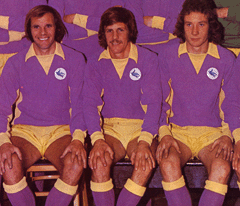 Apologies for my lack of originality, but football really is a funny old game. A month ago anyone attempting to analyse the 2015/16 Cardiff City team would have felt they were on pretty safe ground because it was a simple task really.
They were spirited, hard to beat and defensively sound, but this was undermined by a lack of creativity and firepower that left them almost totally reliant on set pieces and opposing defenders for their goals (they hadn't scored from open play in five matches – in fact, the only goal they had managed in that time had been scored by Middlesbrough's George Friend) – the phrase I used a few times to describe them was worthy, but dull.
Then, on November 7, City beat Reading 2-0 at home. True, they had to rely on a brilliant David Marshall performance to do so and their goals came from a free kick and a corner, but, uncharacteristically, there was some good, enjoyable football played as well. Following a return to "normality" in a predictable 2-0 loss at Derby in which they barely threatened the opposition goal, they gave the best home performance I've seen under this manager last weekend as they were denied a deserved win over Burnley by a freakish own goal deep into added time.
For the second home match in succession, I went home feeling that I had been entertained in a way that I had rarely, if ever, been under this manager before and the loss of a 2-0 lead with 85 minutes played was made more tolerable by the knowledge that we would win a lot more than we lost if we kept on playing like that.
With four goals conceded in two matches amid talk of us actually playing some progressive and adventurous football, things seemed to be changing, but one thing you could still rely on was us not scoring from open play – again, the goals against Burnley came from a free kick and a corner as the run without scoring from open play stretched to eight matches.
So it was that City headed to the Championship's current crisis club Bolton having not scored from open play in a staggering 805 minutes. Their opponents, beset by a financial crisis which meant that staff at the club weren't paid in November, had only won once all season, but the fact that they were only four points away from a place outside the bottom three showed that they had picked up more than their fair share of draws over the past four months – they may have only won once at home, but seven draws meant they had only lost the one game in front of their own supporters before yesterday.
Therefore, I confidently forecast that the match would finish as a low scoring draw or a single goal win to either team. However, I was still thinking in terms of the old Cardiff City there, not the new, be bold and go for it, one!
In the event, I was proved to be hopelessly wrong as an end to end thriller finished up as a 3-2 City win. Not only that, but, thirteen minutes in, Tony Watt beat a couple of opponents as he cut in from the left to score from open play – it gets better though, the goal came at the end of a movement which had seen the number of passes City completed go well into double figures!
Bolton soon equalised and the second half started with the teams level at 1-1, surely the game would now settle down into the tight affair I had envisaged? No, not at all, City scored from open play again and then, when the home side got a second equaliser, they went and did it for a third time as Anthony Pilkington netted what turned out to be the winner, ten minutes from time.
So, it seems that all of the old certainties have fallen away over the past month. Whether they will return is something I will touch upon later, but, for now at least, this Cardiff City team doesn't appear to be the one we all felt we knew about.
With seven points from the four games in question, the transformation has to be, largely, seen as a good thing, but, as Russell Slade was honest enough to admit in his post match remarks, some of the traits shown in eventually overcoming the league's bottom side were worrying ones.
For example, our manager was critical of the defending for Bolton's second goal and it's now six goals conceded in three matches. The non selection of last season's City Player of the Year, Bruno Manga, has been justified by the form of centrebacks Sean Morrison and Matthew Connolly and the stats which had City conceding well under a goal a game (it was 12 from 16 matches at one stage), but my guess is that a recall for the Gabon international is as close as it has ever been this season – and I don't mean that Slade will be going into the next match with three centrebacks!
The manager also talked about the need for more consistency throughout the ninety minutes. let alone from game to game – both in and out of possession, our standards vary too much.
A mad ten second spell just before half time which saw Bolton hit the crossbar, be denied by a good Marshall save and then see the ball narrowly elude two of their players inside the six yard box only emphasises that City rode their luck in getting their win – Bolton being reduced to ten men when José Manuel Casado was shown a second yellow card late on after a foul on Craig Noone also played it's part in helping prevent another Burnley style loss of two points in time added on.
Nevertheless, the nature of all three of our goals offered hope that, even without reinforcements arriving in the January window, City could already have players in their ranks capable of causing opposing defences far more problems in the second half of the campaign than they encountered in the first.
I've already mentioned the number of passes put together for the first goal. Now, passing just for the sake of it can be boring to watch. Opponents cotton on to the fact that you are unable to create much when in possesion and are prepared to let you have the ball in areas where they think you cannot hurt them. However, City showed yesterday that they can inflict damage if they have possession for some time and a few more goals like that will see sides having to think more about getting the ball off us – something which may lead to gaps further up the pitch which we can exploit.
Similarly, having full backs bursting into the heart of the opposition penalty area to score after being one on one with the keeper is not something you would have associated with a Russell Slade Cardiff team in home matches even, but, that's exactly what happened with our second goal yesterday. Again, there was an element of good fortune involved (I wouldn't be surprised if the goal is eventually credited as a Dean Moxey own goal), but Scott Malone earned it by being positive and progressive in his play.
It did not go unnoticed by me either that Kenwyne Jones played a prominent part in the build up to the second and third goals. Now, apart from Peter Whittingham, Kenwyne  probably causes more debate among City supporters than any other player – I have tended to side with a few of the correspondents on here who feel he is some way short of being the player some of his backers in the media make him out to be.
However, when you see what he did for those two goals yesterday (was there a handball involved in his contribution to the third one?), my reservations about him have to be qualified by a question as to how (particularly under Russell Slade) we've utilised his talents up to now.
It's generally been accepted that Kenwyne has good feet for such a big man, but, that's been something of an afterthought as his value to Cardiff has almost entirely been measured by what he can give us when the ball is in the air.
His goal at Forest this season was evidence of what a devastating header of the ball Kenwyne can be, but that came from a Peter Whittingham pass played from a deep position that the striker was able to move on to. Jones' goal against Wolves was from a Fabio cross also played from a long way away from the opponent's goal and the other one, against Reading, came from a free kick.
When you look at the man's fitful contribution as an attacking weapon when, as we always seemed to do until yesterday, we look to him with passes and crosses in the air, it's tempting to say that Kenwyne's most valuable contribution to the team comes when he's back defending free kicks and corners.
However, when you see him creating goals through the ball being played into his feet like Joe Ralls and Fabio did respectively for the second and third goals, you get an idea of what else Kenwyne could bring to the side if he was utilised in a more varied way.
Of course, the target man would need team mates getting closer to him than they have often tended to be in the past, but, when you've got full backs bursting into the sorts of areas Malone did yesterday and, according to our manager at least, Aron Gunnarsson is being given more licence to get into forward areas because he has Joe Ralls alongside him in central midfield, he's going to get that support he needs isn't he.
Mention of Ralls brings me on to how important the only Cardiff Academy product our manager appears to trust enough to be a regular member of our first team squad (and even he was signed from Farnborough as a 16 year old!) has become to the team. The lopsided 4-4-2 from earlier in the season only worked for a while because of the tremendous amount of work Ralls was putting in as he virtually covered all of the left hand side of the pitch as well as areas of the central midfield.
Now finally put into the central midfield position which he had done so well in as a seventeen year old under Malky Mackay, Ralls is having exactly the impact that many supporters expected him to – significantly, there was, apparently, talk from Bolton fans on their messageboards about how Cardiff's number eight had "run the show".
With Ralls and Gunnarsson in central midfield and Pilkington and Noone on the flanks in Russell Slade's normal 4-4-2 formation, yesterday represented the first time there was no Peter Whittingham in a league side selected by our manager other than for reasons of injury or suspension. Whitts has missed five Championship matches in total now under Russell Slade and they've all been won, but, even more significantly for me, we've scored thirteen goals in doing so.
Now, it needs to be said that the teams we've played without Whitts have been Rotherham, Blackpool and Forest last season and Reading and Bolton this time around. Of those, Reading were riding pretty high in seventh place when we faced them, but the other four were in the lower half of the table and three of them were deep in relegation trouble or had already gone down. So, it's likely that results should have been pretty good in these games and we should have found goals easier to come by, but fifteen points and thirteen goals means there has to be more to how we fare without Whitts than the fact we have played poor sides doesn't it?
In finishing, I think regular readers of this blog will realise that, although it's use has become a bit more justified lately, my use of the word "entertainers" in the title was strictly ironic. As alluded to earlier, just four matches is hardly enough evidence to conclude that the change of approach in the last month is akin to Russell Slade having undergone a Road to Damascus like conversion in his philosophy as Cardiff City manager.
It's just as likely, in fact it's probably more likely, that it's all just some sort of coincidence and we'll soon be back to the grinding stuff which was proving to be enough to establish us as Play Off candidates without suggesting we would actually obtain that top six finish.
Whether it's as the nice Doctor Jekyll Cardiff City of recent weeks or the alter ego Mr Hyde Cardiff City of the first year of Russell Slade's time in charge though, we face a hugely significant six days starting next Saturday as home matches against Sheffield Wednesday and Brentford are followed by a trip to Birmingham. All three of those sides are right in the race to secure that sixth place finishing position and the right outcome from these matches would mean that we could perhaps start to be a bit more ambitious in the targets we set ourselves.
*pictures courtesy of http://www.walesonline.co.uk/