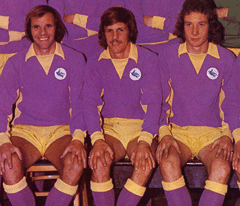 During an e-mail conversation we had on the weekend my brother (who has lived in Birmingham for the past twenty years) confirmed something that I knew anyway – that he still prefers egg chasing to the greatest game in the world. There was a time though when he was a regular at Ninian Park – after leaving Lampeter University in 1982, he saw every home game in the 82/83 promotion season (he even made it to a couple of away games as well).
He didn't miss too many at Ninian Park in the following season either and mentioned an incident that occurred in the game against Barnsley on 1 October 1983 during our exchange of e-mails that he believed proved his theory that, while I am better at remembering dates and numbers than he is, he is much better than me when it comes to visual matters like colours, patterns etc.
I had to accept that he was right. For example, I can remember taking part in a General Knowledge quiz where my team mates thought we were on to a winner when the quiz master announced that there would be a round where we had to give the shirt sponsors of various top football teams. They thought it would be a doddle for me to get maximum points whereas I knew all that was going to happen was that I was going to get humiliated – I am not remotely interested in things like shirt sponsors because  they are a complete irrelevance to me and I honestly couldn't tell you the name of City's shirt sponsors from last season!
However, my brother used the wrong example to try to prove his theory. He was referring back to the famous orange nets incident in the game against Barnsley where he believed that I did not notice that the goal nets had been changed from the usual white to orange. The truth was that as I entered the Bob Bank (which was all terracing in those days) from the Canton Stand end slightly in front of him I noticed the orange nets straight away, but chose not to mention anything because it would be so typically my brother for him to make an issue of it. I decided to leave it to my brother to tell me. I guessed that this would take seconds rather than minutes and sure enough about ten seconds later he piped up with "look at those orange nets, why have they changed them?"!
My feeling when I heard this was a mixture of amusement and exasperation – amusement for the obvious reasons and exasperation because I did not find the colour of the nets to be very interesting at all on a day when I was itching to watch the three debutants in the City line up in action.
That said, one of those making his first City appearance was striker Phil Walker. In a previous entry under this category which also covered the 83/84 season I touched upon the long list of players we tried at centre forward that year to try and replace the injured Jeff Hemmerman – invariably, they were not a patch on the man who had been far and away our top scorer during the promotion season and Walker turned out to be a case in point. As he had come from Third Division Rotherham on loan, my expectations weren't great beforehand and when his negligible contribution against Barnsley was followed by another poor display in the next match he returned whence he came.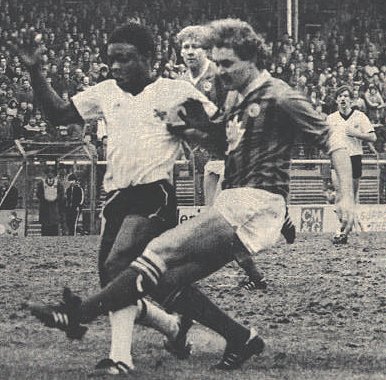 No, my main interest centred on the two players we had signed from Newport County in what has to be the most bizarre transfer deal in my time watching the club. We acquired Nigel Vaughan and Karl Elsey while Linden Jones, John Lewis and Tarki Micaleff all moved in the opposite direction to Somerton Park with not a penny changing hands between the clubs!
There was little doubt that the signing of Vaughan, a goalscoring midfield player who had just gained his first full Welsh cap was something of a coup, but while Elsey had been a regular in the fine County team that really should have been promoted with us in 82/83, it was more doubtful whether he could cope with the step up to Second Division football – by and large, I'm afraid he didn't. Elsey was used as a utility player by City, but for me, adding a letter "f" at the front of that term would have been a more accurate description of his displays during his two seasons with us!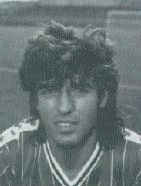 Of the players who left, Micaleff, who had become something of a bit part player after his return from an operation on the lower half of his body, was not a great loss. Lewis though was a hard working and skilful player who could be used in any left sided position and Jones who had emerged as a dogged and quick right back since making his debut as a seventeen year old in 1979 were first team regulars who had been on the pitch for every minute of league action that season until their departure.
With Vaughan becoming, arguably, our best player over the next two seasons and Lewis not quite making the impact that I thought he would at County, it's hard to say with any certainty who got the better of the five man transfer deal, but if I had to choose, I would say it was County. While we spent the next two seasons getting relegated to the basement, Newport were able to maintain their Third Division status for a few years before things started to go terminally wrong for them in the late 80s.
Perhaps the most telling part of the story of the five man transfer though was the fact that Jones and Lewis, who had both been in a pay dispute with City before they left, increased their basic wage by signing for Newport. When you consider that City were a division above County and that their average gate was more than twice as much as Newport's that season, it really does bring home how bad City's finances were at that time and it is to manager Len Ashurst's great credit that he was able to put together a team that survived pretty comfortably in the Second Division that season despite working on what could not even be described as a shoestring budget!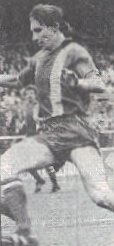 The team that year were always able to rely on the occasional good victory to keep them clear of the bottom three. For example, a week after the Barnsley match, Nigel Vaughan scored his first City goal as a Carlisle team that based their unlikely promotion challenge on a mean defence were comfortably beaten 2-0 at Ninian Park. A woeful Cambridge United team were thrashed 5-0 a month later and Huddersfield were beaten 3-1 in a fine match shortly after that. There were more defeats than wins, but the victories kept on coming at a regular enough rate for relegation never to become a serious issue.
However, clues as to the weakness of the squad were there in the number of heavy defeats they suffered – there were ten of them by a margin of two goals or more. The game against Barnsley turned into one such occasion as the visitors, who were below us in the table at the time despite having played a game more, cantered to a comfortable 3-0 win once they had dealt with some early pressure from a team containing three newcomers all eager to impress.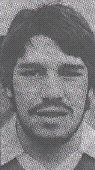 Barnsley had a goalscoring midfield player of their own in their midst though. Ronnie Glavin was a classy, if inconsistent, performer who was easily good enough for the First Division on his day and he was in the mood that day as he ran the show. Glavin's goal gave Barnsley a half time lead and, in a one sided second half, he added another after David Geddis had doubled the visitor's lead.
City were a well beaten side, but they were a better outfit than they showed that day. Anybody watching that game would have expected Barnsley to finish way above City at the end of the season, but there was only a gap of one point between the sides come May and City gained full revenge in February when goals from Ian Baird, Gordon Owen (who left us to join Barnsley at the end of that season) and a Larry May own goal gave them a 3-2 win at Oakwell – from memory our orange nets had long since disappeared by then!
1 October 1983
Cardiff City 0 Barnsley 3
City Dibble; Elsey, Dwyer, Mullen, Bodin; Owen, Tong, Gibbins, Vaughan; Walker, Bennett (Matthews)
Barnsley Findlay; Joyce, May, Law, Chambers; Wilkes, Glavin (2), McGuire, Gray; Cunningham, Geddis (1) sub. Airey
HT 0-1
Att. 6,433