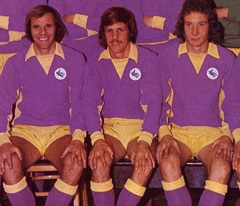 In what I think was a first for this blog, I gave a referee a "tag" when we played Millwall at Cardiff City Stadium in October – Steve Martin was hopeless that day for both teams.
Well, now I've done it for a second time and I assume it's just a coincidence that it happens after Cardiff and Millwall met up again – although I can't help feeling that, given the way both sides go about their business, matches between the two teams offer more of a challenge to officials than most other Championship fixtures do.
Last night at the New Den as the sides played out their second draw of the season, Keith Stroud got at least one of two major decisions which may have an impact on whether we remain in the top six, or possibly the top two, or not completely wrong. As mentioned above, Steve Martin made blunders which tended to cancel themselves out in the first match between the teams because at the end both managers had legitimate grounds to criticise him, but last night it was City, and City alone, who had reason to fume at the official.
I've always tended to cut Mr Stroud some slack, because, back in 2008, he was the official who, rightly, awarded us the penalty by which we beat Bristol City for the first time in a league game since 1971. During the intervening decade, he has been in charge of City games plenty of times and, generally speaking, I've found him one of those officials who you have to take the rough with the smooth – you sometimes come out of games thinking he was hopeless and you come out of others thinking he did okay (which is probably the best a ref can hope for when it comes to supporters of teams he has just taken charge of!).
However, now and again, Mr Stroud has a "mare" – this is the game I'm thinking of in particular here, but there's also this beauty from last season which saw the official suspended from taking charge of any more Football League games for the rest of the campaign.
Now I'm not saying that it was in category of the two matches involving other sides I've put links to, but Mr Stroud had another one of those unfortunate games last night and, predictably, got himself into Neil Warnock's bad books in the process.
I'm not sure if it was on here or not, but I can remember writing somewhere a few months ago that I feel sometimes our manager has a go at a ref after a game and his heart is not really in it – it's almost as if he does it because it's expected of him.
However, probably for the first time since he became Cardiff City manager, we were treated to a full on Warnock rant last night – for anyone who hasn't seen it yet, here is what he had to say to the Sky cameras post game.
Our manager was incensed by two decisions which went against his side, was he right to feel that way or, as I daresay his army of critics will think, was it just Warnock going off on one again?
Again for people who didn't watch the match on Sky in particular, you can judge for yourselves by watching these highlights, but, for me, referee Stroud got both of the major, match deciding, decisions wrong.
To deal with the second one first, it's a hard one to judge because, like a referee, you only have the one look at it given Sky's strange reluctance to replay the incident, but the distance the ball travels from Callum Paterson's shot to when it hits the Millwall defender is quite a long one, certainly long enough not to deny a penalty because the defender was so close he was unable to get his hand out of the way.
I think it should be a penalty provided the referee is certain that the ball hit a hand.  I'd say the pictures aren't 100 per cent clear on that, but it certainly looks that way to me. That said, I'm not surprised at Mr Stroud's decision not to point to the spot, because, in my experience, away sides don't tend to get those sort of decisions go in their favour and also I think there might have been a possibility that the ref may have let his concentration wander a little because it was so close to the end of the game.
So, perhaps there is some excuse for the failure to award a penalty, but it's very hard to come up with anything to justify Mr Stroud's failure to award us a goal when Sol Bamba acrobatically fired in after the ball broke to him following a header on the edge of the penalty area by Joe Bennett.
The problem was that Steve Morrison had fouled Bennett as they contested for the ball, but, rather than give a free kick immediately, Mr Stroud allowed play to continue and then decided to bring things back for the foul a few seconds later.
To me, this is a simple matter, no referee, having decided to let play continue under the advantage rule, should then change his mind and award a free kick for the original foul when the ball is bouncing around in a central position some eight yards from the goal with an attacking player in a position where there is an opportunity for him to put it into the net.
It's as straightforward as that – having decided to allow an advantage, you cannot then change your mind when the ball is in a position of obvious danger to the side deemed to have committed a foul.
Looking for something to justify Mr Stroud's decision, Bamba's boot was quite high when he connected with the ball and the ref could, conceivably, have thought that another offence had been committed so, as is seen quite often in rugby, it was a case of penalising the first of two breaches of the rules by either team. However, although there was a defender close by, there was clear distance between his head and Bamba's boot and there was never any suggestion that the two might collide.
No, having tried to be unbiased in this, I can find no reason for Bamba's "goal" to be ruled out and, in terms of the major decisions in the game at least, City were justified in thinking that they had been robbed of the extra two points which would have taken them level on points with second place Derby.
However, that is to ignore the general flow of an always watchable game which saw Millwall again prove that they are a really tough assignment for sides at the top of the table at the New Den – Wolves, Derby and now Cardiff have all only managed to draw there, while Play Off spot chasing Middlesbrough, Sheffield United and Leeds have all been beaten.
Overall, City deserved no more than a draw from a match which they began and ended well, but were distinctly second best for most of its middle period.
I'm afraid that, apart from the game's first quarter and then its final fifteen minutes or so, City went through one of those periods where they can looked clumsy, anxious and disjointed as they show everyone why the stats show that they are among the worst passers of the ball in the Championship.
Nothing illustrated Millwall's superiority for about sixty per cent of the game better than their goal which began with a goal kick to the home side and, subsequently, saw City players beaten to the ball on four, possibly five, occasions before the ball hit the back of our net.
Given the way both sides approach matches, whoever controls the contest for second balls when Cardiff meet Millwall controls the game and that goal emphaised the element of this commodity the home team had for too much of the match.
City looked good though early on when the in form Junior Hoilett made a big impact within minutes as he drew a booking from home right back Mahton Romeo and then robbed the same player of the ball some forty yards from goal, before advancing some twenty yards to bury a low shot beyond Jordan Archer.
There were opportunities to add to their lead as gaps were there to be exploited in a Millwall defence playing with a very high line, but early examples of the lack of basic ball control that was to blight too much of City's performance over the ninety minutes meant that they were not taken and most danger came for the home side when they were on the ropes when defending a series of four corners in succession.
The game changed when former Wales international Steve Morrison smacked a shot against the crossbar around the twenty minute mark and, for the next hour or so, City largely disappeared as an attacking force as the question became could they escape from this intimidating venue without losing?
Morrison's chance had come about when Bamba misjudged a cross in a manner which exemplified what was another rather shaky display from someone who Neil Warnock places great store by. Bamba, like another of our manager's favourites, Joe Ralls, had been struggling with flu in the days leading up to the game and the pair of them had traveled to London separate from the rest of the squad, so there was probably a reason for the below par displays from the two of them and the same could be said for Gary Madine who, apparently, sustained a broken nose in a first half collision with the imposing Jake Cooper.
However, too many City players were a long way from  their best – those days when Nathaniel Mendez-Laing (presumably Yanic Wildschut's absence from the squad was down to injury?) was the most effective player in the Championship seem an awful long way away now, while, after doing so well last week, Paterson provided a lot of ammunition for those who do not believe he is a midfield player and Marko Grujic still resembles a fish out of water at times as he struggles to adopt to what, too often, is a crash, bang, wallop approach from his new team.
It is to City's credit though that they came through their long dodgy period to finish much the stronger team and, besides those two occasions late on when they were denied by the referee, Paterson began to again show why his manager is inclined to use him as a type of number ten as he became an influential figure again with his athleticism and power more to the fore as Millwall tired. Paterson almost provided a winning goal with a header and then maybe should have done so when he fired a little high and wide when in on goal, but, despite an overall performance that was no more than a six out of ten, he showed impressive pace and power so late in the game to create the chance for himself.
The truth is that, with little flair and creativity on show once Hoilett's influence began to wane, it was a night full of five and six out of ten performances for a group of players where, at the moment, only Neil Etheridge, Sean Morrison and Hoilett are providing consistent performances at a level you would expect from a top six team – it is telling that Radio Wales summariser Danny Gabbidon struggled to come up with a name when asked to identify City's stand out performer.
Still, I suppose that four points out of six would have been accepted by most beforehand as the team embarked on successive tough looking away games at two grounds where visiting sides can buckle in a febrile atmosphere – we've also drawn at Sheffield Wednesday since our last home league game. We could well be five and four points respectively behind Derby and Villa by tea time today, but, with five of our next seven matches to be played at Cardiff City Stadium, we have the opportunity to make inroads into those gaps by this time next month.
Finally, a mention to the Under 23 team who kept themselves in with a chance of qualification in the Premier League Cup with a good 1-0 win at Southampton yesterday evening. As always, there were trialists involved as City continued to look at Jacob Evans, who must have played four or five times for the Development team now, Scott McLean had his third match in little over a week and there was a second start for Danny Rowe.
Also involved was Michael Gyasi, who was signed by Chelsea when he was eleven – he came on as a sub and got the only goal when he netted from a Rowe cross. Another new name to me was Corey Watson, who came on to replace Matt Connolly for the last twenty minutes, but I'm afraid I couldn't find any information on him.
City have two matches left to play in their qualifying group now and are in second place with their remaining matches against Watford and Blackburn who both have a game in hand on them – it may well be that they'll need two more wins to secure themselves a place in the next round.