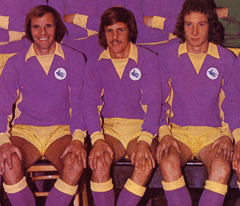 Simon Rea played just the one game for his first club, Birmingham City, and then made one hundred and sixty odd appearances for Peterborough before drifting into non league football in 2006 and he is currently playing for Redditch United. Rae's career therefore reads like that of your typical lower league journeyman, but, because of what happened at Ninian Park on 2 November 2002, Rae has a place in the game's record books.
Sheffield Wednesday keeper Kevin Pressman holds the record for the quickest sending off in Football League history when he was given his marching orders after just 13 seconds of a match at Wolves, but Rea has the second quickest red card – issued just fifteen seconds into Peterborough's game at Cardiff.
Although they eventually finished safe in mid table, Peterborough were struggling near the bottom of the table when they came to Ninian Park three months into a season where the level of expectation at our club was so high that, for many, nothing but an automatic promotion place in the top two would do. By and large, City had coped admirably up to then with the pressure brought about by a mindset at the club that expected rather than hoped for promotion and Peterborough were not expected to present too many problems to a home side with just one defeat in their previous fourteen matches.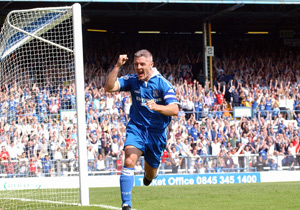 If Peterborough were going to upset the odds then the last thing they needed was Rob Earnshaw bearing down on their goal inside the first ten seconds as he chased a routine high ball that had been launched forward by a defender. Lower division defences had become used to Earnie leaving them for dead as he ran on to through passes and I suppose Rea deserved some credit for at least being close enough to City's flier to bring him down. It was an obvious red card – Rea was the last man and his only real chance was that the incident had happened so early in the match that the referee may have taken a lenient view of the situation. However, Paul Danson (who had gained some notoriety by being ditched by the Premiership following some high profile blunders) made the right decision and Rea had to go.
Peterborough had a thankless task now and, although they survived the resultant free kick from Graham Kavanagh, it was asking an awful lot to expect them to hold out for ninety minutes. For a while, City struggled to find ways to break down what was now a massed visiting rearguard, but Kav's beautifully struck twelve yard volley on twenty minutes settled any nerves amongst the home support – some of whom had developed the habit of turning against the team if they weren't in front by then.
Although Peterborough were never threatening an equaliser, City weren't showing the sort of form that had seen them overwhelm Tranmere Rovers 4-0 in a televised game the previous Saturday either. Half time came with them just a goal to the good, but the first quarter of an hour of the second half saw them put the game to bed with two goals within five minutes of each other.
If referee Danson got the sending off decision right, his awarding of a penalty when Earnie went down under a challenge from a visiting defender looked to be a more contentious one because the ball appeared to be played before the man. Earnie got up to confidently beat Peterborough keeper Tyler for his fourteenth goal of a campaign which saw him beat the club's individual scoring record for a season.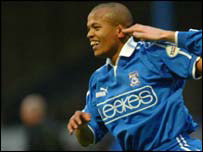 2-0 soon became 3-0 when full back Rhys Weston scored for the second successive home match as he volleyed a half cleared corner down into the ground and beyond Tyler, all of which meant that City fans were able to see out the rest of the game safe in the knowledge that the points were theirs. This comfortable win was City's sixth in succession at Ninian Park and it meant that, although they had lost in true Cardiff tradition to a Northampton Town team who were destined to finish bottom of the league that year, they had taken twenty two points from the first twenty seven on offer at home.
However, apart from a 4-0 win over Huddersfield around the turn of the year, home games were never as easy again for the team after that afternoon. Although they were able to keep their winning run at Ninian Park going in their next home game with a 1-0 victory over Chesterfield, it only came courtesy of a penalty miss by the visitors and, from then on, the pressure of playing in front of such an expectant crowd really got to the team as only four of the remaining thirteen home matches brought vistories.
Rhys Weston was one of a number of City players to suffer as the crowd started to turn against the team – Spencer Prior (who, although he came good to some extent in the Play Offs, was an expensive flop) , Andy Campbell (ditto what I said about Prior) and, bizarrely, Peter Thorne were others. From around late November onwards, City's best performances were reserved for away matches as defeats by the likes of struggling Notts County emphasised how much City were struggling at home and things came to a head in a dire 3-0 defeat against Colchester when even someone like me who hates it when supporters start having a go at our players couldn't really argue with those who lost it with the team in a match that was as one sided as the scoreline suggests.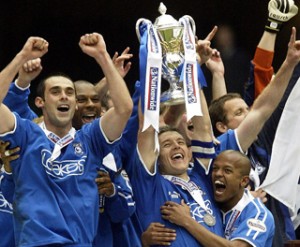 That mauling by Colchester was the second in a run of four games without a goal by City as they scraped into the end of season Play Offs in sixth place. In complete contrast to the previous season when they had gone into the end of season lottery, which sees the last promotion place decided, as the form team and many people's favourites, five matches without a win, their dodgy home form over the previous six months and their appalling record against Semi Final opponents Bristol City all conspired to make them the outsiders of the four this time around. Maybe not having anybody expecting much from them was what helped that City team come through when it was most needed though – if there is one positive to be gained from our current situation, I suppose it could be that no one will be expecting too much from the team if the off field situation remains the same.
2 November 2002
Cardiff City 3 (Kavanagh 19, Earnshaw (pen) 52, Weston 57) Peterborough United 0
City Alexander; Weston (Barker), Prior, Gabbidon, Croft; Boland, Whalley (Campbell), Kavanagh, Maxwell; Earnshaw, Thorne (Fortune-West)
Peterborough Tyler; Gill, Rea, Burton, Jelleyman; Shields, Bullard, Hyde (Lee), Joseph; Clarke (Newton), Allen (Farrell)
HT 1-0
Att. 12,918