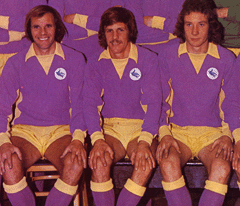 I think there is a very good chance that I have seen us play Preston North End in home league games more than any other club so there are plenty of matches against tomorrow's opponents to choose from when it comes to picking one to feature here. In the end I decided to go for one of the weirdest matches I ever saw at Ninian Park as City found themselves being distinctly second best to their opponents in all facets of the game except for the most important one of sticking the ball in the net!
After their promotion in 1988, City did not set the third tier alight in their first season back, but survived comfortably enough in the end as many of the stalwarts from the previous season handled the step up in class reasonably enough. However, with the club in a perilous financial position (I could paste that term into almost every story I do in this section!), the summer of 1989 was a deflating one for supporters as a pretty useful team was torn apart with departures galore as the club tried to balance it's books. Regulars such as Paul Wimbleton, Terry Boyle and Nicky Platnaeur all left for a combined fee of around £120,000 during that summer and although striker Chris Pike arrived on a free transfer from Fulham and left back Ray Daniel for a fee of £40,000 from Hull, the retirement of others such as Phil Bater and Ian Walsh meant that the squad was a lot weaker when it kicked off the new season.
It was little surprise therefore that City made their worst start to a league season in 89/90 as they had to wait nine matches before picking up their first win on 7 October. Manager Frank Burrows was another departure a week into the campaign as he left to take up a coaching job at Portsmouth after doing an outstanding job at Ninian Park. However, having already sold striker Kevin Bartlett for a six figure sum in February, Burrows had probably had enough of what was , to be honest, a virtually impossible job and had been refusing to sign the new contract the club had offered him. Therefore, Chairman Tony Clemo turned to former boss Len Ashurst to see if he could perform another miracle similar to one he performed in 82/83 – unfortunately, Ashurst was not able to oblige this time around.
The new manager decided that drastic surgery was needed on the team, but that would cost money that City didn't have at that time so he had little option but to sell again as, this time Alan Curtis left for Swansea for a small fee and the club cashed in on one of their very few remaining saleable assets when striker Jimmy Gilligan followed Frank Burrows to Portsmouth for a fee of £210,000.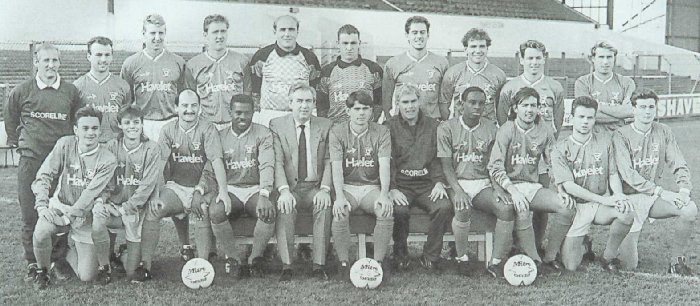 This gave the new City manager the chance to spend some money on new players and striker Cohen Griffith from Kettering for £65,000, midfield player Leigh Barnard from Swindon for £25,000, keeper Roger Hansbury for another £25,000 from Birmingham, winger Jeff Chandler from Bolton for £15,000 and loan signings such as David Kevan and Richard Sendall all arrived in a busy October.
Griffith made an instant impact by scoring a fine goal on his debut as City gained that first win, by 3-2, at Huddersfield, but, although they became harder to beat, there were no more victories for another five matches until Bury were beaten 3-1 at Ninian Park on November 3 to lift us off the bottom of the table.
That win was a prelude to our best spell of the season as City went to Fulham, and thrashed them by 5-2 and then a spot kick by Pike (who, along with Ronnie Bird, is the best penalty taker I have seen at the club) was enough to edge out non league Halesowen in a home First Round FA Cup clash.
City were therefore in a confident frame of mind when Preston arrived the following weekend, but you would never have guessed it as they struggled to win and then keep the ball through the whole ninety minutes. However, as Preston's domination of possession and territory continued, it starting to become apparent that, on that afternoon at least, they had no cutting edge whatsoever and City proceeded to give them a lesson in the art of finishing.

The opening goal arrived about midway through the first half when right back Ian Rodgerson hit a shot from a free kick on the edge of the Preston area which, although not having much pace, was placed well enough to defeat keeper Alan Kelly and, shortly after that, Chris Pike showed the sort of goalscoring instincts that the visitors lacked as he got his sixth goal in four matches by being in the right place to score from close range when the ball dropped to his feet in a goalmouth scramble.
Somehow City had got themselves a 2-0 lead to hang on to and, although normal service was resumed after that as the visitors continued to push forward, the penny began to drop that Preston were never going to score that day – the footballing Gods had decreed it!
I'm not sure what the match must have been like to watch if you were a Preston fan. I suppose there must have been this dawning realisation it was just not going to happen for your team this time, but what would have done my head in the most was the way that the opposition were able to find the net so easily in their, very occasional, sorties forward!
Further proof of this was provided around the hour mark when Cohen Griffith ran from the half way line to score an excellent individual goal at the Grange End. At 3-0 up, that would normally have been the signal for the side in the lead to indulge in what used to qualify as showboating in those days. Two things stopped that happening though, firstly this was no ordinary game – the hapless Preston forwards continued to shoot blanks as enough chances to win the match were created and missed in the remaining minutes and, secondly, I'm not sure that City team would have been able to showboat even if they wanted to!

At full time Preston were left scratching their heads as they were forced to write the game off as "one of those days". City, on the other hand, moved up six places to seventeenth on the back of their win as supporters began to wonder if Len Ashurst had worked the oracle again.
However, over the coming months reality bit for City. Although a 3-1 home loss to Notts County was to be their only defeat in an eleven game run that continued into the New Year, they just weren't winning enough matches – there were only two from fourteen matches after the 2-0 win at Walsall on 30 December. Preston showed that they did know their way to goal with an easy 4-0 win in the return match at Deepdale in February and I became convinced that 89/90 was a relegation season after a Huddersfield team that had lost their previous five matches barely had to break sweat in winning 5-1 at Ninian Park.
A demoralising 2-0 home defeat by Swansea on Easter Monday only served to reaffirm that view, but City still had a late season run of three consecutive home matches against mid table or struggling teams to cling to and they got the first and last part right by beating Walsall and Reading by 3-1 and 3-2 respectively. Unfortunately though the game that did for us was the one against relegation rivals Fulham where a late equaliser for the visitors enabled them to escape with a 3-3 draw.
That goal meant that Fulham maintained their one point lead over us going into the last match of the season and with them having the better goal difference as well a home match with mid table Leyton Orient to come, the odds were very much against the City as they went up to Bury to complete their season. In the event, Orient did their bit by winning 2-1 at Craven Cottage, but City weren't good enough to take advantage as they subsided gently to a 2-0 defeat at Gigg Lane to leave them occupying the last of the relegation places.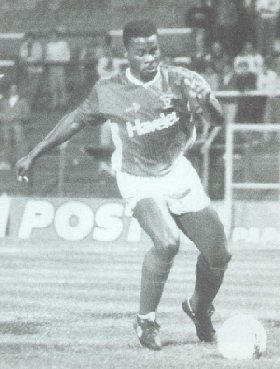 Looking back now, that team had some useful players in it, Rodgerson and Daniel were  one of our best lower division full back combinations, Griffith did well in his first season of league football and, although you could question his work rate, Chris Pike always came up with the goals in a City shirt. However, the very hard working but pretty limited Leigh Barnard was our best midfield player by some distance that year as the other newcomer in that area Chandler had a miserable time of it and a central defence that placed too much reliance on youngsters Gareth Abraham and Jason Perry was always struggling – apart from a sense of pride when we held First Division QPR in an FA Cup Third Round match (that's a story that will have to wait for another time!), the feeling City fans enjoyed after the win over Preston was about as good as it got that year.
25 November 1989
Cardiff City 3 Preston North End 0
City Hansbury; Rodgerson (1), Abraham, Gibbins, Daniel; Morgan, Barnard, Kelly, Chandler (Fry); Pike (1) (Scott), Griffith (1)
Preston Kelly; Williams, Atkins,  Scully (Hughes), Swann; Mooney, Joyce, Bogie, Patterson; Ellis, Shaw (Hughes)
HT 2-0
Att. 3,270