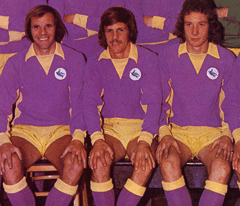 The first time I heard the name Jimmy Scoular in my life was probably in the summer of 1964 when my Dad came in form work and said to my mum "You'll never guess who the City's new manager is – it's that sod Jimmy Scoular!". Now my father was someone who very rarely swore in front of his children, but even at the age of eight, I think I knew that the word "sod" did not really convey the contempt that he had for the man who had been put in charge of the club that he and my mother had followed home and away throughout much of the previous decade.
As I got more into football history in the next few years I learned that as a player Jimmy Scoular had been what is now called a ball winner (I'm pretty sure he would have spent much of his time missing matches through suspension as well if he had been playing now). Although he was a good passer of the ball and an inspiring leader, Scoular's reputation in a playing career which saw him turn out for what were, arguably, the finest ever Portsmouth and Newcastle sides was founded primarily on his fearsome tackling and my dad was only expressing the same sort of feelings that supporters of many clubs had  for someone who they had seen kicking lumps out of their favourites down the years – I'm sure my dad would have loved to have had him playing in the City team in his pomp though!
Although George Swindin was the manager of the first City team I saw (he was dismissed the day before the second game I watched was played), Jimmy Scoular is the man I always say was the manager of City when I first started watching them. Indeed, given that I had been watching the club for more than a decade before he left, I regarded Jimmy Scoular as part of the furniture at Ninian Park – his dismissal came as a complete shock to me as I had begun to think that sacking managers was something that other clubs did.
As to what type of manager Jimmy Scoular was, well when you consider the way he played, his sides were hardly going to be a bunch of shrinking violets and with the likes of Murray, Carver, Bell, Sutton and Dwyer around they certainly weren't that – I can still remember the crowd of nearly 50,000 baying "animals" at the City team when we played at Birmingham in March 1971. However, the team back then also included players like Toshack, Clark (only booked once in his entire career), King (my second strongest memory of the Real Madrid match is that Peter King actually got booked!) and Barrie Jones which showed that Scoular teams were by no means completely reliant on a physical approach. The best Jimmy Scoular side played with two big men up front in Toshack and Clark so the team did rely on the high ball a lot, but with the likes of Gibson, Woodruff, and Jones about as well, the manager showed that he knew that a balance between the physical and technical sides of the game was required.

It shows how much the game has changed though that, when you study Scoular's record with City on a season by season basis, there were probably three or four times when a manager with a similar record nowadays would have been collecting his P45 – for example twentieth place finishes in his second and third seasons at the club, three successive failed promotion challenges and relegation scraps in his last two full seasons with us, but Scoular seemed indestructible, never mind unsackable, to a seventeen year old who he had, in effect, grown up with.
Looking back at it now, I think the City board appointed Jimmy Scoular to do what was in essence a long term job in that they wanted to see a move away from the team he inherited, which was an ageing outfit which included highly paid true legends of the game like Ivor Allchurch and John Charles, to a younger and hungrier side which would cost them an awful lot less in wages. Therefore, Scoular was shown the sort of patience that a current day manager just doesn't get as he pieced together what I still regard as the best City team I have seen, but the writing was on the wall for him when that team in turn began to go over the hill and he struggled to keep the momentum of the 1968/71 period going.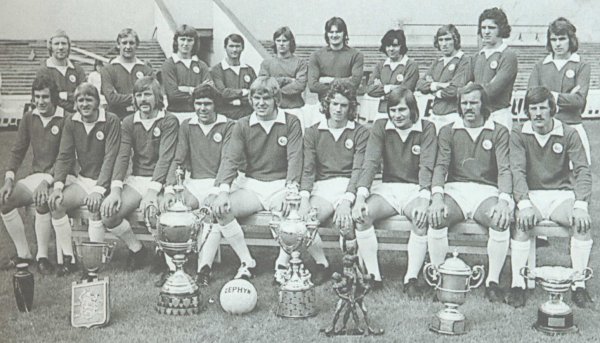 After the narrow escapes from the drop in 71/72 and 72/73, the 1973/74 campaign had actually started quite promisingly for City as they went unbeaten in their first seven matches in all competitions. In the league the team had got as high as sixth after a 5-0 thumping of Oxford United which had seen Andy McCulloch score a hat trick as he continued his fine goalscoring form of the previous season. However, the truth was that the Oxford win was the only one they managed in their first six games in the Second Division – a great 1-1 draw at Roker Park against FA Cup winners Sunderland and a 3-3 draw at Malcolm Allison's Crystal Palace (where points were in far shorter supply than newspaper headlines!) had to be offset with disappointing stalemates at home to Fulham and big spending Portsmouth.
Things started to go wrong after a 3-1 home defeat by Hull on September 29 and October turned out to be an awful month with only a very lucky 1-0 home win over Blackpool and a draw at Preston to show from five matches. Therefore, with just two wins to show from their twelve matches and with most of their rivals having played a game or two more, City found themselves in familiar territory as they occupied twentieth position going into the game with West Bromwich Albion.
If Jimmy Scoular had been a constant during my early years, then West Brom's status as a decent First Division side with a good cup tradition had been another one, but they had fallen on hard times and had not found life in the Second Division that easy after their relegation six months earlier. Indeed, a run of ten games without a win had seen them slip as low as seventeenth only for three consecutive clean sheets, which had seen them also pick up only their third win of the campaign, to start steadying the ship.
Therefore  the baggies side was not as formidable as their reputation might suggest. What they did still have though in Tony Brown,  who was good enough to pick up an England cap a few years earlier, was someone who had a tremendous scoring record for a midfield player and "Bomber" Brown was to be the match winner that day.
If Jimmy Scoular was close to the sack then I am pretty sure that it wasn't because he had lost the dressing room. Although the Scot was  a strict disciplinarian, he was also fiercely protective of his of his players and this usually was repaid with total commitment from his team. My, admittedly hazy, recollection of that day is that City, with the on loan Peter Grotier of West Ham taking over in goal from Bill Irwin, fought hard but created few chances against the in form Albion defence and, with the visitors unable to break through either, it looked like a nailed on goalless draw until Brown struck late on to snatch the points.
A couple of days after the match it was announced that Jimmy Scoular had left the club and that trainer Lew Clayton would take charge of the team for the next match at Millwall (which was lost 2-0). The club then appointed ex Manchester United manager Frank O'Farrell to replace Scoular, but his heart never seemed to be in the job and he was gone before the end of the season as he accepted a job as Iran's manager. O'Farrell's assistant Jimmy Andrews was then given the job and just about steered the club to safety as the point gained in the "Villars match" against Palace kept us up at their expense.
When you look at it, Jimmy Scoular's record as City manager was not that great – in all competitions it read;
P  509  W  188  D  139  L  182  f  789 a 724
and he lost more league games than he won. Yet, I am pretty sure that most supporters of a certain age would rate him as the best manager they have seen at Cardiff City, I know I do. Perhaps looking through the rose coloured spectacles of my youth has something to do with that – if that is the case and Scoular wasn't quite as good as I remember him being then, much as I am sure it will annoy some, I would have to say that a certain Mr Dave Jones is the best City boss I have seen!
3 November 1973
City Grotier; Dwyer, Murray, Phillips, Bell; Woodruff, Smith, Vincent (Villars), Anderson; Reece, McCulloch
West Brom Latchford; Nisbet, Wile, Robertson, Wilson; Cantello, Brown (1), Hartford, Johnston; Glover, Mayo
HT 0-0
Att. 10,663