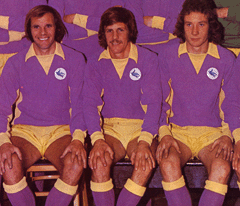 I'm pretty certain I've mused about how your perception of results and games is affected by where your team is playing before on here. If City's season opening game with Fulham had taken place at Craven Cottage, then a 1-1 draw gained through a superb goal in the last five minutes would have been greeted in a positive manner, but because it happened at Cardiff City Stadium it's perceived as two points dropped and I know I felt somewhat downbeat as I left the ground.
Further reflection though has me believing that, this time at least, that's not a fair reaction. Yes, there were areas for concern and I was particularly disappointed by the way we just seemed to run out of steam after our goal, but overall, we played a whole lot better in drawing against Fulham yesterday than we did in beating the same opposition in the back to blue match in January.
Back then we were in the middle of that awful period where we were making the most notorious long ball teams from twenty and thirty years ago look sophisticated and, to be frank, we wouldn't have needed to have played too well to beat the set piece orientated stuff that made it impossible for many, including myself, to enjoy even our victories at that time.
So, really, me saying we were better than when we beat Fulham last time we played them is just to damn the team with faint praise – on yesterday's showing, City deserve better than that, so let's also say that, in terms of trying to play a pleasing brand of football, I've not seen too many more enjoyable showings from the team in the two years since we beat Manchester City.
It was almost a very good performance from City and but for a blunder by the unfortunate Simon Moore, I believe they would have got the win that I think they probably deserved. Moore had not been convincing in the first half as giant visiting striker Matt Smith nodded against a post, but his luck didn't hold two minutes after the break when he spilled a Ben Pringle cross and Smith put away a simple chance.
It must be said therefore that goalkeeper is one area of the pitch where there has to be concern while David Marshall's situation at Cardiff remains so uncertain (there have been recent suggestions that West Brom's interest in him may have cooled somewhat).
In the middle of the park, the comment Peter Whittingham could have done more is one that has been heard and read plenty of times in the last few years – with his passing unusually going awry at times, Whittingham was the least effective of a City midfield quartet which, as a unit, was more convincing than it was through much of last season.
Out on the right, Anthony Pilkington played as well as he has ever done in a City shirt in the first half in particular and was unlucky when some fine control a matter of seconds before Fulham's goal earned himself a shooting chance that saw his effort deflected on to the crossbar. Joe Ralls continues to look at home at this level and, after an early incident where he looked slow and lacking fitness as an opponent burst past him, Kagisho Dikgacoi brought solidity and a surprising eye for a pass (his early ball inside the Fulham left back was the best of the game from a City player for me) to proceedings.
After being embarrassingly bad when it came to possession stats last year, it was heartening to see City have 54 per cent possession when Whittingham was not a major influence and also to see them have the patience at the back to work the ball clear rather than just launch it.
This brings me on to the third area where I believe City need to improve – the Mason/Revell partnership up front never really looked convincing. The latter worked as hard as ever, but was never a significant influence on proceedings, while much of the former's work outside the box was sloppier than normal, but, encouragingly, he looked sharp and lively inside it as he got away three on target efforts.
Unfortunately, whereas City's goalkeeper had a game he will not remember with any affection, Andy Lonergan in the Fulham goal put in a performance at the other end of the spectrum as he denied Mason each time, but I'm trying to be optimistic here and so at least it was good to see an opposing goalkeeper having to earn his corn after a year of watching them with the proverbial cigar in their mouth and slippers on their feet at Cardiff City Stadium.
City were flagging somewhat though by the time Craig Noone replaced Dikgacoi for the last quarter of an hour and, with the visitors showing an ability to counter attack quickly, they had become the more likely scorers of the game's second goal.
The winger had been the cause of much frustration during an injury hit 14/15 season. His habit of trying multiple shots per game from anything up to thirty five yards out that endangered the corner flags and people sat in Row Z rather than the opposition goal caused at least one City fan I know to expect the worst as he cut in from the right wing to let fly from around twenty five yards.
Noone had a success rate of 0% from such efforts last year, but his first attempt in 15/16 left Lonergan helpless as it curled into the top corner. So, one City player has already equalled his number of Championship goals scored from last season and a Craig Noone with his shooting boots rediscovered will certainly be a boost to our chances over the next nine months.
One other thing about Noone's goal worth noting was that it came after the eightieth minute. The very low number of goals we scored late on in matches last season tended to justify claims about the low fitness levels of the squad for 14/15 and scoring when we did on what turned out to be a very hot afternoon, offers some backing to those that maintain we are a much fitter squad this season.
Unfortunately, those yet to be convinced about such claims, can point to what happened after our equaliser as they say they want to see more evidence yet before agreeing that Russell Slade and his fitness staff have transformed the squad in this regard.
I've already mentioned my disappointment at what happened after Noone's goal – with ten minutes to still to go, City spent most of it hanging on to their point as Fulham finished much the stronger. True, with Whittingham and Ralls in central midfield and attacking subs brought on as Russell Slade chased an equaliser, City didn't have the defensive numbers they possessed when Dikagcoi was there to help shore things up, but they also seemed to have little left in the tank as Fulham, to their credit, went for a winner which they really should have got it when, perhaps with the aid of a foul, their effective sub Dembele broke free of the defence to set up a clear chance which Ross McCormack surprisingly botched.
Moore redeemed himself a little with some good handling at times and Matt Connolly in particular got some vital blocks in as Fulham showed enough to suggest that there won't be a repeat of last season's relegation struggle  for them, but, to be honest, I'm not convinced that I saw a couple of sides that will be battling it out at the top of the table over the coming months yesterday – for me, the visitor's centrebacks looked distinctly dodgy at times.
Of course, there are still more than three weeks to go before the transfer window closes and so both teams have the opportunity to strengthen in the areas where they need to. Fulham's failed big money bid for Brighton's Lewis Dunk suggests they have the funds to do this, whereas it looks to me like City need to sell Marshall or get rid of more high earners before they can recruit players good enough to make a difference to their squad.
I'm sure some will look at my fairly downbeat assessment of our chances of making it back to the Premier League this season and the mostly optimistic nature of this piece (my opinion of yesterday's match is certainly at odds with many contributors on the messageboard I use) and believe that I'm guilty of contradicting myself somewhat – I'd explain myself as follows.
We are going into the new season with virtually the same manager and squad that made 14/15 one of the most miserable of the fifty plus seasons I've experienced. Yes, we may be more fit this time around and there may be a better spirit in the camp, but it's asking an awful lot for this manager and group of players to improve so drastically that non City fans will genuinely start tipping us to go up.
Therefore, I'd say my expectation levels for this season are as low as they have been for any of the campaigns we've had in this league since 2003/04 with the exception of Dave Jones' first season (05/06) – with low expectation comes the knowledge that we don't have to be too great for me to start being more complimentary about the team.
During the last week, contributors to that messageboard I mentioned were asked to come up with their three wishes for City's 15/16 campaign – mine were pretty modest;-
1. Being able to come out of a City home game and think to myself "I really enjoyed that" – it didn't happen once last season.
2. The club continue to make what I think are genuine efforts to rebuild bridges with supporters – it would be nice to see this lead to an improvement in the atmosphere at Cardiff City Stadium.
3. A Welsh youngster breaks into the first team and does well enough to become a regular starter – that would knock my growing suspicion that this manager is not interested in youth development in the slightest on the head.
Well, after one game, number three is, hardly surprisingly, as far away as ever. As for number two, the club's decision to dispense with stadium announcer Ali Yassine on the day before the season started and replace him, hopefully on a temporary basis, with the worthy, but hardly charismatic Richard Shepherd (the club's very good historian) suggests that the cock up capacity at Cardiff City is as strong as it ever was, but, while the place was hardly rocking throughout the ninety minutes, it was at least good to see the supporters sticking with the team even when it looked like we would be making a losing start to the campaign.
Finally, with regard to the first of my wishes, City didn't quite reach the criteria I set them, but they came pretty close and the way they kept on trying to play a brand of football that was the complete opposite of what we saw for too much of last season offered the hope that they will be able to do so on a few occasions over the coming months.
*Pictures courtesy of https://www.flickr.com/photos/joncandy/sets/with/72157657129308515