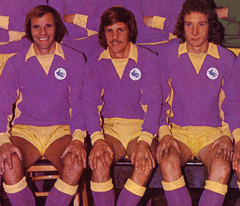 Unless you are Bayern Munich it seems, all good runs have to come to an end and so it was that City's Under 18's suffered their first league defeat since 2 November this lunchtime when they were beaten 5-4 by Brentford at Leckwith this lunchtime. It did come as a bit of a surprise that it was the team that was last but one in the league who ended the nine match unbeaten run mind, but, the City team was short of some important performers – seemingly, playing three matches in  a week had led to some squad rotation.
It wasn't just the personnel that was different – the 3-5-2 system, which had seen the team concede just one goal in their last three matches, was ditched in favour of a 4-3-3/4-5-1 which looked more like the former than the latter most of the time. With one of the midfield three in Jamie Veale getting forward quite a bit as well, there was certainly an attacking approach by the Academy team, but one look at the scoreline tells you that what was gained at one end of the pitch was more than made up for by what happened at the other.
A strong wind blowing down the pitch meant the conditions weren't the best, but, this time, instead of making for a lack of goalmouth action, they played a part in bringing about the mistakes which meant that there was no lack of talking points throughout in one of those matches where the entertainment value came about as much because of poor play than anything exceptional in terms of attacking football.
Given the goal rush to come, it was a pretty quiet first twenty minutes – Brentford were first to  threaten with a couple of efforts that didn't miss by much, but City replied with Abdi Noor's well struck effort which looked to beat the keeper's dive, but also missed the goal by a matter of inches, while, having got to the ball before keeper and covering defender, Tyler Roche would have been disappointed to put his lob wide.
City seemed to be taking charge, but it was the visitors who scored first when David Tutonda's pass fell between two City players and Brentford broke quickly with their number nine beating his marker before calmly side footing past Liam Matthews. City did not take long to get on terms, but it seemed to me that the officials tended to favour them throughout and Brentford certainly felt hard done by as as the ball broke for Eli Phipps who was able to walk the ball into the net as the defence waited for an offside flag.
Within about a minute though, the visitors had restored their lead when a careless pass by Veale presented them with possession in the City penalty area and they patiently worked an opening which was put away from fifteen yards by one of their attackers.
Brentford now began to get on top and with City missing the two Watkins' at either end of the pitch (Curtis and Jake), they had a height advantage which they were able to exploit at free kicks and corners. This happened about five minutes before half time when when a firm header from a corner looked destined for the net only to be blocked before falling to a Brentford player who bundled the ball in from close range via the post. City were able to reduce the arrears just before half time though when Noor seemed to have made a mess of a great chance as he failed to get  a clean connection on the ball, only for Roche to reach the ball before it went out of play and knock a cross over from the bye line which Phipps met with a well struck side footed effort from 15 yards that the Brentford keeper did well to block, but his luck was out as the ball fell to Noor who was able to tap in from about a yard out.
3-2 up at half time and with the wind at their backs, Brentford must have fancied their chances and this must have been even more true when they again exploited their dominance at set pieces when a corner fell into the path of one of their central defenders who blasted the ball high into the net to restore their two goal lead within about two minutes of the restart.
However, from this point onwards, City generally had the better of things. Their number eight (not sure who he was sorry) scored their best goal of the game to make it 4-3 with a first time shot from just inside the penalty area after a fluent  move down the right and they were level a few minutes later when centreback Brad Wickham scored from close range after a free kick had caused confusion in the visitor's defence.
For a while it looked as if there would only be one winner as City attacked constantly – Noor had the ball in the net, only for the goal to be ruled out for offside and when a shot struck a Brentford hand inside the area, there were few protests from the visitors at the resultant penalty award. Unfortunately Tom Burridge's spot kick flew high and wide and it got even worse for City within seconds when Brentford's number ten scored what was probably the best goal of the game when he created space for himself and finished well with a low shot from the edge of the penalty area into the corner of the net.
That was the end of the scoring, but not of the action, Brentford's keeper was frequently called into action as City chased another equaliser and the unfortunate Matthews, who had let in five but couldn't be blamed for any of them, finally got to make a save when he turned another low effort from around twenty yards around the post.
City's increasingly desperate efforts to score a fifth goal were survived with few alarms by Brentford who left with all three points. On the overall balance of play, it could be argued that they were fortunate to do so, but, compared to their recent performances, this was a careless and tired showing by City which leaves them probably facing an uphill task to secure the top two finish that would take them into the end of season Play Offs.
Photo courtesy of  http://www.cardiffcityfc.co.uk/