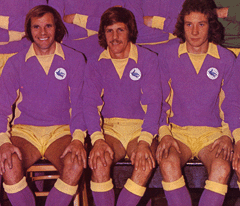 Newport County manager Justin Edinburgh rated his team's 3-1 win over Southend at Rodney Parade as their best of the season so far. Having only seen them play three times, I'm not really in a position to comment, but it was definitely the best performance I've seen from his team so far in 13/14.
I'm something of a lucky omen for County as they've taken the points every time I've seen them, but this latest victory (which lifts them into the last of the Play Off positions, but, tellingly, sees them only three points off the top of the table in a very tight division) saw a more complete performance than the opening day 4-1 win over a poor Accrington Stanley team and was certainly a couple of levels up on the 1-0 win over Bristol Rovers which saw them hanging on pretty desperately in the closing stages.
Southend came into the match with the same number of points as County and, having a very good defensive record which had seen them average less than a goal a game conceded up to yesterday, so I had visions of it being a tight affair which would finish as a low scoring draw or a 1-0 win to either team. I could not have been more wrong – there was an open feel to the game right from the start and it was an entertaining, if one sided, affair.
In the early stages it was the visitors who came closest to scoring as County made  a mess of a straightforward ball down the middle and Woodrow shot just wide, but from the moment midfield player Lee Minshull was denied from one of County's many corners, it was the home side who held sway. Minshull was stopped from scoring from close range by a smothering save from Southend's young keeper Daniel Bentley and he was to become one of two players who dominated this game.
Those two players came into direct competition on twenty three minutes when Bentley made his only mistake of the game as he came out of his area to kick clear, missed the ball completely and County striker Conor Washington rolled it into the empty net. It was an awful error by the keeper, but, perhaps, he was disconcerted by Washington's pace because the striker was beginning to cause the Southend defence  a lot of problems with his direct running.
Washington got to the bye line shortly afterwards and pulled back a low cross that was just begging to be put in by a County forward, but it was the visitors who scored next when left back Ben Coker netted with an excellent free kick from around twenty five yards (although quite why it was given I don't know – if anything, it looked like it should have been a free kick to County) to spark celebrations from the impressive Southend support. The home side responded positively to this setback though and, in added time at the end of the first half, Minshull headed another corner across goal for sub Andrew Hughes to score from close range.
A further County goal soon after the break when centre back Yakubu headed in a Washington cross put them comfortably ahead and, effectively, signalled the end of the game as a meaningful contest. To be honest, County ripped Southend to shreds after that and the main reason why the final scoreline did not reflect the general balance of play was because of the goalkeeping masterclass provided by Bentley in the last half an hour or so. Besides his four or five fine saves, there were shots just wide or high from County and, having once again, ran the visiting centrebacks ragged, Washington's low shot rebounded to safety off the inside of the post.
Washington was signed from St Ives Town, where he had scored fifty two goals in fifty matches, about a year ago. It was my first real look at him and it might be that I caught him on one of those days when everything goes right for him, but, based on what I saw, he could play at a higher level than League Two. In saying that, I'm not predicting we'll see him featuring in the Premier League any time soon, but I can think of a certain team in that division who could do with a pest like him whose pace and movement drags centrebacks into areas they don't want to go to and earns his side positions high up the pitch.
Obviously, I didn't watch City's goalless draw with Norwich at Carrow Road yesterday, but I have seen Sky's pretty extensive red button highlights and it seems to me that they could really have done with someone who could have played like Washington did – albeit at a lot lower level. In the continued absence of the target man type option who can gain his team mates some time by strong hold up play which, hopefully, Andreas Cornelius will provide when he is fit, a more mobile and pacey player who can run the channels seems to be our best bet to give his beleaguered team mates the chance to get up into the sort of areas they should be occupying. It's a thankless and unforgiving task and, so far, neither Fraizer Campbell or Peter Odemwingie, look capable of making a success of the role on a consistent enough basis to ensure that we play the game in areas which suit us rather than our opponents (a Craig Bellamy at his peak would probably have managed it, but not now I fear) .
That said, having found a player able to get us further up the pitch, would our midfield be good enough, both in terms of having the strength to withstand challenges from defenders and in having the technique to retain possession to keep us there? Based on yesterday's evidence the answer could well be no. I've read stuff about us just sitting back and inviting Norwich's pretty relentless pressure on to us yesterday, but, if the plan was to play for a 0-0 wouldn't it have made more sense to have gone for the "steady Eddies" like Cowie and Gunnarsson from the start instead of Kimbo and one of Campbell or Odemwingie like we did last week at Chelsea where, in my opinion, Malky Mackay sent out a team based primarily on containment?
For me a team featuring Mutch (with instructions to get forward), Kimbo, Odemwingie and Campbell is one which our manager hopes will have the capacity to hurt opponents and, for a while, at the start of the game, there was evidence that they could do so – all of them bar Odemwingie had decent scoring opportunities and the Tashkent born Nigerian international provided a fine pass in the build up to one of them. Unfortunately, that was about as good as it got for City in an attacking sense and those four players were soon being seen more in a defensive capacity with Kimbo and Odemwingie showing that they can be liabilities in that department.
So, having, somehow, got to half time at 0-0, Malky Mackay, rightly based on what I saw, decided that the more solid virtues of Cowie and Gunnarsson were required and, although we were still far too reliant on our goalkeeper and centrebacks, the second half wasn't quite as hairy as the first had been. The quandry for our manager though is that all the highlights package showed from us in an attacking sense after the break were a couple of decently struck, but hardly testing, long range efforts by Medel and Theophile-Catharine that home keeper Ruddy had to deal with – I take it Sky didn't miss anything meaningful from us in an attacking sense in the second half?
Reading the messageboards, it's amazing how so much positivity has drained out of supporters so quickly – it was only three games ago that we were winning at Fulham and the talk was of a top half finish. Since then we've had a poor first half against Newcastle followed by a decent second period, played pretty well (certainly better than yesterday) at Chelsea and scraped a lucky point while struggling at Norwich. Now, put like that, our last three matches don't sound so bad and some of the air of depression that has settled over fans can be put down to the fickle nature of the modern day football supporter who veers wildly from game to game in their opinions as well as our largest shareholders ham fisted management, but it needs to be said that, when we are bad in this league we look very bad indeed.
Norwich had thirty one goal attempts yesterday, that's the most by any side in a Premier League game this season. Okay, our opponents deserve some credit for that – they didn't look like a bottom three side and I thought they performed like a team who were definitely playing for a manager who is still under fierce pressure. However, for the second time in three games, it looked like our opponents wanted it more than some of our players did and that's a worrying situation when you look at a team managed by someone who puts such great store in the "group" and a team mentality.
Despite this though, I still believe that people should try to look at the bigger picture here. The fixture computer gave us a dreadfully tough start to our home campaign and, while our away fixtures up to December have, in general, definitely been against sides who you would expect to finish in the bottom half of the table, we were never going to go away and win three or four of them. I think our away results have been fine up to now and we have three more home points than I thought we would – if we can get through the next four matches and still be in or around the 17th position area, then that's two or three places higher than I thought we'd be going into December.
Back in the summer, I looked at our season from the perspective that, a very tough January apart, it should start getting easier from December onwards and it would all boil down to whether we had not left ourselves too much to do during the first three and a half months of the campaign. To be honest, even if we lose our next four matches, we are going to be going into December with more points than I expected us to. The trouble is though that, displays like yesterday's don't leave me confident of getting the wins we are going to need when the return fixture is played and also when the likes of Palace, Sunderland, Hull, Stoke and Fulham come here.