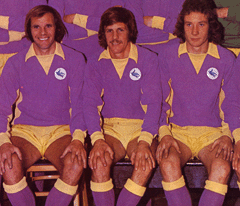 I'm sorry, but, even when they are scored by City players, there is a part of me that has always found own goals very amusing – I think it is because they often show that players who are supposed to be so much better than us supporters are sometimes capable of doing the sort of thing that would have the most ordinary player squirming with embarrassment. Mind you, as far as I am concerned, the very best own goals (as proved by my number one City O.G. of the last forty five years) involve a level of ability that I could only dream of! Anyway, a few years ago I did a piece on my favourite 10 own goals for a very short lived City fanzine (I'm fairly sure it's demise had nothing to do with my own goals list!) and, because we have scored a few crackers in recent seasons, I thought I would do an updated one today, so, in reverse order, here are my ten most memorable City own goals since 1963;-
Number 10 – Roger Johnson v West Brom (a) 19/1/08
City had played excellently to go 3-1 up early in the second half at eventual Championship winners West Brom and, although the Baggies had got a goal back, they were hanging on to their lead with just two minutes left.  The home side were piling on the pressure, but, just when you started to believe we could hold out, Johnson sliced a clearance which looped gently over Michael Oakes and into the corner of the net. It was one of those instances where you realise what is going to happen before the ball hits the net and, because the ball was travelling so slowly this only made it feel worse – in truth, it was an unlucky own goal by Roger and, to make matters worse for him, he followed it up with another one a fortnight later at runners up Stoke in a 2-1 defeat.
Number 9 Chris Pike v Maidstone United (a) 18/11/90
Younger supporters may not even realise that there was once a team in the Football League called Maidstone United, but there was for five years or so around twenty years ago and they managed to beat us 5-0 at Ninian Park in a notorious New Years Day game in 1992. Actually, I am cheating here, because I have never seen Chris Pike's contribution to this top ten, but I just had to include it because it is not very often that your centre forward scores two own goals in the same match – Pike's brace (I think they were both headers) helping Maidstone to a 3-0 win.
Number 8 Andy Jordan v Bristol Rovers (h) 19/11/2000 and v Exeter City (h) 1/1/01
Given his father's history from previous Wales v Scotland encounters, Andy Jordan was always going to have to be a very good player to completely win over some older City fans, but the truth is that he wasn't even close to being mediocre! Jordan had an awful time of it at Cardiff as proven by two own goals in just six "proper" appearances for us – I use the word proper there, because Jordan also managed to miss from the spot in a penalty shoot out at Newport in the Mickey Mouse Welsh Cup! These two own goals show that Jordan was equally inept with head and feet as he carefully guided  a header over Mark Walton to give Bristol Rovers the lead in an FA Cup tie, which we ended up winning 5-1, and then, under no real pressure, rocketed a clearance high up into his own net past a bemused Walton to give Exeter a consolation goal in a 6-1 hiding.

Number 7 Rhys Weston v Southend (a) 13/1/01
Another away game that City were winning going into the final minutes – this time by 1-0 at Roots Hall. There seemed to be no danger as keeper Mark Walton came out to catch a routine long ball, but full back Rhys Weston (seen celebrating his goal above) decided to intervene and sent a sliced volley past the startled keeper and into the net to give Sarfend a share of the spoils.
Number 6 Darren Purse v Leicester (h) 1/3/08
Now I don't think Darren Purse is anywhere near as bad a player as some of his critics amongst our fanbase do and it has to be said that it was blowing an absolute gale for this game, so there was always the possibility of a farcical own goal being scored, but he is someone who these type of things tend to happen to! City keeper Peter Enckelman was caught in no man's land as Purse knocked a long clearance from visiting goalkeeper Paul Henderson past him and into the net with no Leicester player within ten yards of him – to make matters worse for our former skipper, it was the only goal of the game.
Number 5 Mark Kennedy v Preston (a) 18/4/09
The wounds still run too deep for me to even grin at this goal yet, but if another side had scored it, I would have found it hilarious. Steve Sedgewick broke past three feeble attempted tackles to feed Ian Mellor and his  cross was nodded in at the far post by a diving Mark Kennedy via the woodwork before keeper Stuart Taylor could even move.
Number 4 Graham Coldrick v Man City (h) 18/2/67
Apart from a 2-0 defeat at Southport a year earlier when they were victims of a "giantkilling" act, this game represents my earliest memory of City in the FA Cup. The match was played on a filthy day on a mudheap of a pitch and City really could and probably should have repeated their win over the same opponents twenty seven years later. Man City were one of the best teams in the country at the time, but they only escaped with a draw because right back Graham Coldrick buried a powerful diving header past Bob Wilson to give them a first hard lead.
Number 3 Eddie Johnson v Derby (h) 8/4/09
For sheer ineptitude, this is the worst own goal I have seen City score – a poor parks player would have been ashamed to have an O.G. like this one debited against them. City were strolling to a 4-0 win in injury time when Johnson, back helping out his defence (!!). gives away a completely unnecessary corner. Derby then make a hash of the corner as a low nothing ball to the near post is sent in – it should have been a simple clearance to make, but Eddie Johnson sends it into his own net past a helpless Stuart Taylor (and to think some supporters seem to genuinely want Eddie back!). Whilst it would be wrong to blame us missing out on the play offs last season solely on Eddie Johnson, incidents like this one and the Mark Kennedy one described above are a reminder as to how different things could have turned out for us if some of our players had kept their nerve and concentration.
Number 2 Don Murray v Millwall (h) 4/3/67
I might be doing him a disservice, but my guess is that Don Murray has scored more own goals than any other City player in the last fifty years, so this list wouldn't be complete without a contribution from him and this one is a beauty! England had only recently won the World Cup playing what was considered to be a defensive 4-2-4 system and the back pass to the keeper was in vogue, so when Don turned, under very little pressure from the opposition, and lobbed the ball backed towards Bob Wilson from about forty five yards, we were watching a pretty common occurrence. However, a fortnight after being beaten by Coldrick's cracker against Man City, the keeper could only watch from around the penalty spot, as  Murray's pass bounced in front of him, cleared him easily and dropped quietly into the net.

Number 1 Jason Bowen  v Crewe (h) 6/1/01
This own goal really is in a different class to the others I have described because only a player with Bowen's innate natural talent could have successfully mixed the cocktail of ingredients that make this goal an absolute classic of it's kind. Firstly, there is the player's position on the pitch to be considered – most own goals are scored from central areas, Bowen was out by City's left hand touchline when he scored. Secondly, there was the pace at which his back pass was hit and, thirdly, there was a brilliant judgement of angles that would have been beyond the mental capabilities of your average defender.
Those second and third elements mixed with an added ingredient which only confirmed that those present for that FA Cup tie were watching pure genius at work. That added ingredient was keeper Mark Walton who was in the middle of a run which saw him concede four own goals (all of which feature in this top ten!) within about seven weeks – little wonder then that, much like a punch drunk boxer, Walton decided to retire at the end of that season!
People have noted that the pitch in the new stadium lacks the camber that the Ninian Park pitch had, but Bowen accounted for that hump in the middle of the pitch perfectly – he could have been Tiger Woods sizing up a putt as he calculated exactly the pace and line the ball needed to hit the back of our net. The result was a backpass from about twenty five yards which was of a pace that was always slow enough to keep the desperately retreating Walton interested, but quick enough to ensure that he would, just, fail in his feverish attempts to keep the ball out – similarly, for a little while it looked as if Bowen's effort might drift wide, but he had judged it perfectly and the ball rolled in with barely the strength left in it to ripple the net for a goal which, even at the time, had me laughing even though we had just gone 1-0 down. That's the thing with a truly great own goal like this one – club loyalties have to be put to one side when you are in the presence of greatness such as this!