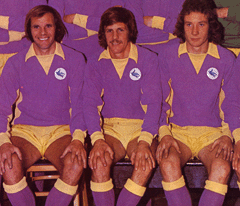 There was another poll in the local press during last week asking whether Russell Slade should continue as Cardiff City manager – predictably, given events in October and the first few days of November, the majority view was that he shouldn't.
When asked about this, Mr Slade answered that these polls never seem to take place after his team had won a couple of games – it was a fair point, but I think the truth for this City boss is that he'll never command the overwhelming backing of the fans.
For myself, I'd become much more critical of our manager after the Bristol City match, but, as I pointed out after the Leeds defeat, any criticism at this stage could only realistically be directed at the level of performance of the team because results, although not great in recent weeks, have been generally satisfactory so far this season.
I stick by what I said about the boring nature of so many of the home matches especially under Russell Slade's management, but, this morning, he can take satisfaction both from a good 2-0 win over a Reading side who were above us in the table going into yesterday's match at Cardiff City Stadium and the fact that his team went someway towards answering back the critics when it comes to the dull football people like me accuse them of playing.
In fact, I would go as far as to say that yesterday's game was in the top two or three for entertainment value when to comes to home matches played under this manager. Now, it should be noted at this point, that, whereas under most managers who have been in charge at a club for over a year, that last sentence may read like high praise indeed, anyone who has seen all of the games in question will know that yesterday's encounter didn't need to be that good to get into the top two or three in the entertainment stakes.
Furthermore, one of the reasons why I found yesterday a more enjoyable experience than normal was that there were frequent reasons to applaud a Cardiff player showing a level of ability more suited to the Premier League than the Championship.
I don't know if this still holds true, but, before the midweek round of matches a few days ago, Reading were the team who'd had the most goal attempts over the Championship season and Cardiff the least. This was reflected in a set of match stats which showed that the visitors had nineteen efforts at goal, compared to our ten, with them having double the number on target to us (ten to five).
While I believe that this was another of those games where the stats don't tell the whole story, Reading probably headed back up the M4 believing they deserved something from the match and they would be putting the fact that they didn't get anything down to the performance of one Cardiff player.
Goalkeeper is a strange position in that, unlike anywhere else on the pitch, praise for the individual concerned can often mean that you have problems elsewhere – if I were a manager, I wouldn't want to be reading about how good my keeper was!
Nevertheless, David Marshall's performance yesterday brought back memories from two years ago when many critics rated him as the best in his position in the Premier League. Back in 2013/14, there were times when it seemed like Marshall was playing the opposition on his own and, for a two minute spell in the second half yesterday, it felt like that again as he pulled off three great stops following Reading free kicks and corners.
There were other fine saves in the first half, not least the one from the division's second top scorer Nick Blackman when Reading used their speed on the counter attack to create what was at one time a five on two raid.
Marshall kept on denying the visitors right up until the end and there can be few among the City faithful who would disagree with Russell Slade's assessment that we have the best goalkeeper in the Championship.
As I mentioned before, when your goalkeepers having a brilliant game, it does ask questions of at least some of his team mates and, certainly, City's defending from Reading corners during that inspired spell by Marshall, which had some in the crowd giving him a standing ovation, left something to be desired, but, overall, the back four did well as they made it just one goal conceded (and that was a long range stunner) in six matches.
It's in the nature of things that problems at the sharp end of the pitch will always get more attention than what may be going right at the other end of it, but with the goal drought now ended, you would hope that the team would be given some credit for what has been a spell of outstanding defending in recent weeks.
If yesterday's game had ended 0-0, then, no doubt, I would now be reeling out the number of minutes it was since we had scored and how long it had been since a City player had found the net. Therefore, it's only right that I record that in the 582 minutes of Championship football we've played since Dale Stephens scored for Brighton on 3 October, we've only conceded that belter by Alex Mowatt at Leeds, so, congratulations to all of our players, manager and coaching staff for that record.
So, the back four and keeper certainly played their part in improvement in performance we saw yesterday, but a defensive record of twelve goals conceded in sixteen matches tells you that we can, to some degree at least, take their excellence for granted these days – no, the reason for the upturn in form and entertainment value yesterday tended to lie with the players in front of them.
In what was more of a traditional 4-4-2, Craig Noone had one his better matches since we were relegated – there still were the usual, and probably inevitable, frustrations you get with him, but there was a directness and confidence to his game that certainly came as a surprise to me given some of his recent performances. On the other flank Anthony Pilkington moved infield from time to time to show that the old lopsided midfield system had not entirely been abandoned –although his displays in the couple of matches he played before being dropped merited him being left out, I do think we generally look a better team with him in it.
It was in the central midfield area that the more interesting improvements came. Moving Joe Ralls into his favourite position in the middle of the park saw him more involved and authoritative – his willingness to accept responsibility, work hard for the cause and delivery of quality dead balls made him our best outfield player in my book (this was one game where there should be no argument as to who our man of the match was!).
As someone who has always had faith in him, Ralls' excellence did not surprise, but the display of Aron Gunnarsson certainly did. For me, Iceland's captain put in his best showing in a City shirt for months. True, he was the man who lost possession as City managed to turn what was a promising position deep in Reading's half into the chance for Blackman I mentioned earlier, but, like one or two others, he seemed reinvigorated and it was great to see a central midfield player making a run beyond the strikers again – the second half move which ended with Gunnarsson shooting across goal and not too far wide was City's best of the match for me.
Inevitably, after a match where the midfield looked more fluent and vibrant than it has been for weeks, there was as much discussion about the man who wasn't playing as there was on those who were.
Peter Whittingham's booking at Leeds was his fifth of the campaign, so that meant he had to miss yesterday's match with suspension and, of course, now the question is should he come straight back into the team at Derby in a fortnight's time after the latest international break ends?
Before I answer that, I'm going to give you a stat which I believe should be borne in mind when considering the question. Peter Whittingham has now missed four matches during Russell Slade's time in charge and we've won all of them – of as much interest to that though is that we've scored ten times in doing so.
Now, I think that Whitts has generally played better this season than he did last, so I'm not quite as inclined to automatically answer the question by saying leave him out as I once was. However, if we are going to stick to 4-4-2 at Derby (I'm sure we will), I'd argue that yesterday's midfield should be given another chance.
What I would say though is that, as someone who, in recent seasons, has always advocated us playing three central midfielders if we are going to use Whittingham in that area, I'd be inclined to play 4-5-1/4-3-3 with a single striker and two attacking wide men.
With Kagisho Dikgacoi back on the bench yesterday after his latest injury, it's difficult to settle on personnel for the central midfield roles – for me, Joe Ralls has to be one of them and an Aron Gunnarsson back in the habit of making runs past the striker has to merit consideration, but, if I had to bet as to what our midfield will look like at Derby, I'd go for a return to the lopsided four with Whitts back in, Ralls shifted out to the left again for Pilkington and Gunnarsson retaining his place.
If we were to play with a single striker, then Kenwyne Jones has always seemed the most likely candidate to me. Regular readers of this blog and the comments my pieces attract will know that a few of the regulars on here (plus myself) as not as big Kenwyne fans as most of those who earn a living writing for the local press.
However, it was the big man who was there to score the header just before half time which gave the City fans in the bigger than I expected gate the chance to remember what your team scoring a goal felt like and his lovely flick in the passage of play that led to Gunnarsson's chance was a reminder of what he can do with the ball at his feet.
Jones also managed to make a fool out of me by scoring about a minute after I said "Kenwyne looks like his afternoon siesta has begun", but I still think the point is a fair one which reinforces the suggestion that, if he plays every week, then others are going to have to be prepared to do a lot of his running for him. If he was to play up by himself, then it becomes imperative that one of those central midfielders runs past him pretty regularly.
Whether we play with one or two strikers, there was a first look at someone who, hopefully, will become a realistic candidate to fill the role(s) as Idriss Saadi was surprisingly named on the bench and came on for Joe Mason for the last half an hour or so to make his first team debut.
Saadi wasted little time in firing away a well struck twenty yard effort which drew a diving save from Al Habsi in the Reading goal, but it was quite difficult for him to make a positive first impression because, hardly surprisingly I suppose given the match situation, the gap between the front two and the rest of the side got much bigger while he was on.
To finish, just a quick mention of City player's contributions towards a series of results at youth level that keep up the general feelgood factor that's around in Welsh football at the moment. Firstly, there was City representation in the Wales Under 17 squad that competed in a mini tournament held in Newport to determine who would qualify for a place in the Elite Group stage for the European Under 17s Championship.
Ibby Sosani was used as a substitute over the three matches, but fifteen year old striker Rabbi Matondo started each of them. Wales made a great start by beating the Netherlands 2-1, but then lost 1-0 to Switzerland which meant that they needed to beat Albania to secure an automatic qualifying space. Despite Matondo creating an equaliser with an eighty yard run down the left touchline, Wales could only draw 1-1, but they would later receive confirmation that they had qualified as one of the best third place finishers.
A week later, the venue was again Newport as defending Champions Wales hosted the Under 16s Victory Shield completion. England's arrogant decision to stop taking part in this tournament for the Home Nations meant that, hardly surprisingly, Sky's live coverage of all games in the competition disappeared and so a new format whereby the Republic of Ireland replaced England and all of the matches were played at the one venue over five days was brought in.
Wales made the worst possible start to their title defence by losing 2-1 to Scotland thanks to a goal scored in added time at the end of the game, but recovered to beat the Republic by the same score with Matondo getting the first goal. With Scotland and the Republic drawing 1-1, it meant that the tournament's final match between Wales and Northern Ireland (who had drawn 0-0 with the Republic and beaten Scotland 1-0) was a shoot out for the title.
With ten minutes to go, it was 1-1 with City's Sion Spence having scored the Welsh goal, and it looked like the team from Ulster would lift the trophy, but another goal by Matondo put Wales ahead and there was time for a third to be added before the end to ensure that the Welsh will be going for a hat trick of titles in a year's time.
*photos courtesy of http://www.walesonline.co.uk/
+photo courtesy of http://www.faw.org.uk/