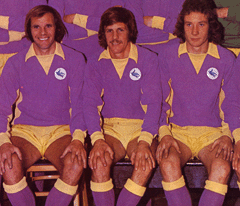 Last night's match at the Millennium stadium saw a team not used to winning important games in Wales take on a Russian side for whom winning has become second nature. For much of the game, Wales matched and even sometimes dominated their illustrious opponents, but in the end, although the 3-1 margin of victory flattered the visitors, their assurance in front of goal meant that their win was probably deserved.
Russia's confidence in front of goal smacked of a team who knew that if they missed one chance, there would be another one along pretty soon – teams with the winning habit can afford to think like that. By contrast, Wales snatched at or scuffed chances in the manner of a side that thought they had to make this one count because there might not be another like it coming along again in the game – teams used to losing the big matches think like that.
Sticking the ball in the net is the hardest part of football and Wales have been going through a fallow period in front of goal in recent times. Apart from the 2-0 win over minnows Liechtenstein almost a year ago, they have not scored more than a single goal in their last thirteen matches – those games have yielded just eleven Welsh goals and so it is little wonder I suppose that all bar Gabbidon, Williams and Ricketts out of the ten starting outfield players scorned scoring opportunities during the game that they could, perhaps, have done better with.
What should console Wales though this morning is the fact that they were able to create so many chances against a team that is ranked sixth in the world. Although any defeat is bound to lead to a downbeat feeling amongst supporters, there really was much to commend in this Welsh performance as they played with a poise and composure which, unfortunately, deserted them once they saw the whites of the Russian goal.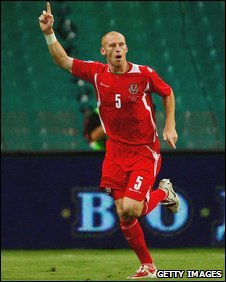 There was a lot of good to be taken out of this match, but what Wales have not been able to do over the past couple of years is build on encouraging performances in competitive games by following one up with another. For example, an unfortunate 2-1 away defeat by the Czech Republic is followed by a bizarre 5-1 home loss to Slovakia, a 5-2 revenge away victory over the Slovakians comes before a dreadful 3-1 defeat in Cyprus and a brave 1-0 loss in Germany is followed by an awful 2-0 home setback to Finland.
That is one of the reasons why the remaining two matches in the group should still be thought of as important ones. Although any realistic hope of qualification is long since gone, a third place finish is a prize well worth fighting for and, for John Toshack, I would say it is something that would keep the increasing number of critics he has off his back for a while.
Speaking of those critics, I think that it is only fair to our manager to point out that all of the signs are that, just as in the Qualifying group for the 2008 European Championships, we are likely to end up exactly where the seeding committee thought we would. Supporters of John Toshack would say that this is acceptable given our history and resources, but I think I would go along with those who argue that the promise shown in terms of performance and results from some games two years ago should have seen us getting closer to third spot in the group than we look like doing at the moment.
What Wales have largely done under John Toshack is beat the teams we should (i.e. those seeded below us) and lose to our supposed betters who are seeded above us. Germany and an improving Russia team were always going to be too good for us, but should we really be trailing a team like Finland by five points at this stage? At the moment, that pathetic display against them at the Millennium Stadium last March is what defines this qualifying campaign for me and, unless we are able to do something to put right that horror show when we meet the Finns again next month, then the Welsh campaign for World Cup 2010 has to be seen as a failure and quite a bad one even by our standards.
Wales succeeded in making Finland look a decent side last March, but, apart from a 3-3 home draw with Germany early in the campaign, their results in the group strongly suggest that they are a team in decline (and they weren't that great in the first place!) – a couple of 3-0 defeats by Russia, 1-0 and 2-1 wins over Azerbaijan and  2-1 and 1-1 scorelines against Lietchtenstein certainly suggest that they are no great shakes.
The challenge for Wales then is to carry the good things shown last night on into the game in Helsinki in a month's time while also discovering some calmness in front of goal. If we can do that then we can win that game and, with Finland having to go to Germany for their last match, that third place finish would certainly be on – winning in Lietchtenstein isn't going to be easy mind. John Toshack would then be able to claim, with some justification, that the qualification campaign had seen us progress from where we were two years ago.
A couple of other things before I finish. I thought, there were some very good individual performances by Wales last night – Sam Ricketts looked like a proper wing back as opposed to a full back trying to do that job when he attacked and Ashley Williams continues to look at home at this level while it was a shame that James Collins and Brian Stock were at fault with Russia's third goal because Collins had done very well up until then and Stock had barely put a foot wrong in a very impressive first performance in a Welsh shirt – based on that display you have to ask why it took him until the age of 27 to get that first cap?
Finally, I hope this now means we have seen the last of our games at the Millennium Stadium – much has been said and written about the place in the last week and I am not going to add much to that expect to note that our record there has been poor, that the bobbly pitch last night was typical of the sort of surface Wales have been forced to play their home games on for too long and to make some personal comments that I believe could apply to other Welsh supporters.
For me, the novelty of Wales playing at the Millennium Stadium soon wore off. I was not one of those who refused to watch Wales play there out of a sense that it was a kind of betrayal, but, after three or four matches, I just decided that it wasn't for me – things like those bloody horns and the lack of what I feel a football international should feel like in terms of atmosphere quickly turned me into an armchair supporter when it came to watching my country. However, if it does turn out that we are going to start using different grounds for our matches from now on then that will be the signal for me to begin going to games again – I will be at any match Wales play at the Cardiff City Stadium and, for reasons that I can't begin to explain because we have been playing there already for a few years and I haven't been there yet,  I will probably start taking in some games at the Liberty Stadium as well.