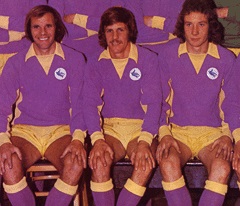 That old cliche most memorably, and ridiculously, used by Andy Gray when he asked how, arguably, the best club side I've seen in my life, the Barcelona team of around six or seven years ago, would cope on a "wet Wednesday night in Stoke" has already been wheeled out on the messageboards after Cardiff City's unbeaten start to the season came to a juddering halt with a 3-0 defeat at rainy and windy Preston last night.
However, this time, it has some relevance, because, for all of the very good things City have done over their first six games, it has to be said that when, for the first time this season, they were faced with the sort of physical and mental challenge they have been setting opponents themselves, the sort of challenge this division often throws up with it's unremitting intensity and competitiveness, they completely failed to cope.
Preston were as good as their manager Alex Neil's word – he spoke beforehand about how his side would be in the faces of their opponents from the start and that's what happened. City pride themselves at being the sort of side their opposition do not enjoy playing against, but last night they were completely "out Cardiffed" I'm afraid.
Now, I should say here that, apart from these brief highlights, which make it look like we were totally overrun, I've not seen anything of last night's match. Therefore, I'll admit that I've been presumptive in what I wrote in the previous two paragraphs, but I must say that when Kevin Ratcliffe, who was there watching it in his capacity as a Radio Wales summariser, said that almost all of the City team had lost their individual battles with their opposite number, I had to agree.
After all, he was only repeating what I had been thinking myself a minute or two earlier as I listened to what had become one of those occasions fans of every team have to endure from time to time when your team is being beaten and there is nothing in what you are watching or listening to that offers you the hope that things can change for the better.
As he often has done when his Cardiff side has been beaten, Neil Warnock directed a portion of the blame at himself as he said he was wrong to resist the temptation to make changes after Saturday's 1-1 draw at Fulham.
Our manager also cited tiredness, as he made the point that his team had a lot of travelling to do between last Friday and yesterday evening and this was hardly ideal preparation for his players. All of this is true and I should say that, as always, he and his coaching staff are best placed to form an opinion on matters like these because you have to assume that, first, they have the advantage over us supporters in that they get to see how the players are faring in training every day and, second, that they contain a degree of expertise when it comes to the professional game that most of us punters lack – much as we might not like to admit it!
However, rightly or wrongly, and speaking solely as a supporter, I find it hard to have much sympathy with the argument that any team is tired when the season is a little over a month old and it shouldn't be forgotten that many of those involved last night have recently had a fortnight without playing a match. Of course, it should be said at this stage that Neil Etheridge, Aron Gunnarsson and Junior Hoilett out of last night's starting line up were still playing during that time and they also had to do an awful lot of the aforesaid travelling in that fortnight as well.
Maybe I'm being over harsh on a squad of players that, even after last night, have to be well in credit on the footballing ledger when you consider what they have done up to now this season, but I can't help wondering if some of them have been believing too many of the nice things that have been said and written about them in recent weeks?
It seems to me that, more than most other leagues, the Championship, with it's ability to see bottom sides shock those at the top so often and it's grinding competitiveness,  is capable of "finding out" teams and players who start to think that they've made it.
After the game, Warnock said you would see a much different City team on Saturday against Sheffield Wednesday and I think that the manager has earned the right to be believed when he says that.
However, I must admit to be being shocked and a little concerned by the nature of last night's defeat. At the end of my piece on the Fulham match, I compared the current team with the 2006/07 City side which also defied pre season predictions by storming out of the blocks to head the table during the early stages of that campaign.
I concluded that the current squad was better equipped to deal with the challenges to come than the one from eleven years ago was, but, when they suffered their first defeat of the season, coincidentally at Preston, in their sixth game, it was by a competitive 2-1, not an insipid 3-0.
Almost a year ago to the day, the much derided Paul Trollope took his struggling team to Deepdale and they were beaten by a 3-0 margin which was as comprehensive in nature as the scoreline suggests it was. Now, self evidently, an awful lot has changed for the better at Cardiff City in the past year, but based on everything I've seen, heard and read about last night's match, someone who had watched the 2016 version of Preston 3 Cardiff 0 and then not seen us play again in the intervening year would have thought "so what's changed?" if they had been present last night.
Being a Cardiff fan means that you have to get used to seeing your side lose. Even when things are going as well as they have been, a defeat is never too far away and, given the fixtures we faced between the international breaks, I was certainly not expecting our unbeaten start to extend too much longer as we went into the Fulham game, but I did not expect this team to suffer their first loss in the manner they did last night. It was the heaviest defeat of the Warnock era and, worse than that, I'd call it the worst performance in that time by a distance – to use another cliche, we really must show that what happened was just one of those blips.
Before finishing, I'd like to return to a theme I spoke about in my piece on the Fulham game when I expressed my puzzlement as to why managers seem to have bogey grounds – for example, Neil Warnock with no wins in eighteen visits I believe it is to Craven Cottage.
It's more common for teams to have bogey grounds and, before the game, one of the regular contributors to the Feedback section on here referred to Deepdale as being one of them for us. Having done some research, I wouldn't say that it is true to call Preston's stadium a bogey ground, but we do have a truly bizarre record there.
We've played at Preston an awful lot down the years (I've mentioned before on here that I think I've probably seen us play them more than any other side in league games in my time supporting City), but even so, I make it that we've won twelve times there, so, even allowing for the fact that we are such frequent visitors to Deepdale, that seems like too many for bogey ground territory to me.
However, what I cannot even begin to explain is why it is that, unlike any other ground I can think of, so many Cardiff teams have taken heavy beatings there. This has been going on for nearly one hundred years, because there was a 7-0 loss there in 1930, it was 7-1 in 1954, 6-0 in 1956, 4-0 in 1963, 9-0 and 4-0 in our visits there in 1966, 4-0 again in 1990, 5-0 in 1996 and, of course, there was that awful 6-0 in 2009.
I suppose a couple of 3-0s seem fairly small beer compared with that lot, but, certainly for around ten years now, we've tended to be a side that doesn't lose by such a margin too often in the Championship and yet there's been two more of them (in 2005 and 2010 – Preston had ten men for most of the time in that second one) as well since we got back to this level in 2003.
So, while we've had our fair share of successes there down the years, Cardiff teams appear to be far more likely to collapse completely than at any other ground when they concede the first goal at Deepdale – why should that be? After all, it's hardly as if it's somewhere as spartan and unwelcoming as, say, the Withdean Stadium and Preston fans are hardly the most intimidating set of supporters on the footballing circuit are they – any theories as to why, over almost a century, so many of our sides have sunk there without trace?