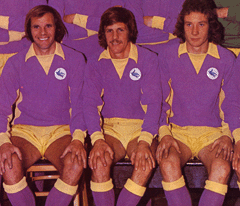 Swansea City's Under 18 team managed to do something that neither senior side has been able to achieve in the major South Wales derby fixture in eighty six years of league rivalry this lunchtime at Leckwith. By following up their 2-0 home win last month with a 3-2 triumph in the capital, the jacks recorded a league double over City and, in doing so, I suppose the question has to be asked as to whether the rapidly widening gap between the fortunes of the clubs has now become a yawning chasm.
Anyone who has watched Cardiff City play at first team level in recent weeks while also seeing the jacks go to places like Southampton and win would almost certainly answer yes and you won't get much argument from me on that score, but if you go below senior level, then it seems to me that the rivalry is as healthy and competitive as it's ever been.
Our Under 21s were victorious in the only meeting between the sides so far this season when a couple of Rhys Healey goals landed us a 2-1 win at the Liberty Stadium back in September (this after doing doubles of our own in the previous two seasons) and, although this will be Swansea's year at youth level, there have been 6-1 wins for Cardiff in each of the past two seasons as well as another double.
Before today, I've seen City play the Jacks about five times at junior levels since they became a Premier League team – from memory we've won all of those matches and, if I'm being honest, the Swansea teams were nothing special during that time. Today's result suggests that their current side is the best of the various Swansea teams I've seen in that time, but, more than that, their performance confirmed it as well – in fact, they were the best I've seen by a distance.
What also needs to be recorded though is that this was a very enjoyable and entertaining game – the City boys will be heartbroken to have lost in the way they did, but there was considerable honour in defeat for them as they gave further weight to my argument that this is one of the stronger Under 18 squads we've had since we gained Academy status. For the second successive Saturday, the youngsters turned in a performance that put their so called betters in the senior side to shame – they tried to play good football throughout and showed a spirit in adversity that you just don't see from Russell Slade's side.
City fielded an unchanged side from last week's 5-0 win over Ipswich and, to some extent at least, the game followed the pattern of that encounter with a tight first half being followed by a far more open second period full of goals. Right from the start, Swansea played with a poise and fluency of the sort which led to them becoming "everyone's second favourite Premier League team" a few years back – City didn't suffer much in comparison mind as two good sides played out an even first thirty five minutes with chances at something of a premium.
Swansea probably had a little bit more polish and slickness to their passing, but there wasn't much in it and the best opportunity of this sparring period undoubtedly fell to City when a cross from the right was missed first by Eli Phipps and then by Ellis Bellamy – the latter's air shot from about twelve yards out when completely unmarked was undoubtedly the better chance. Besides that, there was a twenty yard shot by impressive left back Dylan Rees that flew just over, but, if there was a criticism of City's play during this time, I would say that they their tendency to try shots from long range that were accurate, but hardly difficult for Swansea keeper Thomas to deal with, meant that they did not make the most of opportunities to create better chances if a little more patience had been shown.
By contrast, the jacks tended to show that patience when attacking and their best early efforts were a header not too far over from a corner and then a shot deflected just over as they profited from the willingness of their full backs to get forward. The closing stages of the half saw the visitors take charge as they started to add a physical superiority to their very slight advantage in general play. There were three close shaves for City in rapid succession as they reached half time grateful for the scoresheet to still be blank.
First, Swansea's centre forward side footed just wide from around the penalty spot after being nicely set up from the right, then when City keeper Joe Massaro miskicked again (his kicking was unusually poor for much of the first half), he redeemed himself by making a fine, flying save to turn aside a shot by Swansea's number seven and, finally a sliced attempted cross by visiting right back Lewis caused the goalkeeper problems as he shoveled the ball clear just when it looked as if it might be going in.
City decided to make a change at half time, bringing on Elvis Menayese to replace Lloyd Humprhies with the sub going on to the wing and Abdi Noor taking on Humphries' number ten role. Maybe City were coming to terms with this switch when Swansea moved the ball fluently from right to left to leave Cullen with a shooting chance which he emphatically took by powering a left footed effort high into the net from fifteen yards to open the scoring with just a couple of minutes of the second half played.
For a while City were rocked by this setback as Massaro was forced into another good save and centreback Sam Williams had to clear off the line as Swansea went for the kill, but, showing great tenacity and no little skill, City gradually worked their way back into the game as Bellamy and Meyanese began to enjoy some success down the flanks. A cross from the former was fired towards goal by Phipps only for Thomas to superbly divert the shot on to the crossbar – the subsequent offside decision seemed to relate to what happened in the follow up to this effort, so I think the goal would have stood if the original shot had gone in.
An injury to centreback Shane Parry hardly helped the home side's cause as right back Ashley Baker moved infield to accommodate replacement Jamie Bird. However, it was Baker who leveled things up when he fired in Jamie Veale's corner from close range with around twenty minutes left – this was the prelude for the home side's best period of the game.
I mentioned earlier that Swansea had looked the physically stronger team during their dominant spell in the first half, but now the roles were reversed and it was City winning all of the fifty/fifty challenges as the visitors started to wilt a little and, as the game entered it's final quarter of an hour, they fell behind in controversial circumstances. Substitute Jamie Bird had struggled defensively somewhat at right back – that was hardly surprising because he is a striker by trade, but when he had the chance to show what he could do going forward, he burst infield past two or three opponents and then fed a neat ball through to Meyanese whose low cross looked to be gathered by Thomas, only for the ball to come loose after a second or two to present Phipps with an easy tap in.
Hardly surprisingly, Swansea were livid about the decision to allow the goal – I was sat at the other end of the pitch, so it was difficult to see what had happened, but it did come as a surprise to me when the ref signaled a goal. Thomas needed lengthy treatment after the incident and he collected a few more bumps and bruises in the following minutes as City put him under something of an aerial barrage.
If that suggests that all the home team had to offer was more of the long, high ball stuff that the first team treat us to, then that would be wrong because, while they were always the more direct of the two teams, City were now largely in control and were generally doing a good job of keeping possession as the clock ran down. Massaro did have to make a decent save from Swansea's speedy and dangerous number eleven, but my feeling was that if there was going to be another goal it was likely to come from Cardiff – how wrong could I be!
As the match went into added time, City had to defend a free kick from a wide position about thirty yards from their goal – they had faced two or three similar situations since taking the lead and had dealt with them pretty comfortably, but this time, the ball bobbed about in the penalty area for some time with no blue shirted player able to get it to safety and Cullen was able to side foot in from close range.
There was still more drama to come as City went straight up the field and Meyanese's cross found it's way to Noor who blazed what appeared to be a very presentable chance over the bar and within seconds the ball was in City's net again. Credit has to go to Swansea for an incisive break which ended with Copp slipping the ball past the advancing Massaro, but I can't help thinking that City's eagerness to push on for the winner had left them wide open to the counter attack – of course, that's easy to say with the benefit of hindsight.
I'm probably showing my Cardiff bias here, but I believe a draw would have been the fairest result today – Swansea were the better side in the first half, but I thought we edged the second period. Best player for me was Jamie Veale in central midfield – a gifted and creative little player who reminds me a lot of the Tommy O'Sullivan of two or three years ago.
A disappointing defeat then (especially so given those last few minutes), but, I must say that, on consecutive Saturday's,  the Under 18s have shown that it's not all doom and gloom at Cardiff City these days.
* picture courtesy of http://www.walesonline.co.uk/