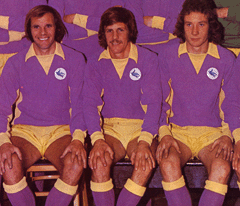 A few things I should say before I comment on City's 2-1 defeat at Milton Keynes Dons last night in the Second Round of the League Cup. First, I mentioned on a City messageboard a few days ago that I couldn't care less if we won or lost the game – that wasn't just said for effect, I genuinely meant it. This takes me into my second point, which is that this was one of those matches that I wasn't even able to listen to, so all I know about it is what I've read on various boards and media sites.Therefore, I'm going to limit myself to a few impressions I've come to from what I've read and if it turns out that I've jumped to wrong conclusions in doing so, then I apologise to our manager for this in advance.
Having got that out of the way, I'll start by saying that it sounds like we were unlucky to lose. Yes, I suppose we paid for not being ruthless enough when we were in control for the greater part of the regulation game time, but, apparently, we played some good quality football again and were comfortable until Karl Robinson's triple substitution led to the home team dominating the closing stages and they were able to carry on that supremacy into extra time.
It's also worth stating that while I wasn't bothered about the outcome, it's entirely understandable that Russell Slade didn't feel the same way. Our manager's frustration was apparent in his post match comments, but, without going into the pros and cons of whether a penalty shoot out should come at the end of the 90 minutes or whether extra time should still be played, I really do think he could have made life easier for himself when it came to team selection and substitutions.
After our narrow win over AFC Wimbledon in the First Round, I criticised our manager for not taking the opportunity to include some of our younger players in the squad. There's no point me going through why I said what I did again here – our manger is what he is and it seems that, at present at least, he does not have the faith in our young home grown pros to include them in his squad for matches which, although I accept he wants to win them, must have a lower priority than the ones we play in the Championship.
In saying that, I was pleasantly surprised to see the name of Theo Wharton as an unused sub when I read a match report – perhaps, I had got our manager wrong and he was prepared to give youth (or maybe I should say relative youth – Theo is 21 in November) a chance? However, when a bit more digging familiarised me with what actually happened before and during the game, I realised that his presence on the bench was, to all intents and purposes, an irrelevance.
To be fair, I should say that Theo, who was very impressive when scoring twice in a substitutes appearance for the Under 21s last week, may only have made the trip to Milton Keynes as cover for the players who are still it seems struggling with the bug which hit the club last week. The alternative is that he was there to get a taste of what it's like to be in a first team squad – I must say though that this sort of thing seems more appropriate for a 17 or 18 year old as a reward for good training and/or performances, not someone who is at an age where some have more than a hundred first team appearances behind them.
As it turned out, Theo was only a substitute because Aron Gunnarsson, who was named in the starting eleven originally, picked up an injury in the pre match warm up and had to drop out. This meant that Joe Ralls was drafted in with Wharton filling the gap on the bench that this caused. Now, Ralls has become an important member of the first team this season and so his substitution by Kagisho Dikgacoi around the seventy minute mark made perfect sense as two almost certain members of the starting eleven at Forest on Saturday were not having to play a full ninety minutes.
Likewise, replacing Alex Revell, who volleyed City's goal to give them the lead early in the second half, to give Federico Macheda some game time as he makes his way back from his pre-season injury was an understandable decision – it's the replacement of Stuart O'Keefe by Lee Peltier at the end of the ninety minutes which has me shaking my head in disbelief.
On the face of it, replacing a central midfielder with a defender who can play in that position, but very rarely does so, when you also have a kid who has played for his country at Under 21 level in the middle of the park looks a questionable decision. However, when you also consider that Peltier had turned his ankle during the substitutes half time kick about (that's what it always looks like to me at least!) and left the field as the second half got under way limping with many concluding he would play no part in the game, then it seems downright odd – especially when you bear in mind the need to keep as many first teamers fit for Saturday as possible. Surely giving Wharton half an hour to see what he can do made more sense under these circumstances?
Matt Kennedy, who has had no game time in the first team yet this season, was another unused sub last night and yet it seems that Craig Noone, who played the full 120 minutes apart from a brief "toilet break", is another one who is afflicted with that bug – according to our manager "Noone ran off to the loo because he is one of the players who has picked up a bug,", so wouldn't it have made more sense to play Kennedy from the start and leave Noone as a sub only to be bought on if absolutely necessary?
It seems that City have a lot of injury/illness problems going into the Forest game and the majority of them have been unavoidable really, but, based on what I've read, risks were taken with two players who are almost certain to be in the 18 for Saturday if fit – given this, it's hard to have full sympathy with Russell Slade when he talks about last night's events giving Forest (who were beaten in the First Round of the competition and so didn't play last night) a possible advantage.
*photo courtesy of http://www.walesonline.co.uk/