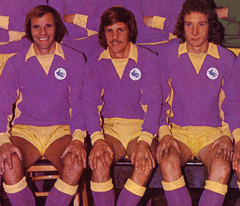 First thing I want to say is well done to Steve Borley for agreeing to attend Tuesday's Supporters' Trust Committee meeting  following his recent online dispute with the organisation. However, for me, the latest Twitter outburst from the City Director goes to the heart of so much that is wrong with the club at the moment.
Before going on to that though, I'd like to talk about the Wales Online "open letter" to Vincent Tan that prompted Mr Borley's response.
I believe that, based on the events of the last three years (the decision to change to red became public knowledge almost three years ago to the day), such a letter was justified. It needs to be said mind that on field performances are the main barometer for gauging how their club is doing for most fans and so it should be recorded that, for the first of the three seasons in which we started the campaign in red, these were perfectly acceptable, bar the odd quibble from some fans about the quality of the entertainment on offer.
However, if you look beyond those horizons, my opinion is that legitimate questions could be asked about the way the club was being run – in fact, this stretches way back beyond Vincent Tan's time, for me it dates back to the time that Mr Borley stood down as Chairman to let Sam Hammam take over.
My main gripe with the "open letter" is that it doesn't do a very good job of tackling it's subject. For example, right at the start, it calls the campaign just ended "One of the worst seasons in the history of Cardiff City FC".
Well, anyone whose time supporting City runs into decades, rather than since their FA Cup Final appearance in 2008, will know that this statement is absolute rubbish – eleventh place in the second tier is higher than I've seen us finish in thirty nine of the fifty one seasons I've supported the club.
That said, if the words "in terms of value for money" had been added on to the end of the statement, I would have had no problems with it. I've said it a few times on here before, but for me City's 2014/15 squad (particularly the one we had in the first half of the season) was the worst I've seen in my time supporting the club when they are measured in terms of value for money – so much cash spent for so little quality out on the pitch.
There is also something of an arrogance to the letter that doesn't sit well with me. The one of the worst seasons in history assertion, the claim that someone with a CV like Jimmy Floyd Hasselbaink "would probably walk over the Severn Bridge from Burton to take over at the club where he once played" and the claim that Cardiff City Stadium is "traditionally a fortress" when it has, like Ninian Park before it, been anything but that for the large majority of its existence  all suggest to me that the writer has a more inflated view of what Cardiff City should be than what history tells us it actually is – I'd say mid table in the second tier is just about the club's default setting for its ninety five years as a Football league club.
Another thing I must say about this letter is that it would be a bit more convincing if it had come from a source which is less prone to jump on bandwagons when it sees them. Now speaking as someone who grudgingly accepted the rebrand at first, I can accept that it's possible to change your mind about such matters, but the Echo's coverage of that subject, with its subsequent forgetfulness of its apparent conversion to the blue cause of about a year ago, won itself few friends based on the conversations I've had on the matter.
So, for me at least, the open letter could and should have been better than it turned out, but who wrote it?
Well, although I see Mr Borley appears to have withdrawn the tweets now, he was adamant that it was Chris Wathan, saying
"@ChrisWathan is behind today's disgraceful letter in the Echo. He doesn't hide the fact he is a Swansea fan but can't get a job on the Post"
on Friday night and
"The team dedicated the win to @ChrisWathan and WalesOnline"
after yesterday's game at Forest.
Now, a personal view is that Mr Wathan's writing is often of a better quality than that seen in the open letter, but, that's by the by – the question which springs to mind to me is should it be accepted that he wrote it just because Steve Borley says so?
What's probably more important for the purposes of this piece though is the implied suggestion that Mr Wathan has an axe to grind because he is a jack.
Although I've not seen anything from the man himself to say he's a Swansea supporter (in fact I've seen messageboard claims that he is a Spurs fan), let's accept for now that Mr Borley is right and the writer of the open letter is, indeed, a jack, then my next question is why should this invalidate everything that appears in the Echo's open letter?
Tellingly for me, Russell Slade cut short a pre match press conference a few months ago shortly after what seemed to me to be fairly gentle questioning by Chris Wathan, accusing the Echo man of being a Swansea supporter while doing so. Therefore, it seems reasonable to conclude that the view Chris Wathan = jack, is a common one among those who occupy the bunker at Cardiff City Stadium.
I use the word "bunker" there purposely because it seems an appropriate one to use when you think of it's connection with the word "mentality".
If Messrs Slade and Borley, along with others in positions of authority at the club, really do believe that it is only jacks who are being critical of Cardiff City during a season which, although not among the worst in the club's history, has been a very poor one given the money spent on it and the level at which the side has been competing in the last decade or so, then they are deluding themselves.
On the subject of the jacks, I've mentioned before that my attitude towards them is different from many other City supporters because I still don't see them as our greatest rivals. The truth is that Swansea were never good enough to be in the same league as us during my formative years as a City fan, so it's the team we always used to play more than any other local side back in those days, Bristol City, who'll always be our real rivals as far as I'm concerned.
That said, I know I'm in a minority in thinking like that and I would say I have been surprised that there have been so few gloating jacks appearing on the City messageboards I use during the course of the season.
Could it be that many Swansea fans now think they are above us in much the same way I used to about them back in the late 60s and early 70s? In a way it would be understandable if they did – after all, they are celebrating their highest ever points total gained in a Premier League season and there is still a possibility that they could be playing in the Europa League next season by virtue of their finishing position in the so called strongest league in the world.
Compare that to what has happened at Cardiff in 14/15 when we have  looked as far away from the Premier League as at any time since 04/05 – even the most optimistic Cardiff fan has to accept that, at no time since late November, did we look even remotely like obtaining a top six finish.
So, I'd say to Messrs Slade and Borley, and anyone else in the Cardiff City bunker who want to look at things in a Cardiff/Swansea light, that, under your watch, our biggest Welsh rivals are disappearing into the distance as they prosper and we thrash about enduring yet another "transition phase" brought about because of a combination of our gigantic debt and poor decisions made on and off the pitch. As an aside, I'd also mention that I've seen Swansea age group sides come to Cardiff and win three times so far this year, so it's not just at first team level that they are outperforming us.
If things have to be put in a Cardiff v Swansea perspective, then we are coming second virtually everywhere, so, whatever the motivation for the open letter, surely much of what is in it is valid and true?
Speaking for myself, the jacks are very far from my thoughts when I attend home matches these days. I see apathy and, worst of all, the beginnings of the gallows humour/take the piss mentality that I used to be so familiar with in the past when we were crap year in, year out, but had temporarily forgotten about, all around when I go to games now – and that's from those who can still be bothered attending.
It was good to see that Mehmet Dalman felt the need to apologise to City fans for the way the season has gone at last week's awards night ceremony, but whose view really represents how those in charge at Cardiff think these days? Is it the one we see in Mr Dalman's public utterances or the one Mr Borley and one or two others have let slip in recent months? I can't help thinking that we are in deep, deep trouble if it's the latter – talk about fiddling while Rome burns!