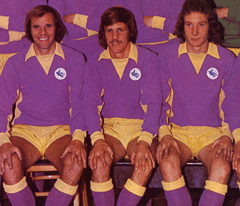 Admittedly, it's something of a moot point, but if you were a professional sportsman or woman, what would you least prefer to hear from your own supporters, booing and jeering of your efforts or ironic cheering and laughter at how poor you were?
Others may disagree, but I would hate it if I heard the sort of reaction (laughter) which greeted Aron Gunnarsson's sliced volley from thirty yards that turned into a precision pass to Craig Noone out on the touchline during last night's truly abysmal 0-0 draw with Brighton at Cardiff City Stadium or the widespread ironic cheering that broke out when Gunnarson's deflected shot forced visiting goalkeeper David Stockdale into a routine save on fifty five minutes – it was the first on target goal attempt of the game.
For me, booing and jeering shows that while people may be angry at your efforts, they do at least still care enough to show their annoyance, when those supposed to be encouraging you start mocking your efforts then it means that the "bond" between players and spectators is broken – my character is such that booing and jeering would probably make me try a bit harder, but mockery would only make my performance get worse.
There was what has become the usual booing in home games at half time and at the final whistle and there were also outbreaks of it at times during the game (notably when Peter Whittingham knocked a completely pointless backpass to David Marshall who promptly blasted the ball towards the City dug out and out of play), but those moments when the crowd showed their contempt by laughing at the efforts of what Ole used to call their "heroes" really struck home for me.
For myself, I didn't join in with either the booing or the laughing – I used to say that booing your own team is not justified in any circumstances, but how can you blame people for registering their displeasure at the end of the dire (a much over used word when it comes to Cardiff City and season 2014/15) spectacle of that first forty five minutes? Likewise, although it might have sounded earlier as if I was critical of those who were mocking their own team, I would add that, given what was being served up on the night, and has been over the past year or so, it is understandable that it has reached this stage for some.
I think I may have mentioned on here before that you come out of matches thinking that at least performances cannot get any worse, but they do, oh boy they do! I began by mentioning moot points and I believe an argument about whether last night's was the worst performance seen yet this season is another one (my feeling was that the ninety minutes wasn't as bad as the second halves in the two Reading games) – suffice it to say that it was awful, simply awful.
I must say mind that, as against Derby, we valued possession more than we had been doing for much of November, December and January and tried to play a bit more football. I also agreed with Russell Slade when he remarked about fans booing when Sean Morrison played a sideways pass instead of lumping it forward – I can't help thinking that those very same people would have been on Morrison's back for playing hoofball if he'd done what they wanted him to and he'd handed possession back to Brighton.
The fact that we weren't wellying the ball forward all of the time made me feel more sympathetic to the team and I really wanted them to get some reward for their more patient approach, but, just as in the first half against Derby, all we did really was show how bad we are at both winning and retaining possession – as for doing anything creative with that possession, forget it, the only vague threats on the Brighton goal in the first half came from the usual suspects of corners and free kicks.
As the first half wore on, Brighton, just like every side we play, began to dominate possession and they knocked the ball around in midfield at times in a manner that we are completely incapable of matching, but they gained nothing whatsoever from this because when it came to a goal threat they looked exactly what they are – a relegation threatened side, barely averaging a goal a game.
Brighton at least looked capable of creating something though and were able to enjoy almost two thirds of possession in the first half against a side that, for me at least, was trying to play a more possession based game. Ironically, in the second half as we went more direct with Eoin Doyle on for the anonymous Stuart O'Keefe, we rallied to the dizzy heights of 40% possession by the end of the match.
Possession figures have almost assumed a mythical status at Cardiff these days – there are those who swear that there was once a Championship game where we had the ball more than our opponents did, but I dismiss such people in much the same way as I do those who swear they've seen Arsene Wenger admit he saw the incident which led to one of his players being red carded. Being serious, it's now four months and sixteen matches since we had more of the ball than the opposition in a Championship game and, after hearing our manager's thoughts on this in his post match press conference, I have to wonder if this bothers him at all.
When asked about being beaten 60/40 in the possession stakes by a side just outside the bottom three, Slade responded ah, but Brighton are a possession based team. My initial response on hearing this was to think "so we aren't then?" – our manager did qualify this by saying that it's where you have possession that is most important, but we get into threatening areas so rarely that I think it completely nullifies any argument he might try to come out with to claim that his way is more likely to succeed.
Are every side we play "a possession based team" Mr Slade, because since you took over, only Millwall have had less of the ball (by 51/49) in the nineteen Championship matches we've played – we had managed to clamber above Blackpool in the possession table before last night, but with them managing 43% against Middlesbrough, we're probably back in our rightful place again now. So, does our manager not care about how little of the ball we have every week – let's face it, we are crap in this respect and so, although I hate the type of football we had been playing, maybe we are better suited to the thud and blunder stuff?
The trouble is, we are pretty hopeless at that as well, as was shown in the second half last night when an early "siege" on the Brighton goal saw Gunnarsson have the shot that prompted the ironic applause and another header that dribbled it's way into Stockdale's gloves for what I think should have been a second effort on target (the BBC disagrees and maintains that we just had the one). What with his pass out to the winger when everyone thought he was trying a shot and his two goal attempts, Gunnarsson was certainly in the thick of the action, but, seriously, the close range header he put over from a Whittingham corner with about a quarter of an hour left exemplified how much things have changed in two years for three important members of the Championship winning squad.
I'm sure Gunnarsson would have buried that header a couple of years ago, but this is now, and the man who scored so many important goals in 12/13 has had the confidence drained out of him, just like Craig Noone (the odd good moment last night, couldn't make up for the usual, so frustrating, lack of an end product from the winger). At least those two players didn't hide though on a very difficult night, unfortunately I cannot say the same about Peter Whittingham – I get no pleasure out of saying that when the player concerned has been such a great (and I mean great) servant for the club, but Tom Adeyemi and Joe Ralls must have watched him last night and asked "am I really worse than that?".
In a side playing like we are currently, a player who actually wants to get on the ball can be worth their weight in gold – Ralls is such a player, while Adeyemi is the only central midfielder I've seen at the club this season who, to use modern parlance, can play between the lines like Jordon Mutch used to, but, with Gunnarsson and Whittingham, seemingly, undroppable and O'Keefe being given a starting place all of the time despite it still not being clear to me exactly what he is bringing to the team, the two of them look as far away from selection as they have done at any time this season.
So much of Russell Slade's thinking strikes me as being confused. Conor McAleny, so impressive at Hillsborough apparently, was shifted out to the wing where he was starved of possession and looked a bit lightweight when he did see the ball. This was to allow Whittingham to be utilised in a central advanced role that he had done little in when used there against Colchester and Derby recently, then when the young Everton loanee began to show a little of what he was capable of, he was hauled off and replaced by Kadeem Harris – there were at least three more suitable candidates for the "hook" in my opinion.
With so little happening in front of goal, the non use of Alex Revell was a mystery to me especially in the last ten minutes when it became clear how lacking in confidence Brighton were. Despite their dominance in the possession stakes, the visitors were a poor side who I thought were there for the taking as they started to make silly mistakes late on possibly brought on by anxiety caused by them closing in on their first result after three consecutive losses.
The visitors might have come closest to scoring when Lewis Dunk's header from a corner flew just wide with the fit again David Marshall rooted to the spot and the City keeper was forced into the one semi awkward save of the night when he turned a Teixeira free kick over the bar. However, I have watched their struggles from a distance this season thinking that they were too good to go down, but on last night's evidence they most certainly are not and when you consider that we caused them so few problems, you have to conclude that the same applies to us.
Lately when I'm writing these pieces I often feel the need to apologise for being overly negative, but then I think again and realise that there is virtually nothing happening to be positive about. The return to blue and then Simon Moore's penalty save against Derby were two things that got the crowd going for a while, but in both cases, the players and manager were not good enough to come up with anything that created a sense of momentum going in our favour. Therefore, we are now back to square one as far as on field matters go in that large numbers of season ticket holders are staying away (the attendance announcement of a lowest of the season 19,000 was greeted with derision) and an awful lot of those that still attend do so with no enthusiasm and expectation whatsoever – hardly the backdrop against which tickets for 15/16 should go on sale!
I'd really love to write something upbeat about City right now, but I can't and will finish with three conversations I had during last night's game which say so much about where the club and team are now;-
1. About twenty minutes in, the mate I go to games with said, "this is going to finish 0-0″, I nodded my agreement.
2. With about twenty minutes left, the bloke who sits behind me said "I'd genuinely forgotten Whittingham was on the pitch" – I'd quietly said exactly the same thing to my mate about ten minutes earlier.
3. The bloke behind me said the second half had been "much better" than the first – he was right, it was only very bad.
* picture courtesy of http://www.walesonline.co.uk/
+ picture courtesy of https://www.flickr.com/photos/joncandy/