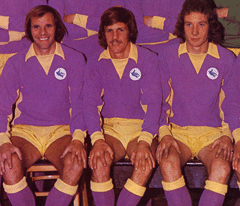 What is it about Dave Jones and the month of November? I've been doing some checking to try and see if the malaise which hits Dave Jones' Cardiff City sides in November can be traced back through his managerial career and thereby provide possible answers to the question as to why we are always so crap during this month. For example, do his sides hit a "wall" in the way that some marathon runners do when they set off at too fast a pace?  Has he stuck religiously to a regimented training regime in which the players become bored and stale during this month?
Well, my research shows pretty conclusively that if Dave Jones has been doing anything wrong in the run up to and during the month of November, he has only started doing it since he came to Cardiff. Our manager's record at his previous clubs during this month is perfectly reasonable – especially bearing in mind that for four of the eight seasons involved he was in charge of clubs that were struggling to stay in the Premiership.
Dave Jones' record in league matches at his former clubs in November reads;
Stockport P   8   W   3   D   4   L   1   f   14   a   10   Pts.   13
Southampton P   11   W   4   D   1   L   6   f   16   a   16   Pts.   13
Wolves P   14   W   4   D   7   L   3   f   15   a   12   Pts.   19
Total P   33   W   11   D   12   L   10   f   45   a   38   Pts.   45
Compare that to how things have gone for Cardiff during this month since 2005/06 when Dave Jones took over (includes results so far in November 2010)
P   29   W   6   D   9   L   14   Pts.   27
It's worth remembering that in each of Dave Jones' five full seasons with us so far, his sides have gone into the closing weeks of the campaign more concerned with affairs at the top of the table than they have been with relegation issues. Indeed, only in our Cup Final season of 2007/08 has the month of November been played out against the backdrop of a possible season long relegation struggle. Under Dave Jones we have only ended the one season (2005/06) having lost more matches than we have won and yet if the results achieved under him in November during the course of his time here were correlated into a forty six match league season, we would end up being relegated!
How can this be explained? Well, sorry but, especially bearing in mind what happened to Dave Jones' Stockport, Southampton and Wolves sides during this month, I am at a loss to explain it. I suppose that with each passing year, the more people like me and other anorak wearing supporters start talking about our poor record in November in the days and weeks leading up to that month, the more it becomes something of a self fulfilling prediction as an attitude of "well we are always rubbish in November, so why should this year be any different" takes hold. The problem with that though is that the team have had to be performing badly through this month over a period of two or three years for supporters to have cottoned on to it in the first place – it's hardly a situation where the old question of what came first, the chicken or the egg can be asked.
I might not be able to explain why it happens every year, but what I can record is that so far in November 2010 Cardiff City have upheld the November tradition so meticulously built up over the previous five years. I haven't seen the second half of our game at Reading, but have been told that we played pretty well there and we certainly did that for the first thirty five minutes at Scunthorpe but, apart from those two halves of football, how have we played during this month? Again, I have not seen the opening forty five minutes at Reading but have been reliably informed that we were poor and I don't think it's too strong to say that in our other five halves of football this month (i.e. against Swansea, Forest and the second half at Scunthorpe) the level of performance has been rubbish for a team that the management and players keep on telling us is targeting a top two finish.
The light at the end of the tunnel is that, if this season follows the course of previous years, then the likelihood is that results and performances will start to improve in December – only in 06/07 has our poor November been followed by similar results during the next month, but it shouldn't be ignored that in three of our last five home matches, we have failed to score while only picking up a single point. The stats say that we have had a total of six efforts on target during the matches with Palace, Swansea and Forest but, for the life of me, I can only remember one from each game (Chris Burke and Craig Bellamy with their failed one on ones against Palace and Swansea respectively and Jay Bothroyd's awful close range headed miss yesterday) – again, for a side that talks in terms of nothing but a top two finish being acceptable, those are pathetic figures.
So have visiting sides figured us out after just over three months of the campaign? That theory would have more credence were it not for the fact that, for some reason, our manager has decided to ditch the system that got us to the top of the league in favour of a far more narrow down the middle approach in our last two home games. To be fair to Dave Jones, the absence of our one true winger Chris Burke yesterday didn't help matters as far as spreading the play out was concerned, but Burke was fit and available for Swansea and, despite his later protestations on the subject, I don't think there are many who would argue now that our manager didn't blunder badly when he decided to keep him on the bench for that game.
Dave Jones can't be blamed for the fact that we had two passengers on the pitch in the first half yesterday though. At least he did withdraw one of them for the second half – Michael Chopra's replacement Danny Drinkwater was one of a handful of City players whose performance was of an acceptable level for a top half Championship team yesterday as well (I thought Darcy Blake was doing okay until the mysterious decision to replace him with another full back at 1-0 down with less than fifteen minutes left), but Jason Koumas, somehow, stayed on for the whole match despite playing in a manner which made me look an idiot for suggesting that recent matches had seen a slight improvement in his level of performance.
For me, Forest deservedly won yesterday despite not looking as good a side as they did when they last came here a year ago, but I thought there were times in the second half when a lack of confidence courtesy of their woeful away record showed and if we had been able to play with the precision that eludes us almost completely during November, then we could have won. Sadly though, the only time we showed such precision was when the otherwise quiet Craig Bellamy provided excellent opportunities for Jay Bothroyd in either half  – if Bothroyd's failure to score from a very tight angle after rounding Lee Camp can be forgiven, I'm afraid that his miss from point blank range as his header hit the Forest keeper cannot and, with hindsight, I would say that this was the pivotal moment of the match.
If City were wretched at one end of the pitch, they were a little better at the other because, in truth, Forest didn't threaten too often. However, in giving a player who has made a habit of scoring fine goals from distance in recent weeks enough time to size up and get away his shot, the defence and covering midfield players were sadly at fault – Lewis McGugan is good enough from distance to score one out of every two or three from similar range when given the time he was yesterday and, surely, the players would have been warned about this beforehand?
I mentioned earlier that introducing Adam Matthews for Blake was a strange decision  (why wasn't Andy Keogh used?) and it was typical of how things have been going lately for the youngster that he had to accept his share of the blame for the second goal as a stretched defence  was breached and Dexter Blackstock efficiently put away his chance (best wishes for a speedy recovery to Blackstock as well for what looked to be an awful injury).
November 2010 could still turn out to be a decent month if we go to QPR and win next week. After all, stranger things have happened haven't they – on second thoughts, given our performances against Swansea and Forest, perhaps they haven't.