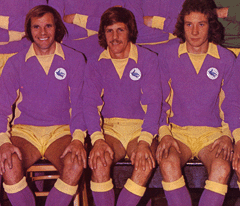 After about forty two minutes of yesterday's match I was just about to ask what the chances were of Michael Chopra being substituted at half time, but then City were awarded a free kick in the Swansea half which Jay Bothryod nodded down and a certain Michael Chopra fired the ball high into the net for our equaliser! Luckily for my self esteem, I kept my thoughts to myself, but I wonder how many others were thinking something similar at the time because up until that moment, Chopra had been having one of his increasingly familiar anonymous matches where you almost forget he is still on the pitch.
Mind you, this time Chopra did have the excuse that he was playing in a different position to his normal one alongside Jay Bothroyd. I see Dave Jones called the formation we used last night 4-3-3, but, like most teams who use that system, it soon becomes 4-5-1 when they don't have possession and much of Chopra's game was played in an unfamiliar withdrawn right sided role as our manager, I think for the first time ever in a City home game during his time in charge, changed from his usual 4-4-2 because of the questions asked by a Swansea side who are an exceptional outfit at this level.
I say "exceptional" there, not because of the quality that the jacks possess, but because their system and approach presents any Championship manager with challenges which are probably unique at this level. Despite their current poor run, Swansea are likely to be contesting the end of season Play Offs and, if they do so, it will, almost certainly mean that they are, by a distance, the lowest scoring team ever to take part in them at Championship level. Swansea's lofty position is based almost entirely on a defensive record which, until recently, was second to none, but, although the keeper and back four are all good to decent players by the standards of this league, their great goals against record has more to do with how many midfield players they have behind the ball even when they are attacking.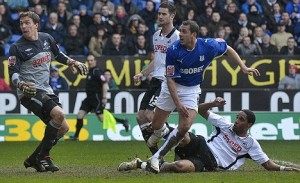 It was instructive to see keeper Dorus DeVries throw or roll the ball to one of his back four about 90% of the time as opposed to the normal long ball aimed toward a target man that we see from most Championship keepers. For me DeVries does things differently because Swansea's whole game plan is to draw the opposition on to them so that it becomes a more equal contest for their lone striker when he gets the ball. For the last four matches we played against them, we stuck with our normal 4-4-2 and decided to "have a go at them", but, in doing so, we played right into their hands in many respects because their midfield five (which is always made up of clever, technically proficient players) are better than most at exploiting the advantage that their extra player in that area of the pitch gives them. This means that our second striker and, to a lesser extent, our two wide players are starved of possession so that, in essence, Swansea have almost made the previous games between the two sides a ten against seven or eight contest when it comes to outfield players.
I'm sure City aren't the only side to have suffered in this way at Swansea's hands – the evidence of the past two seasons is that sides who commit two players forward all the time are handing Swansea the initiative straight away, but less and less teams are doing that now, particularly at the Liberty Stadium, and, with match winning forward players like Scotland and Gomez missing this time around, there is increasing evidence that Swansea are, slowly, being found out. In particular, sides have started to push one of their forward players on to Swansea's holding midfield player Leon Britton and up to now at least, the jacks are struggling to find a way to overcome the new challenge they are facing. Therefore, Dave Jones moved Peter Whittingham into the centre of the pitch from his wide midfield player role and and with Chopra and McCormack playing that bit narrower than you would expect wingers to, we more or less, set out to play Swansea at their own game.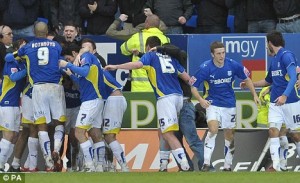 Although this could be construed as a defensive move, it becomes less of one when the four players you use to provide an attacking threat have a total of fifty two goals between them. That's how many Bothroyd, Chopra, McCormack and Whittingham could muster compared to the twelve that Dyer, Pintado, Pratley and Van Der Gun have managed for the jacks – therefore, although others apparently disagree, I thought that by going with a 4-3-3 or 4-5-1 to match Swansea's, Dave Jones and his staff got things dead right.
Much of the build up for the game had centred on how important the first goal was going to be  - both sides had yet to lose a match in which they had scored first and when you throw in our notoriously bad record under Dave Jones in games that we concede first in, I for one had a feeling of "oh well that's it then" when Swansea exploited our current weakness in dealing with high balls into our penalty area by scoring from a corner (which I am still not convinced was correctly given). If playing against Swansea is difficult at 0-0 then it becomes doubly so at 0-1 and, having been second best up until that goal, they then showed us what they are best at, but for all the "oles" of their supporters, there was very little in the way of an end product at a time when a second goal for them would have, surely, left us with too much to do – I don't know why but I was reminded of Dennis Healey's comment that being attacked by Sir Geoffrey Howe was like being "savaged by a dead sheep" while watching Swansea stroke the ball backwards and sideways for the quarter of an hour after they took the lead.
Nevertheless, Swansea aren't supposed to lose matches when they get in this position and frustration levels were growing amongst City supporters. I heard one of two comments of "do something Jones" at this time and so our manager did do something – it was risky, but it worked. By pushing Chopra back up alongside Bothroyd, Dave Jones was making it easier for Swansea to pick us off, but it did lead, indirectly, to our equaliser and it also got Chopra playing in the second half as we reverted to 4-3-3/4-5-1 and his lovely run and cross, which deserved better, was as close as we came to scoring in the second half before his dramatic winner. To be honest, the second forty five minutes offered little in the way of quality football (I'll remember our win as a great occasion rather than a great game) but, for the second successive match, there was tension all around in the closing stages despite the suspicion that both sides would gladly settle for a draw. Such thinking was blown out of the water though in those dramatic final stages as David Marshall's brilliant save preserved our point and then Chopra's natural striking instincts (the jacks don't have anyone who would have made a run in the opposite direction to where the ball was going in anticipation of it being returned into his path like Chopra did) turned that one point into three.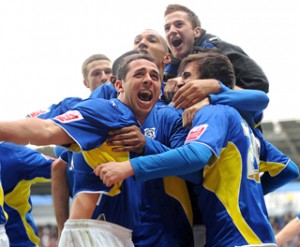 So it was that City won a game which by rights probably should have ended up as a draw but, despite Paulo Sausa's talk of his team having completely dominated, I think that he was outsmarted on the day by Dave Jones and his staff. I'm sure I'll be critical of our manager in some way in the not too distant future, but last night he proved that he isn't so tactically inflexible as many of us would believe – he had come second in his previous battles with Messrs Martinez and Sousa in the past eighteen months, but this time it was his turn and perhaps some City fans should be a bit less grudging in their praise for our manager's part in a great and dramatic win.