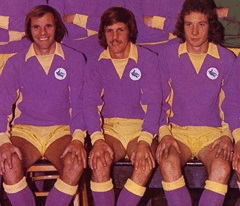 Well, after turning in a second half and extra time performance against Portsmouth in the First Round of this season's League Cup completely out of character with what has become the norm for their efforts in Cup competitions since we were beaten on penalties at Wembley by Liverpool five and a half years ago, Cardiff reverted to normal Cup mode last night by tamely bowing out in the Second Round after a 2-1 home defeat by Burton Albion.
With five straight wins behind us in all competitions this season  as we sit at the top of the Championship table currently, I was confident that, even with a Burton contingent of under 50, compared to a Pompey one of ten times that (at least), there would be a bigger crowd last night than the 6,592 present a fortnight ago for the First Round tie.
In the event, the crowd was 5,820, a figure which surprised and disappointed me at first, but, upon further reflection, maybe I shouldn't have been too taken aback by it.
There's two ways to look at the low crowds we get for about ninety per cent of the cup ties we play. The first sees the club driving an agenda whereby they actively devalue the relevance of cup competitions. This is done by things like dropping prices (as a season ticket holder over sixty years of age, I only had to pay £5 for my Grandstand ticket for last night's match, an adult season ticket holder only had to pay £8 and an Under 15 £3 – the prices for non season ticket holders were £10, £8 and £5 respectively).
So, kudos to the club for setting their prices low, but, by the same token, they do rather advertise the low priority given to non Championship matches these days, as, indeed, does the fact that the only parts of the ground open to spectators were the lower level of the Grandstand, part of the Canton Stand and the corner of the ground given over to away fans.
Of course, the way that nearly all clubs in the top two divisions most obviously show their lack of enthusiasm for cup football is in the selection of the teams representing them in these competitions.
Only Jazz Richards from the side which won at Wolves on the weekend was in the starting line up last night, while Burton made seven changes from the team which got them their first league points of the season by beating Birmingham on Friday.
On the other hand, I daresay clubs would argue that they only open certain areas of their grounds because experience has shown them that there is no point in using all four sides of their stadium, with all of the costs that would entail, for such matches. Similarly, it's entirely reasonable to argue that, rather than giving notice of what a low regard they have for the League and FA Cups, the lower prices they charge for such games is just their attempt to get more punters in through the turnstiles.
Maybe "blame" isn't the right word to use, but I'm sure there are people at clubs all over the country who would say that responsibility for the lower enthusiasm for Cup competitions in general and their early rounds in particular is down to a public which, it appears, are still up for their Premier League and Football League "fix", but are prepared to endure cold turkey when there aren't league points at stake.
So, I'd say it's a little like the "what came first, the chicken or the egg?"question – it seems to me that both sides have to take some responsibility for the decline in interest in cup football, but if I were forced to come down on the side of one or the other, I think I'd, just, opt for the clubs.
In a way though, the argument about who is responsible for the current situation is not really that important because we are where we are and, sadly, I don't see things changing any time soon. So, for me, the more important question is not how or why did we come to this situation whereby Cup football is seen as an afterthought, it's should we have done so?
I'll give my answer to that question at the end of this piece, but this is supposed to be a report on the football game that was played last night and so let's spend a while on that.
Briefly, I thought Burton were the better side for about eighty per cent of the match and so deserved their win against a sluggish and careless City side which started and ended the game pretty well, but did little or nothing individually or collectively to indicate that Neil Warnock should surprise the football world by breaking up the team which won at Wolves when we entertain QPR this weekend.
Chances are that many of the starting eleven would have known that there was little or nothing they could do last night that would convince Neil Warnock to include them against QPR. It's also true to say though that this was the best opportunity they are going to get for a while to impress him in a match situation and it would have been nice to have seen more signs of a recognition of this during that slack middle hour of the game.
Just for a change, I'm now going to give a marks out of ten breakdown of the City team – this is partly because, frankly, for most of the time they looked like a bunch of individuals as opposed to the sort of team we've seen so far when our "proper" first side has been playing;-
Brian Murphy – the Canton End tried to get a few "Oles" going in the opening minutes as City players passed the ball to each other, but these were soon ended as, in a throwback to the sort of things we saw when he had the ball at his feet against Portsmouth, he sliced his clearance into touch about thirty five yards from his goal.
Also, on first viewing, Burton's first goal didn't look good from his perspective, but, having seen a video of it now, I'd be more inclined to blame the host of outfield players close to the ball when Naylor beat Omar Bogle near the bye line – Murphy was the first City player to react to the situation and deserved better protection from his team mates.
Overall, an improvement from his previous match (Portsmouth), we'd have gone 2-0 down much sooner if it weren't for him – 7
Cameron Coxe – not one of the great City debuts for the eighteen year old, but a long way from being one of the worst either. His inexperience showed from time to time and there was a deserved yellow card for him, but generally he defended adequately and showed more willingness to get forward, often to good effect, than most others who play in his position for the seniors – 6.
Bruno Manga – Neil Warnock thought captain for the night Manga "held us together", but I thought there were times when he struggled to cope with the impressive Lucas Akins. Some classy moments, he started one of our better attacks in the first half with a good pass and then showed a desire to join in with the resultant attack, but not at his best for me – 6.
Matt Connolly – If I had to describe his performance in one word, I'd say "rusty", if I was allowed to add another word, I'd put "understandably" in front of it. Our manager said that the plan beforehand was to ease him back into things by giving him an hour, but, for whatever reason, that all went out of the window. I doubt very much if he'll be involved on Saturday – perhaps it would be better to give him some match time in the Development team game with Crewe at Leckwith on Friday afternoon – 5.
Jazz Richards – his evening started with a complete miskick of a type you'd think he'd never make in a league game. Some good tackles after that and he played his part in the gradual attacking improvement down City's left hand side in the second half, but, overall, a bit short of his recent first team showings – 6
Matt Kennedy – I see Wales Online made him one of our best players, but I thought he was as poor against Burton as he was good against Portsmouth in the First Round. A couple of nice crosses early in either half led to chances for Bogle and Danny Ward, but there was little to enthuse about in his performance apart from that  - 5.
Lee Tomlin – the more I see of him, the more I can understand why there were comments emerging from Bristol City's management and fanbase about how hard it is to get him involved in the game sometimes. With our front three doing so well at the moment, it was very bold of Warnock to go with them plus Tomlin against Sheffield United, thereby making things tougher defensively for Ralls and Gunnarsson, and this may explain why the Blades were able to pass around and through us in a manner that none of the other three sides we've played in the Championship have done.
Despite the above, Tomlin was probably the member of our starting eleven who did most to make the closing quarter of an hour more uncomfortable for Burton than it looked like being for much of the game. Very nearly a 7, but I'll go for another 6.
Before I go any further, I'd just like to say a few words about what Neil Warnock appears to want from those who play in central midfield for him. I believe I've mentioned before on here that I've heard our manager often use the term "bread and butter" when asked about our central midfield – particularly Ralls and Gunnarsson. I take this to mean that he wants players who do what he sees as the basics well in that area of the team, whereas he sees the places for more expressive players as being on the touchlines (full backs as well as wingers) and up front, or just behind, the striker(s).
Although this may mean that the sort of things many of us punters like to see in our central midfielders (e.g. creativity and vision) may take something of a back seat, there is still a very large workload for City's Championship side central midfielders – as an aside, I'm struggling to recall a primarily creative central midfield in a successful Warnock team, maybe Faurlin at QPR?
I think with the confidence of our good start to the season, we are seeing moments of skill and flair from Ralls and Gunnarsson, but I can't help thinking that Warnock would be down on them like a ton of bricks if it ever crossed the line and came over a showy or self indulgent.
Anyway, the point I wanted to make is that while supporters, myself included, may have groaned a little to see a central midfield pairing of Greg Halford and Stuart O'Keefe last night, I reckon our manager would have thought they could both perform the duties he most requires from his two in the middle of the park if they were both somewhere near their best – so, back to the markings.
Greg Halford – I happen to think that Halford possesses some of that vision I was talking about earlier and I use a lovely pass he hit down the right early in the first half to Coxe as evidence of this. Unfortunately, his attempts at something similar after that tended to be well over hit and, increasingly, he began to look off the pace as he arrived that split second too late too often. I have some sympathy with Halford because I believe asking a thirty two year old to play central midfield in any team is a hard task, let alone in a Warnock side – 5.
Stuart O'Keefe – Didn't get a mention when Neil Warnock was talking about his desire to bring another central midfielder in on loan before the transfer window closes in his post match press conference – this strongly suggests that he will be loaned out himself in the next eight days. Did some very good defensive covering work at times in the first half, but he and Halford never looked like an effective unit in the way Ralls and Gunnarsson do this season – covered a late of ground as usual, but, as against Portsmouth, to no real effect when going forward – 5.
Danny Ward – a subdued showing which, for me, represented his poorest outing for City so far. Started on the left wing and then definitely became our target man in the second half, but he made little impact in either position, while also managing to spurn two decent scoring chances – 5.
Omar Bogle – has been described as back up for Kenneth Zohore and so it was strange to see him parked out on the wing for much of the second half. Would have had a dream start with a goal in the first couple of minutes were it not for a good save by visiting keeper Connor Ripley, but, with his side second best for so much of the game, it was a pretty difficult debut for him and he will have to carry some of the blame for Burton's first goal – 5.
Subs. Pilkington – much more involved than in that awful first half against Portsmouth and was credited with our goal by the stadium announcer and most media sources, but I thought Tomlin's free kick went in without anyone touching it – 6.
Mendez-Laing – created one very good crossing position for himself by using his pace and strength to get by a couple of opponents, but when the ball came over it was seriously overhit – 5.
Damour – no time to make an impact, although it did look like he was seriously injured for a while following a clash of heads – 5.
So, to finish, I return to my question should Cup football have the low profile it currently "enjoys"? The answer is an emphatic no from me. I think we are all, essentially, products of the time we did our growing up in and, for me, that means the sixties and seventies when I used to support a City side which, it seemed to me, were intent on trying to win all five of the competitions they were often involved in during a season.
Yes, players and fans would find it hard to get too worked up about an early round Welsh Cup tie, but, invariably, these matches would be played with what was the strongest City side available .
I accept that the game is a much more physically demanding one these days compared to the sort of times I'm talking about, but I can't help thinking that, like so many of the things that blight the game these days, Cup football's decline can be traced back to the formation of the Premier League twenty five years ago.
The obvious way in which the reorganisation of a league which was more competitive and more democratic (in terms of which sides could win it and get relegated from it) has harmed Cup football is financially, as the rewards for finishing, say, fifteenth, in the Premier League mean more to the man doing that year's club accounts than a beaten finalist, or perhaps even winner's appearance, in a Wembley Cup Final.
However, the Premier League, with it endless number of "huge" games that are in reality just mid table affairs, creates a pressure which sees managers, hardly surprisingly, keep their stars away from cup ties just in case they get an injury which keeps them out of the potential relegation battles to come.
Nevertheless, football was still, essentially an entertainment last time I looked and, although it seems many people who would call themselves diehard supporters of their clubs would disagree with me, I feel they still have the right to have the best side available representing their club in every first team game they play.
Have a look at these figures for the number of first team games City played at various times during the period 1967 to 1994 – they would have fielded the strongest team available for all of these matches don't forget;-
67/68 59
75/76 60
86/87 60
92/93 60
93/94 67
Then, compare them with the modern day where we have only played fifty or more matches in one season (51 in 14/15) since 11/12 – I think supporters are getting short changed.