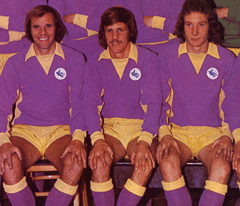 In February, City's Under 18 side handed out a 4-0 beating to a top of the table Queens Park Rangers with a display that I rated the best I'd seen by a Cardiff side all season at the time and I didn't see anything to beat it for the remainder of the campaign either.
History repeated itself at Leckwith yesterday lunchtime as City grabbed another big win over the same opponents and, once again, I'd have to say that their 5-1 win was better than anything I've seen from a Cardiff team at any level so far this season.
That said, the four goal victory margin was a misleading one because for three quarters of the match it was an entertaining and very competitive affair. However, that rarity in youth team football, a red card made a huge difference for the visitors especially as it was their keeper who was dismissed and they'd used all of their subs at the time.
Right from the outset, it was clear QPR set a great store on ball retention and City struggled to get into the game in the opening minutes as the visitors settled the quicker.
The first hint of a goal came after around five minutes when a side footed shot from twenty yards by QPR's Trev Williams flew just wide.
Keeper Joe Massaro must have been relieved because I'm not sure he would have got to the ball if it had been on target, but he was picking the ball out of the net soon afterwards – at first it looked as if right back Dylan Rees had done very well to snuff out the danger as the visitor's left winger bore down on goal, but the QPR player was able to get his cross in eventually and it was headed firmly into the net from about eight yards out by Williams.
The signs weren't good for City at this stage, but the next ten minutes or so saw the tone set for facet of the game that played a large part in shaping how it eventually panned out. Tackling has become something of a lost art in the last decade or so and so there was almost an old fashioned feel to proceedings City, and in particular, their central midfield pair of Tom Burridge and Robbie Patten put in a series of bone shuddering challenges.
If that suggests that City resorted to clogging, then it would be far from the truth – I saw nothing wrong with the perfectly timed challenges that were being put in and, far more importantly, neither did the ref. Of course, Burridge, Patten and the other City players who went sliding into the sort of tackles fans love to see from their team had to be spot on with their timing and the man in charge was satisfied that they were throughout – there were no yellow cards issued to City in the game.
Besides the ferocious tackling, City were also playing the pressing game which has been a feature of their play this season. This made for a pleasing contrast in styles between the visitors more cultured approach and City's direct style which, while not being long ball stuff, saw them wanting to do something positive with the ball in fewer passes than their opponents typically took.
For much of the first half, the differences in style cancelled themselves out to a large extent with both sides doing enough to suggest there'd be more goals to come to add to the one so far.
However, whereas City's attacks tended to come to nothing because of good defending or a poor final pass, QPR were able to get into scoring positions such as when a shot by Olamide Shadipo rolled on to the post, when striker Dan Darbyshire badly missed his kick when unmarked twelve yards out, captain George Butler's free kick was well kept out by Massaro and a free far post header was put wide.
Despite all of the attacking intentions, there was only the one other goal before the break, but it was a beauty as another strong challenge by Burridge won possession and enabled Abdi Noor to cut in from the right and curl the ball past the keeper from the corner of the penalty area with his left foot.
Besides the good football on show, there was, hardly surprisingly given the way the tackles were flying in, a hard edge to the game that you don't normally see in youth football and the visitors number eight saw a yellow card for a nasty looking challenge on Jamie Veale.
However, overall I thought the ref did well in pretty trying circumstances, but if he thought the first forty five minutes was more testing than he might have expected, it was as nothing compared to the second half!
Before those awkward moments for the official though, City made a forceful start to the second period which saw them creating the chances they were largely unable to earlier. First, there were strong appeals for a penalty after Noor looked to be brought down and then top scorer Eli Phipps began to see the sort of chances that his hard work from the start had deserved as he shot just over after winning the ball from a defender, his header from a Noor cross did not clear the bar by much and then was just wide with a long range shot.
Phipps' harrying of opponents typified City's attitude as they pressed QPR's defenders even more than they had done in the first period and the visitors were wilting in the face of what was now fairly continuous pressure.
When a goal did come it was from an unusual source as full back Ashley Baker converted Jake Watkins' cross – that said it was the third game in succession where Baker, who was switched from his normal centreback role for this match, had scored!
The visitor's frustration increased as they struggled to regain their first half poise and Grego-Cox, one of the three subs they bought on at the break, was booked for a poor challenge on Burridge.
Shortly afterwards however, when keeper Trevor Herdman kicked out at Noor after he had caught a cross, the ref had no real alternative but to send him off.  Although there was no doubting Herdman had been given his marching orders, it was unclear what else was happening as there were a few scuffles between the players  as he walked off and words were exchanged between the rival dug outs.
The kick was similar to one I can remember by a young David James in a match at Norwich about twenty years ago. James was punished with a red card and the awarding of a penalty (from which Norwich scored the only goal of the game) and having, obviously, spotted the kick by the QPR keeper, it seemed a penalty had to be given – eventually it was, but only a lengthy discussion between ref and one of the linesmen (presumably to check if there had been any provocation by the City player to cause the keeper to react like he did).
Phipps easily beat reluctant new goalkeeper Leo Donellan to make it 3-1 and the game lost a lot of it's competitive edge from then on. To the visitor's credit, they pushed players forward to try and get back into the game and Massaro had to show bravery and good anticipation at times to keep his team's two goal lead intact.
Hardly surprisingly, there were plenty of spaces for City to exploit by now, but a tendency to run offside by their forwards saw these come to nothing until two goals in two minutes very late on saw QPR consigned to a margin of defeat they didn't warrant.
Inevitably, it was the prolific Phipps who cashed in the combination of all that room in attacking areas and a replacement goalkeeper to complete a hat trick by, first, getting the better of Donellan to net via a post and then show coolness and craft to score from Veale's pass
Although they were awful in the first match I saw them play this season (a 2-0 loss to Birmingham) and they carelessly lost recent home games against Brentford and Bristol City, I must say City's 14/15 Under 18 team are shaping up to be one of the better Under 18 outfits we have had since being granted Academy status – there are some very good young players in this group, they work really hard and, largely down to Phipps, have a cutting edge in front of goal.
* Picture courtesy of http://www.cardiffcityfc.co.uk/