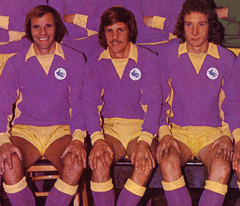 If it was Champagne stuff at times for the Academy team on Saturday in their 4-0 win over Queens Park Rangers. then the fare on offer this afternoon at Leckwith was more like flat brown ale for the game with Charlton Athletic as two very evenly matches sides battled out a goalless draw.
There was no shortage of endeavour from either team, but it was one of those games where nearly all of the better performers were defensive players and, after the sides had worked themselves almost to a standstill after ninety ultra competitive minutes, I would say it was probably the visitors who had more reason to think they could have snatched the three points in an encounter between two of the three candidates to take the two places available for the end of season Play Off's.
As I say, Charlton might feel they were a little unlucky, but I think a draw was the fairest result. City hardly ever looked like scoring, but then neither did Charlton really as the home team's three man central defence once again excelled. Tom Burridge, so impressive in midfield against QPR, was used at the back this time alongside Brad Wickham and Curtis Watkins and I'd say that the City man of the match came from these three – my vote goes to the excellent Watkins.
This was the fifth or sixth time I've seen City play Charlton at various levels over the past couple of seasons and they never fail to impress me with their well coached and hard working sides that to always try to play good football. Their Under 18's and Under 21's won both of the end of season Play Off's last year and it's a mystery to me that their first team have struggled so much this season, culminating in Chris Powell being sacked today – I had them down as a possible Championship Play Off team this season!
This Charlton side were strong in the goalkeeping and central defender departments and so City very rarely got to look as threatening they did on Saturday. In fact, the nearest they came to a goal was probably early on when midfielder Ben Watkins (one of three players in the City team with that surname) did well to get a fifteen yard shot away which drew a fine diving save to his left by visiting goalkeeper O'Hanlon. Apart from a slice not far over his own crossbar by a Charlton defender from a corner, that was about it as far as worrying first half moments for the visitors went, but then it was even easier for a City backline which only looked in trouble when goalkeeper Massaro was lured off his line and Burridge had to clear the resultant lob by Ahearne-Grant – it was difficult to tell from where I was sat whether the ball would have dropped in or gone just wide without Burridge's intervention.
Cardiff may just have shaded the first half, but it was Charlton who tended to force the issue more after after the break as they forced plenty of corners which City dealt with well. In fact, the closest City came to scoring in the second half was when they broke from one of the corners just as they had done when scoring their first goal on Saturday – this time it was centreback Wickham leading the charge and it was the wing backs David Tutonda and Dylan Rees who were inches away from connecting with his low cross across the face of the Charlton goal.
Besides that, there were snapshots by Macauley Southam and subsitute Abdi Noor which flew high and wide respectively and Ben Watkins forced O'Hanlon into a routine save. but, even though the game became more stretched as tiredness set in, City could come up with little else as far as being an attacking force was concerned.
Up the other end, Massaro rashly rushed out of his goal to cause confusion in a situation that Curtis Watkins seemed to have in hand and suddenly, Ahearn-Grant had an empty net to aim at – luckily for City's keeper, the angle was too tight for the Charlton striker and his effort rolled across the face of the goal.
If Massaro was at fault there, he made up for it,  first with a great save as he turned a fine shot by Charlton's number seven around the post and then in the dying moments when he tipped a header by one of the visitor's subs past the same upright.
By this time, Charlton were definitely the side trying to force the issue as they took to hurling long throws into the City penalty area from both sides of the pitch to go with the frequent corners they were forcing, but, that one header apart, City were not inconvenienced too much by the pressure they had to soak up and they were able to hang on to their point pretty comfortably.
Perhaps Charlton's urgency in the closing stages came from a feeling that a draw suited City more than them in the hunt for a Play Off spot? I've not been able to find an up to date table, but two successive defeats have made QPR's lead not quite as unassailable as it once looked and I know Charlton have a recent loss to go with today's draw. I make it that we are now four points behind QPR having played  a game more than them, while Charlton are four points behind us having played a couple of matches less – realistically, there's no one else who can overhaul us.
We are at home again on Saturday when Brentford are our opponents, but, after that, four of our last five matches are away – it's going to be a close run thing for those two places, but the team are on a long unbeaten run and they've no reason to fear any one.
*picture courtesy of http://www.cardiffcityfc.co.uk/