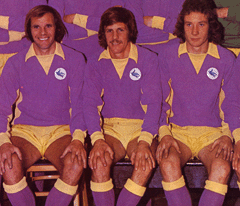 Not even an icy north wind which blew snow into my face for most of the time could dim my enjoyment of what was, with the possible exception of Cardiff v Norwich, the most entertaining "live" game I've watched this season as Newport County twice held two goal leads before having to settle for a point in the end against the team at the top of the Blue Square Bet Premier League. Mind you, based on this evidence, I expect AFC Wimbledon to be playing in the Football League next season – they were strong, pacey and skilful going forward and forced County to play like an away side for much of the game.
The pattern the game would follow was established right from the start with Wimbledon settling the quicker and a couple of very dangerous crosses had already flashed across the County goal before they took the lead completely against the run of play from their first attack in the tenth minute. The quality of Wimbledon's defending was never to match that of their attacking play and after they had wasted opportunities to clear the ball in a goalmouth scramble, County centreback Andy Todd scored with what, from my view about a hundred yards away, appeared to be a half hit shot which should really have been kept out by the keeper.
Although Wimbledon continued to threaten, County enjoyed their best spell of the match after this and there were close misses at either end before the home side doubled their lead in the eighteenth minute when a superb length of the pitch counter attack ended with midfield player Jamie Collins netting.
This was my fifth visit to Spytty Park in the past year or so and I had yet to see County concede a goal. That record was never likely to be maintained though on an afternoon when both sides attacked better than they defended and, just before the half hour mark, the league leaders were back in the game when County got into a mess defending what should have been a routine high ball and Mulley was able to get clear of his marker too easily to score a well taken goal from about fifteen yards out. County responded excellently to this set back though and continued to give as good as they got during an end to end first period as Wimbledon paid the price for not putting men on their posts when defending a corner as Collins headed into the corner of the net in the thirty sixth minute.
County really needed to keep a hold on their two goal lead for the first quarter of an hour or so of the second period, but the defining moments of the game came with uncharacteristic errors by two of their best players at either end of the pitch which meant that this did not happen. Firstly, just two minutes after the break, Hatton hit a free kick which, from the opposite end of the pitch anyway, seemed to be absolutely miles out and, although his shot was well struck, it was still a surprise to see the ball elude keeper Glyn Thompson and flash low into the net. Five minutes or so later, a linesman who, from memory, only gave one offside decision all game kept his flag down again and Craig Reid, who is being linked with a move to Coventry this month, was allowed  a clear run in on the Wimbledon goal – Reid is a very good finisher and when he coolly dinked the ball over keeper Brown, County's fourth goal seemed a formality. However, the ball bounced back off an upright and straight back into the striker's path only for him to fire wide – both chances seemed to be ones that Reid would have scored nine times out of ten.
Although they were able to create a few promising positions and force some corners, County never really threatened again after that as the visitors took control and, despite playing into the elements, piled on the pressure. As the minutes ticked by, it seemed inevitable that Wimbledon would score, but some heroic last ditch defending, some agonizing close misses and a strong penalty shout for handball which was turned down might have convinced lesser sides that it just wasn't their day. Just as the game went into it's last ten minutes though and you were beginning to think Countymight hold out for a tremendous victory, the visitors got the goal that, in all honesty, they thoroughly deserved when substitute Yussuff cut in from the left to equalise with a shot across the helpless Thompson.
That was the end of the scoring and a great game ended at 3-3. If Wimbledon had edged the game overall, then County still deserved great credit for a fine display which showed, once again, that their lofty position in the table is not a false one – 2011 will be a great year if the other games I watch over the next twelve months come close to being as enjoyable and exciting as this one was.