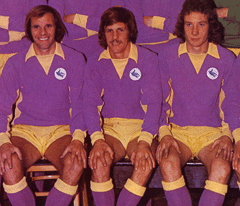 There was even something about the name Robin Friday that was out of the ordinary – if he had been called Bert Jones or something, I might not have paid too much attention to the Daily Mirror article I read about him when he was starring for Hayes in the FA Cup in 1973. Saying that though, you only had to look at the picture which accompanied the piece to realise that this was no ordinary footballer – I know he was playing in non league football at the time but come on, a Newcy Brown tee shirt and shabby track suit bottoms for your first taste of national media attention!
Hayes beat Bristol Rovers (who were a decent team back then) 1-0 in the First Round of the Cup and then faced a local derby at Reading in round 2 and after getting a 0-0 draw at the old Elm park were beaten by a lone goal in the replay. Every year the media run features on players from plucky non league clubs who have their fifteen minutes of fame during their FA Cup run and then disappear never to be seen again, but Reading boss Charlie Hurley was obviously impressed by Friday and paid Hayes £750 for his services. Friday signed initially as an amateur, but he was featuring in the first team within weeks and was soon rewarded with a professional contract.
Back in those days it was so much harder to keep track of footballer's careers than it is now, but when I began to notice the name "Friday" appearing pretty regularly as a goalscorer for Reading, I thought that it meant that they had probably signed the bloke with the Newcastle Brown tee shirt I read about months earlier. I gave it no more thought than that though until after I went to see Newport County play Reading at Somerton Park on 20 October 1975.
I often used to watch County back then and had already seen a couple of games that year as they made a strong start to the campaign which saw them lead the old Fourth Division for a while (in true County style though, they fell apart completely in the New Year finishing up two places off the bottom of the table and having to make, another, application for re-election to the Football League the following summer) and with Reading also in the top six at the time, I was hopeful of seeing a decent game that evening.
In the event, the match finished 0-0 and would have been a complete waste of time if it wasn't for the contribution of the visitor's long haired striker who I had read about a couple of years earlier. Truth be told, I had forgotten about Friday beforehand, but it was impossible to do that once the match started. Tall and wiry, Friday soon showed he had the strength, as well as the courage, to cope with the physical demands of football in the league's basement, but it was what he did with the ball which commanded attention. Although hardly looking or moving like a professional sportsman, you only needed to see the way in which the ball was brought instantly under control and never seemed more than a foot or so away from his body when he was in possession to realise that the football pitch was Robin Friday's natural habitat.

There cannot be many footballers who never played in the top flight who have a had a biography that was sold throughout the country written about them, but Robin Friday did and the "Greatest Footballer you Never Saw" records that Friday provided his colleagues with three great goalscoring opportunities in a game in which the Reading goal was barely threatened. The lack of attention given to this game in the book though suggests that I was hardly watching Robin Friday at his best and yet he impressed me that night as the most complete player I had seen in the Fourth Division before (and probably since).
Based on what I saw, Friday was way too good for that level and I was soon telling friends that I had seen a player who City should pull out all of the stops to sign – although, in reality, I doubted if it would ever happen because he was too good for us. However, perhaps City had representatives watching Friday at Somerton Park that night because the Reading Evening Post apparently reported a fortnight later that the local club "had turned down  a £60,000 bid from Cardiff City involving Welsh International Derek Shallis" (presumably they meant Derek Showers!).
Over the next few months I expected to read about some big club or another signing Friday, but there was nothing and, with hindsight, that offered a clue that there might be a few skeletons in his cupboard. Eventually, some fourteen months after I watched him at Somerton Park, Friday did get his move, but you could have knocked me down with a feather when I found out that it was to Cardiff City for a fee of just £30,000! Once again, the size of the fee should have acted as a warning – I thought I had seen a £100,000 plus rated player at Newport (that would be about the equivalent of a £2 million player in today's market), so why would Reading be selling a very popular and talented player (who was voted as Reading's Player of the Millennium ten years ago) so cheaply?
Well, what happened a few hours after that game at Newport gives some of the answer as "The Greatest Footballer You Never Saw" details another Reading Evening Post story which tells how Friday was arrested and jailed after an altercation with police as he left a club in Newport in the early hours of the following morning – in the story Friday protests his innocence and talks of defending himself against all charges, but the book doesn't say if the case actually made it to Court.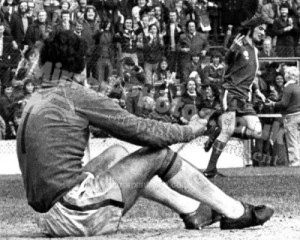 None of that bothered me too much at the time though as I went around telling anyone who'd listen that we had signed a great talent and. although I went to Friday's first game against Fulham on New Years Day 1977 nursing one of the worst hangovers of my life, nothing would have kept me away from Ninian Park that day as Friday announced himself with one of the great City debuts of the past fifty years. So, why is it then that I now remember Robin Friday's time with us with a mixture of anger and sadness?
Well, some of the anger comes from the way he has been turned into a "City legend" by supporters who are, mostly, too young to have seen him play – the romanticised version of Robin Friday's City career is nothing like the reality in my book. Although I accept that it is hard to completely divorce what Friday did in terms of playing football for us from the likes of his encounters with Bobby Moore and Mark Lawrenson and his off field antics, I have to say that he was a poor player for us.
When you take away the sending offs,the suspensions and the broken cheekbones, what did Robin Friday actually do in a Cardiff City shirt in his twenty five appearances (that's all he managed) for us? For me, there are only three games in which he played to anything like his potential – his superb debut against Fulham when he gave the great Bobby Moore a very uncomfortable afternoon in more ways than one, the game against eventual Champions Wolves when his appearance from the bench was the catalyst to a City fightback which saw them get a 2-2 draw by scoring twice in added time and the "v sign" game with Luton where he scored twice and was the best player on the pitch. For the rest of his games with us Friday was a petulant and unpredictable performer who was lucky to keep his place in the team.
I daresay those who never saw Friday play, and a fair few who did, will label me as an old fuddy duddy for being critical of a City legend, but unfulfilled talent annoys me and Robin Friday was one of the biggest unfulfilled talents of the British game in the past forty years – I really think he could have been that good. I have always liked footballers with attitude and still do, but it needs performance to go with that attitude and, although Friday's best in a City shirt was very good, it didn't happen often enough.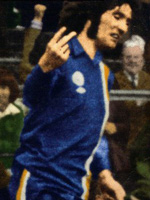 No. if the image that defined Robin Friday's career came from his days with Cardiff City, then I believe that the nearly all of the football which defined it was played at Reading. We ended up with a shell of a footballer who still had it in him to occasionally influence games at Second Division level but we didn't see enough of the player that I watched at Newport that night before all the off field madness took over completely – as far as I am concerned, Robin Friday should be recalled as he is here in a You Tube clip which contains pictures of him in action.
I mentioned remembering Friday with sadness as well and, of course, that really doesn't need much explaining. Knowing what we do now, his death at the very early age of 38 in December 1990 had a sense of inevitability to it and so all we are left with now are memories and way too few images of him playing, be that photos or video clips. It could have been so much better if Friday didn't have that self destructive streak, but would he have been the same player then – we are talking about someone who, seemingly, made other 70's hellraisers like Worthington, Bowles and Hudson look like schoolchildren after all and, if he had only half fulfilled his potential, then I don't think we would have ever seen him in a City shirt.
20 October 1975
Newport County 0 Reading 0
County; Macey; Screen, Aizelwood (Hancock), Elliott, Bell; Hooper, Godfrey, Jones, White; Parsons, Woods
Reading Death; Henderson, Barker, Youlden, Moreline; Whitham, Cumming, Dunphy, Stuckey; Hiron, Friday
HT 0-0
Att. 2,955