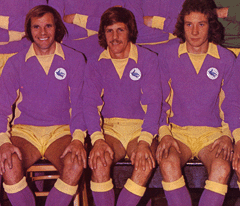 Until this morning when I looked it up, I did not know for sure what the term "Fred Karno's Army" meant – Wikipedia describes it as  "a phrase still occasionally used in the UK to refer to a chaotic group or organisation". Truth be told. I didn't really need to check that meaning because a childhood spent hearing it used quite often in our house made me pretty sure I knew it already. Whenever my father was reading or talking about or watching something shambolic, the words "it's a right Fred Karno's Army" could often be heard – I thought of him quite a bit last night as a shambolic couple of days for Welsh International football reached their climax.
There were a number of reasons as to why "Fred Karno's Army" kept on springing into my mind last night. Firstly, having settled down to watch ninety minutes of crowd shots, pictures of the managers and coaching staff in their dug outs and close ups of players nowhere near the ball at the time at the Macedonia v Wales game, I found that the Macedonian television director (at least I assume the pictures were coming from local TV – surely Sky weren't providing them) annoyingly kept on switching to the game itself for a few seconds every now and then!
The coverage had become a joke by the end of the game, but the performance of the team in the closing stages did nothing to improve my humour.  To be fair, Wales played pretty well up to a point for seventy minutes. After falling behind early on to an unlucky goal when Trickovski reacted well to fire in after a free kick, needlessly given away by David Vaughan, had rebounded into his path off the Welsh wall, Wales dominated the rest of the first half. It was typical of the way things are going in front of goal at the moment for Craig Bellamy that his free kick, which was far better struck than Ibraimi's which led to the home side's goal, rebounded off the post with the keeper having given up on it, while Naumovski was impressively quick off his line to put in a superb blocking tackle to deny Johnny Williams after he had been put through by a fine Joe Ledley pass.
The in form Aaron Ramsey was orchestrating things during this period of Welsh supremacy as we saw a pretty rare occurrence whereby a side from the British Isles looked more technically proficient than their European mainland opponents and a lovely piece of play by him on the byeline led to a penalty which he put away after being brought down by scorer Trickovski.
Level at 1-1 at the break, Wales looked well capable of going on the win the game, but I mentioned earlier that they played well "up to a point" and that point was that, for all of their superiority in other areas of the pitch, they weren't really putting together much which was threatening the home goal – Macedonia were the team who were having the better goalscoring chances. Even so, the third quarter of the match did nothing to dispel the feeling that this was a game which was there for the taking by Wales. The trio of Ramsey, Johnny Williams and Bellamy were giving us an edge in proceedings and the home side could only respond by kicking the first two named (strange how a ref who shows eight yellow cards in a game can still give the impression that he is too weak to deal with the important instances of foul play that are taking place) . I'm sure the Macedonians would have kicked Bellamy as well, but he was too quick for them to catch (I shall return to this matter lately).
So far, so good then for Wales (after all, a draw wouldn't have been too bad an outcome), but in the last twenty minutes, in true Fred Karno's Army style, they turned into a parks side – and not a very good one at that! It was incredible to see some of the things the team got up to in that last quarter of the game. For example, having won one of a number of corners they forced in the second half, virtually the whole team just stopped, assuming that the Macedonian clearance of Bellamy's flag kick was on it's way out for a Welsh throw in. Instead though, it was chased down by the home side who suddenly found themselves in a three on one attack which really should have led to them going ahead. Credit went to Ben Davies and Boaz Myhill for denying the Macedonians between them on that occasion, but the former was to put the ball out of play for no reason when Wales were in a promising attacking position shortly afterwards and the latter then hit a clearance straight to a Macedonian forward forty yards from his goal as Fred Karno Army like symptoms broke out all over the pitch for Wales.
Ten minutes earlier, I had felt the writing was very much on the wall for Macedonia, now this was true for Wales and the self destructive tendencies they had suddenly acquired proved to be their undoing when Trajkovski scored from twenty yards in the eightieth minute. It was a well struck shot which gave Myhill no chance, but the keeper had a part to play in the lead up to the goal as his short goal kick put his team under pressure. Sides who like to play out from the back often find themselves pressed by opponents with the result that each succeeding pass puts them under more pressure – instead of knocking the ball up the pitch, it was played from one white and green shirt to another with the danger of the ball being lost in a dangerous position increasing with each pass. In the end, it was Vaughan who turned over possession some thirty yards from goal – the midfield player was placed in an awkward position on a poor quality pitch, but you'd like to think that a tidy player like him would have been able to find a team mate with a pass or get the ball further up the pitch and out of immediate danger rather than lose possession as easily as he did.
Incredibly, Vaughan did the same sort of thing a bit further up the pitch about a minute later to put his team in more trouble, but it was clear that Wales had "gone" mentally by now and Macedonia held on to a record a win which they did not deserve in terms of ability, but maybe did when it you also consider attitude. To my mind, this was an occasion when the players out on the pitch (or most of them at least) have to take their share of the blame for things going wrong – they weren't told to take the sometimes ridiculous decisions they did in those last twenty minutes from the bench, it was all their own work.
In saying that, the bloke in charge on the touchline who had arrived in Macedonia later than everyone else in the Welsh squad after misplacing his passport cannot be ignored. Returning to what I said about Macedonia struggling to cope with  Bellamy's pace, it should be remembered that there are plenty of City fans who'll tell you the thirty four year old is not as quick as he used to be and so you have to think that the world's most expensive player (even a world's most expensive player lacking match fitness) would have had a field day against that Macedonian defence.
Instead Gareth Bale stayed sat on the bench for the whole game. Now, trying to be fair to Chris Coleman, we don't know as supporters just how fit Bale is – maybe in the manager's mind he was never in contention for even a few minutes off the bench late on last night? That certainly seems to be the case when you consider Coleman's post match comments – for example, ""We can't be sending back players injured because we're taking chances – it's not fair on them.". That sounds pretty categorical to me, but, according to this article, Coleman's Assistant Kit Symons (who let's face it, has seen more of Bale in training than Coleman has over the past few days!) was saying Bale was likely to play some part against Macedonia.
Also, the obvious question which arises is that if Bale is simply not fit, then why name him amongst the substitutes? Surely an announcement before the game saying that it had been decided that Bale was not ready to play yet and so he would not even be a substitute would have clarified the situation and made it less embarrassing for the manager? Instead we get mixed messages and confusion – once again, Fred Karno's Army is alive and well and living in Welsh International football!
The real lowpoint of a shambolic night came in San Marino though where Wales Under 21's were beaten 1-0 by the Under 21's of a Republic which has the smallest population of any member of the Council of Europe. Yes, San Marino with it's population of just over 30,000 beat the so called cream of Wales' Under 21 age group footballing crop last night, to follow on Geraint Williams' teams dreadful 5-1 home loss to Finland in their last match. I know blogs and messageboards are places that often see hysterical reactions to defeats, but those are simply unacceptable results and all associated with this age group team (including those who saw fit to end Brian Flynn's successful reign as Welsh youth football overlord) should be hanging their head in shame today – defeats like these should not be allowed to be just ignored and swept under the carpet by the Fred Karno's Army which runs Welsh football.