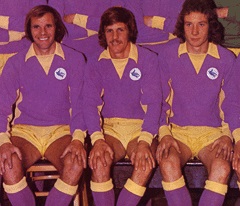 There was some, understandable, confusion when I launched the subscription list* for this blog two or three weeks ago as some readers took the use of the word "subscription" to mean that there was going to be some sort of fee needed to be paid from now on before articles could be read.
Well, if that had been the case, this would be one piece which would definitely not have been worth paying for, because it's another of those occasional ones where I don't even have the benefit of having listened to the game I'm talking about on the radio, let alone watched it.
Actually, that's not quite true – I was able to listen to Radio Wales' commentary of Cardiff City's 2-0 defeat at lowly Bolton Wanderers yesterday for the final two minutes of the game when most of the conversation seemed to be about the odd decision to replace Lee Tomlin with Liam Feeney some fifteen minutes after he himself came off the bench to replace Loic Damour (more on this a little later).
So, as normal in cases like this, I'll limit myself to a few observations about the game which may or may not have some truth or relevance to them.
The first of these is to express some bafflement as to how a team which went into yesterday's match still second in the table when it comes to shots on target this season (Bristol City have now joined Brentford in front of us after yesterday's fixtures) can look so toothless in losing to a couple of clubs in the bottom four?
Just as in the 1-0 defeat at Birmingham in October, City went to a struggling club (Bolton were beaten at home by Burton last weekend) and were beaten without even having a goal attempt on target. When you consider our good record against sides at the top  and our ability to, generally, impose ourselves against the middling teams in the league I find it extremely difficult to come up with plausible reasons as to why we should struggle so much at Birmingham and Bolton.
In our three matches leading up to yesterday we'd faced challenges at half time against opponents who were either beating us or had shaded the first forty five minutes and ended up coming out of them with seven  points – that's the sort of things promotion sides do, what they certainly don't do is lose toothlessly at teams that may well go down.
If this was to happen to other teams in a similar situation to ours, you'd wonder about an element of complacency creeping into matches like yesterday's, but everything I read, as well as what I see of them with my own two eyes, tells me that this wouldn't be the case with City's 17/18 team.
Therefore, I have to admit defeat – other than to say that trips to Bolton are a little like ones to another Lancashire side which plays in white, Preston, neither of these venues tend to be happy hunting grounds for Cardiff City.
Taking an optimistic line, I thought our defeats at Preston and Birmingham in the autumn would come to be seen as the occasions when the rest of the division "figured us out" and results would fall away from then on, but, instead, we seemed to gather strength from the setbacks and, if anything prospered – we have to again if we are to remain top two, as opposed to top six, contenders.
What is not helping us of course is the series of injuries which we had to cope with for what is beginning to seem like months. The bad news this week was that Aron Gunnarsson and Danny Ward had operations which will sideline them in the medium to long term with talk of the former possibly being back in February, but the latter facing up to three more months out.
The better news was that Kenneth Zohore came on for the final quarter of the game. Predictably, his lack of match practice meant that he made little impact, but with Frederic Gounongbe as well as Ward sidelined for the early months of 2018, the return of Zohore, and Rhys Healey, couldn't come soon enough.
Despite all of these injuries, the suspicion remains that, in a way, Lee Tomlin still hasn't really arrived at the club yet. The man who represented something like two thirds of our transfer outlay (in terms of fees paid at least) during the summer is still a bit part player at the club in many ways, with the manager openly talking about him needing to get fitter to be able to play full ninety minute games for us and he remains a very occasional starter.
After playing a leading part in the late, late fightback to get a point at Reading and then growing into the game when in from the start to become an influential figure in the win over Hull, it was back to the substitute's bench for Tomlin yesterday as he and Anthony Pilkington made way for Greg Halford and Omar Bogle, but it was what happened after he came on which is attracting comment on the messageboards.
It is very rare for a sub to be subbed and rarer still when the player concerned is, basically, an attacking one who is withdrawn after fifteen minutes when his side is losing. Our manager's explanation for what happened to Tomlin yesterday was that a couple of opposing players were trying to wind him up and it was best to get him off the pitch before he was sent off it.
All pretty believable, but I suppose it's tempting to look at Tomlin's limited impact and, to be fair, his limited chances to make an impact, and come to certain conclusions as to his relationship with our manager. However, I'll keep my powder dry on that subject for now until after the Fulham game on Boxing Day at least – will he be in the squad and, if he is, how much time will he spend on the pitch?
Yesterday marked the halfway point of our season and we have now played every team in the division once. While there is a temptation to look at the last of those twenty three games and jump to all sorts of negative conclusions about it, the fact is that we have averaged more than two points a game so far – no ifs or buts, if we get another forty seven points from our next twenty three games, we are going up automatically,
*The subscription list is just a means whereby you will receive an e-mail notification of every article appearing on this site within minutes of its publication. If you would like to be added to the list, either let me know through the feedback section on here or send a message to me at paul.evans8153@hotmail.com