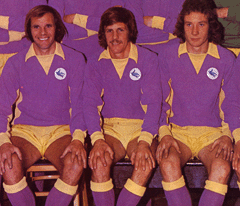 The closing months of 2004 had seen City dropping down the table after the boost they had received from the arrival of Gary O'Neil from Portsmouth on loan. O'Neil's last match was a 2-2 draw at Rotherham on 6 November and it left them in eighteenth position some four points clear of the bottom three – while we were still too near the bottom for comfort, we did have some momentum behind us and we were heading in the right direction. However, five defeats in City's next six matches meant all of the good work had been undone and, whereas Christmas 2003 had seen City in poor form, but still entertaining thoughts of a top six finish and a place in the Championship Play Offs, the festive season a year later had us one point off the bottom three in real danger of heading back to the lower divisions that had been our home for much of the previous two decades.
If one player encapsulated the decline in our fortunes from the previous season, it was captain Graham Kavanagh – whereas Kav had perhaps been playing the best football of his life in 03/04 as he regained his place in the Republic of Ireland squad with a series of fine displays which saw him finding the net regularly, the 04/05 version had been uninspired, off the pace and had found the net just the once. Kav had looked a little like his old self when he had O'Neil alongside him, but it was back to normal after that with his poor displays mirroring those of the team.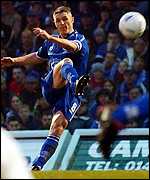 In saying that mind, Kav couldn't be criticised too much for what went wrong on the pitch during the poor run following O'Neil's departure because he was sat in the stand watching the side lose most of the time! In the first game without O'Neil, the City captain had been given a straight red card during a 2-1 defeat at Reading which led to him missing the next three matches (two of which were lost), he was back for the 2-0 home defeat by Sunderland and then saw red again as two yellow cards had him sitting out the second half as City threw away a half time lead given them by Millwall loanee Neil Harris  (more on him later!) to lose 2-1.
A 1-1 home draw with Wolves on Boxing Day and a goalless stalemate forty eight hours later at Watford in the two games our captain missed with his latest suspension steadied the ship a bit, but improved results for those below us meant that only goal difference separated us from a bottom three spot as we entered 2005. With Kav missing so many games and hardly pulling up any trees in the ones he did start, it was obvious that we needed strengthening in central midfield and the game at Vicarage Road had seen  a debut for Junichi Inamoto who had been many people's choice as Japan's stand out performer as they made it through to the last sixteen of the 2002 World Cup which they co hosted with South Korea.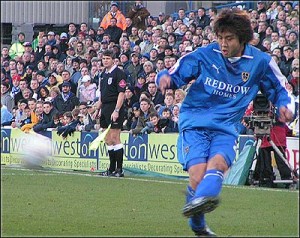 Inamoto's signing on a loan deal from West Brom which eventually lasted three months was something of a coup for the club and for a time, City crowds were boosted by a Japanese media presence and a smattering of spectators from his native country, but, although he proved to be a more than useful addition to our squad, they didn't see Inamoto at his best as continued his recovery from a broken leg received in a friendly international with England in the summer of 2004.
Inamoto and Kavanagh formed a new central midfield partnership for the New Years Day lunchtime visit to a Derby team who were destined to reach the Play Offs and City upset the form book courtesy of Peter Thorne's first half header which had the distinction of being the first goal scored in the Football League in 2005. The feeling of a new year and a new start was added to with the City squad having pre and post match hurdles which, although they often strike me as being pointless exercises, seemed to be somehow appropriate for a squad which had hardly given the impression of being a united one over the previous five months or so.
The huddles were seen again two days later as Nottingham Forest visited Ninian Park for what was already being described as a relegation six pointer. With Andy Reid and Michael Dawson (who was out injured that day) in their ranks, Forest did not lack quality, but, a dreadful away record which had seen them pick up four points, all from draws, in thirteen attempts meant that the side which were winning European Cups twenty five years earlier were in real danger of dropping into what is now League One.
The decidedly portly looking Reid was the best Forest player on the day, but that was not saying much – his second half free kick represented just about their only goal threat throughout the game as they were outplayed in all areas of the pitch. Included in the shot shy visitors' attack was Neil Harris who had, understandably, accepted the offer of a longer contract at Forest than the one and a half year deal we were offering him, but, with the crowd giving him fearful stick, it was to be an unhappy return to Cardiff for him and he was taken off at half time to be replaced by one of the million pound misfits on the bench David Johnson, while the other, that lovely person Marlon King, was introduced just past the hour mark.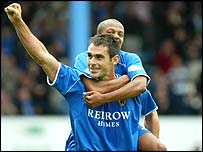 With Forest struggling to cope throughout with the pace and direct running of the emerging Cameron Jerome, City really should have been in front at the break but two bad misses by Jobi McAnuff kept it at 0-0 and, with us struggling to score home goals that season, there was a fear that our domination would count for nothing. Ten minutes into the second half though, City got the ideal opportunity to break the deadlock when Jerome was brought down by full back Thompson for an obvious penalty and, after an unseemly squabble as Richard Langley tried to grab the ball from him, Peter Thorne stepped up to take the vital spot kick. Over the coming weeks I would get used to Thorne's unique penalty taking technique which involved him running slowly up to the ball and waiting for the keeper to commit himself before rolling the ball slowly into the net in the opposite direction but as he sauntered up to the ball, I became convinced he was going to miss – oh ye of little faith! Thorne's penalty taking method took an awful lot of bottle because he risked looking a right idiot if the keeper could have kept his nerve and taken that split second longer before diving, but they never did and so I continue to rate our ex striker as one of the best penalty takers I have seen.
A one goal lead always looked to be enough against a Forest outfit who disintegrated after that. Unable to offer anything going forward, they lost their discipline and resorted to foul play as sub Loius-Jean really should have been sent off for a viscious foul on City sub Paul Parry which would keep the winger out for nearly four months. In the last five minutes though it went from bad to much, much worse for the visitors as Thorne bundled in his second after a Kavanagh corner had been helped towards goal by James Collins, centreback Hjelde was red carded for a foul on Jerome which was nowhere near as malicious as Louis-Jean's had been and then Kav went on a run from half way which he ended with a trademark drive from the edge of the penalty area which left keeper Gerrard helpless.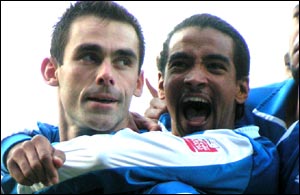 The goal was the icing on the cake for the captain after an individual  performance which strongly suggested that he had got his appetite for the game back and the reaction amongst his colleagues was telling as they all (including keeper Tony Warner) made their way to the corner of the Bob bank and Grange End to join in the celebrations where Kav was milking the applause for all that it was worth. Although they had not really had anything to beat(Forest were so poor that, after this game, I regarded them as certainties for the drop, so that, with Rotherham already tailed off, City were just trying to avoid the one relegation place), this victory felt like a corner had been turned by the team. With Inamoto offering clever and understated support to him, the rejuvenated Kav helped City to a run of results which won Lennie Lawrence the Manager of the month award for January only for the fall out from our financial woes to plunge us back into trouble a few weeks later. Kav was sold to Wigan on Black Friday as City struggled to pay their wages for February, but that money helped save us from Administration and City fans were able to give him the send off they had been denied a few weeks earlier when he returned with his new club to an ovation that was a bit more welcoming than the one Neil Harris had received a few months earlier!
3 January 2005
Cardiff City 3 (Thorne 2 (1 pen), Kavanagh) Nottingham Forest 0
City; Warner; Weston, Collins, Gabbidon, Barker; Langley, Inamoto (Parry)(Vidmar), Kavanagh, McAnuff, Thorne, Jerome (Lee); Subs (not used) Alexander, Bullock
Forest; Gerrard; Thompson (Louis-Jean), Morgan, Hjelde, Doig; Reid, Derry, Bopp, Rogers (King); Harris (Johnson), Taylor; Subs (not used) Doyle, Robertson
HT 0-0
Att. 13,545