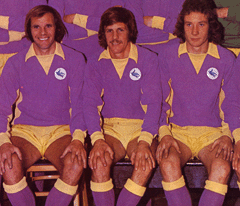 Liverpool born John Gidman was a right back who won a cap for England during a long career which saw him play for high profile clubs such as Aston Villa, Everton, Manchester United and Manchester City. Gidman played between the years of 1971 and 1989 and, as a full back who was more at home rampaging forward then he was marking a winger, he would have been well suited to playing in the modern game.
However, none of the above explains why Gidman has always been a player I remember with affection – the answer to that is solely because of what happened during a break in play during a dire Cardiff City v Aston Villa match on 23 February 1974!
Villa had a throw in on the Bob Bank side of the ground and Gidman was stood directly in front of a group of City fans of which I was one. With a player needing treatment at the time, there was a break of a minute or two in the play and most players would have just carried on facing the pitch and looking at nothing in particular as they waited for the game to restart. However, Gidman didn't do that, he turned around, looked directly at us and said in a pretty loud voice "This is bloody rubbish isn't it!".
Now, City fans were certainly not angels back in those days – six months virtually to the day after this game was played, the visit of Manchester United brought the worst crowd violence that I ever saw in a club game at Ninian Park and I had already seen enough following us to places like Swansea, Oxford, Bristol City, Swindon and Portsmouth to know that it didn't take much provocation for some of our supporters to go "steaming in".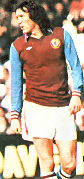 However, it was a different world really back in those days and, at the risk of sounding like an old fogey going on about how things were so much better in my day, Gidman's comment was taking in the good humour in which it was meant. Nowadays, if an opposing player tried to do something like that at the Cardiff City Stadium, he would probably get some Strongbow fuelled idiots charging down from their seats fifteen rows back to yell foul mouthed abuse in his face, but all that happened to Gidman was that someone shouted back "You're hardly helping though are you!". Gidman grinned and then asked "are games normally as bad as this here?" which was the cue for another burst of laughter from the group of about twenty people stood at the front of the Bob Bank terrace, but before anyone could reply, the referee's whistle blew and the game was under way with many City fans probably wondering why Villa's right back was getting a cheer from a small bunch of home supporters every time he touched the ball!
Gidman was right though, my memory of that game is that it was "bloody rubbish". I think his comment was directed as much at his own team as the City, but Villa didn't need to be very good to beat us that day – it took them all of about fifty seconds to score with a scrambled goal by Ray Graydon at the Grange End and, just as on Saturday, it was one of those matches where you just knew there was no way back for City after that.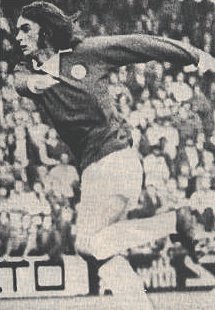 So it was that City slipped to a third consecutive defeat and supporters started to contemplate a third successive relegation battle that would go right down to the wire. This time around it was the turn of the "Villar's match" against Palace as City scraped clear at the last minute, but, really a run of four wins from seven games (only one of which was lost) around the Christmas/New Year period should have ensured that there was no need for his heroics this time around.
Unfortunately though only two wins from their last fourteen matches saw City dropping like a stone and it needed a run of five draws in our last seven matches for us to clamber clear two points and two places above Palace in the last of the relegation places. Curiously, both of those wins I mentioned came against teams managed by the Charlton brothers as Jackie's Middlesbrough, who had already sewn up the title and were probably already celebrating, were beaten 3-2 at Ninian Park while a month earlier, Bobby's Preston left pointless after a 2-0 defeat which sent them closer to the drop – no surprise therefore that this turned out to be Sir Bobby's one and only foray into management!
As for Villa, given their resources and potential, a finish of fourteenth just five points above us represented a season of under achievement on a large scale – as I mentioned before, Gidman's "bloody rubbish" comment was spot on!
23 February 1974
City 0 Aston Villa 1
City
Irwin; Dwyer, Murray, Powell, Pethard; Farrington, Villars, Carlin (Impey), Anderson; McCulloch, Reece
Villa
Cumbes; Gidman, Nicholl, Ross, Aitken; Graydon (Little), Rioch, Brown, Hamilton; Morgan, Evans
HT 0-1
Att. 12,310