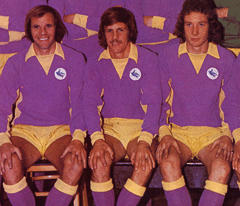 I am just a bit too young to remember Alan Durban playing for us, but I can recall him during his time with Derby and in his international appearances for Wales and his quality can be gauged by the fact that the picture of him which appears below was taken from an article from Derby's official site in which Durban was named as a member of the club's all time best eleven. I remember Durban as a skilful goal scoring midfield player who would have cost millions in today's transfer market, but as far as I am concerned what he did in his playing career is as nothing when set against the absolute disaster he was as our manager in the mid eighties – we have had plenty of poor managers down the years, but Durban still gets my vote as the worst City manager during my time supporting the club.
In saying that, it's only fair to point out that Durban was a great success at Shrewsbury in his first management post and went on to get Stoke promoted into the old First Division before doing a steady, if unspectacular, job at Sunderland where he kept them in the top flight for three seasons so he did have some pedigree as a manager when he arrived at Ninian Park in September 1984 to replace the sacked Jimmy Goodfellow. Also, like every manager at the club around that time, Durban was given very little to spend in the transfer market as, with average gates of just 4,369 during the 84/85 campaign, the priority was selling players rather than signing them.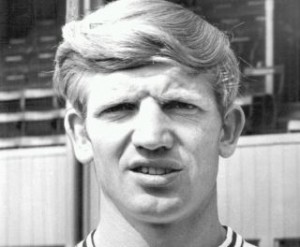 Nevertheless, Durban's judgement of a player was called into question virtually from day one when, in much the same manner as Dave Jones did to Adam Matthews recently, he singled out young full back Paul Bodin for criticism after a 3-2 defeat at Middlesbrough in his first game in charge. That signalled the beginning of the end at the club for a player who later went on to play in the top flight and become an established Welsh International as Bodin was let go for nothing at the end of the season.  At the other end of the age scale, although Phil Dwyer was no longer the player he had been, Durban's insensitive treatment of someone who certainly deserves the title "Cardiff City legend" left a sour taste as the man who still holds the club record for most league appearances at the club was told he had no future at Cardiff and so it was that someone who should have epitomised the "one club man" saw out his playing days at Rochdale.
When Durban was given money to spend, he blew £20,000 (which was certainly not chicken feed by the standards of the club at that time) on beanpole striker Graham Withey whose impact was negligible. To be fair to Withey and the other players at the club at the time, they were never given the chance to bed into any kind of system or tactics because, as the defeats mounted up and relegation became a probability rather than a possibility, Durban seemed to change tack on almost a weekly basis – there was no sense of continuity as the manager's desperation increased.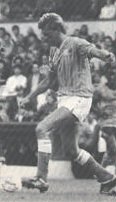 Looking back, the "team of none of the talents" label I gave the 1984/85 side is a little harsh because they did have some decent players like Roger Gibbins, David Tong and Nigel Vaughan (who, somehow, managed to score fifteen league goals that year). Jimmy Mullen was also still a pretty solid defender at that level and, although he never really showed such quality at Cardiff, Mike Ford went on to have a ten year career at Oxford United mostly spent in the top two divisions. Therefore, although relegation was considered an inevitability by most fans from early in the season, a run of three fixtures against sides with little or nothing to play for going into the last month of the campaign represented an opportunity for bottom of the table City to show that they did have it them to survive.
Vaughan's goal was enough to see off Carlisle at Brunton Park and three days later City entertained a Barnsley side whose surprise promotion challenge of the early months of the season had floundered on the back of a run of just five wins in twenty games. Former City skipper Billy Ronson was missing from the Barnsley team that evening, but our top scorer from the previous season Gordon Owen was included in a visiting side that also featured the Futcher twins Paul and Ron. However, once Ford had put City ahead early on, they encountered little opposition against opponents who gave the impression that they were counting down the days until the end of the season. Vaughan scored either side of half time with a couple of typical goals which saw him not picked up by defenders after making a late run into the box in much the same way as Alan Durban did so often in his playing days and City were able to keep hoping that they might pull off a miracle escape.
The following weekend Vaughan got two more as Huddersfield were despatched 3-0 at Ninian  Park (the willing, but very limited, Kevin Meacock got the other one) and, all of a sudden, City found themselves with a couple of teams below them and just a single point behind Middlesbrough with three matches left to play. An away match against a Birmingham side just about to have their promotion conformed was always likely to prove to be a step too far for a newly confident City team, but at least Middlesbrough's defeat at Palace meant that their 2-0 loss wasn't as serious as it could have been. However, two days later, on May Day Bank Holiday, City were as good as down when their third consecutive home game finished with a 3-0 scoreline but this time it was the visitors who enjoyed the comfortable win as Palace did Middlesbrough a favour by winning at a canter on an afternoon when all of the team's failings were laid bare.
Middlesbrough's draw with Birmingham meant it was win or bust for City at Wimbledon in their last match but there was an added complication because Notts County had picked up ten points in four matches to climb above us and Boro so we had to rely on two sides losing for what happened in our game to become relevant. In the event, a 2-0 half time lead for Middlesbrough at Shrewsbury meant that our 1-0 advantage at Plough Lane counted for little and our relegation was confirmed as Boro held on to their lead and Wimbledon scored twice after the break. It was Notts County who accompanied us into the Third Division after their 1-0 loss at Fulham and so what was, comfortably, the worst City team I had seen until then therefore got exactly what it and their manager deserved.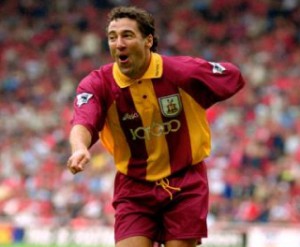 Finally, it's worth noting that City's unused sub that evening against Barnsley was a certain Dean Saunders who was on loan to us from Swansea at the time with the jacks, apparently, only wanting a small fee from us to make his transfer a permanent one. Now, the fact that Saunders couldn't make the starting eleven in such a poor City side is evidence that he hardly showed the sort of form for us which would later attract the likes of Liverpool and Villa while he was here, but again, the manager's judgement of a player has to be called into question. As for the disaster that was Alan Durban, if we thought 84/85 was bad, we had not seen anything yet! The following season he master minded another relegation as we dropped into the Fourth Division for the first time in our history with City fans getting used to watching the likes of Chris Marustik, Carlton Leonard, Wayne Curtis, Phil Brignull and Wilf Foley turn out in the blue shirt – I've probably seen worse City teams than that one since then, but I've still not seen a worse manager.
23 April 1985
Cardiff City 3 Barnsley 0
City Plumley; King, Ford (1), Gibbins, Bodin; Elsey, Tong, Vaughan (2), Hamilton; Withey, Meacock; sub (not used) Saunders
Barnsley Baker; Joyce, May, Futcher P, Law; Owen, Goodison, Thomas, Gray; Wylde, Plummer (Futcher R)
HT 2-0
Att. 3,044