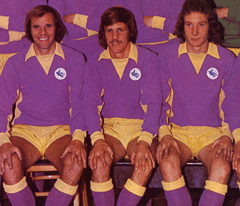 Scott Malone's seventh minute cross is misdirected by a foot or two or Kenwyne Jones doesn't quite get the right contact on his header and City don't score the goal that gave them the lead at Hillsborough against Sheffield Wednesday for more than an hour before having to eventually settle for the 1-1 draw that ended a run of four consecutive defeats. Those are the sort of fine margins that mean that the wolf has been kept from Russell Slade and his teams's door for a few days at least.
Without Jones' goal, from one of only two on target efforts by City, yesterday's match would have panned out like so many others in the horror run that has seen us win just one league match in our last ten. There was the usual inability to maintain a decent level of performance for anything like the whole ninety minutes as a opening half that might not be able to be described as dominant, but relatively untroubled would do, was followed up with a second spell thats tone was set in it's first fifteen seconds as the home side hit the woodwork.
City were able to show what I suppose has to be seen as one of the few strengths this team has in that second half as they, yet again, absorbed an awful lot of pressure to emerge relatively unscathed – Hillsborough, can thus be added to Ewood Park, Craven Cottage, whatever Pride Park is called these days, the AMEX Stadium and the Valley in the list of grounds where we have got away with a draw despite having to come through spells where we were completely overrun in the middle of the park.
The last ten words of the previous sentence in many ways say all you need to know about Cardiff City during 2014/15. It appears that no matter who the manager picks (and four of them have had a go at it now!), no matter what formation he uses and no matter who he signs, we just cannot get enough possession of the ball to ever get into a position where it feels like we are in control of the game – twenty nine matches played now and I can only think of maybe three (the home encounters with Huddersfield, Ipswich and Forest) where I have felt confident we were going to win going into the final ten minutes – in the last of them, a late goal for our opponents meant we were clinging on desperately to the three points at the end.
In his early days at the club, our manager talked about stability and the need to build partnerships. With another change of formation yesterday, that seems an awful long way time ago now, but there is some evidence, hardly compelling mind, to suggest that we might have home and away formations these days. Recent home matches have often seen us use a 4-2-3-1 system whereby a striker is supported by two wingers and a number 10, but yesterday there was a return to the 4-4-2 with a midfield diamond that was used at Norwich and Middlesbrough.
If 4-2-3-1 offers attacking width aplenty, the same cannot be said of our "away" formation especially when it was Craig Noone (who was the subject of a bid from Norwich on transfer deadline day) and Kadeem Harris who made way for newcomers Eoin Doyle and Conor McAleny – I'm showing my age here but my first reaction when hearing the team for yesterday was to think of the name given to describe England's 1966 World Cup winning team, the wingless wonders.
As it turned out, the two new boys were among our better players, Doyle missing a good chance to mark his debut with a goal, but doing well overall with his industry and movement, while McAleny played a leading part in the creation of the goal and, judging by Russell Slade's post match comments has already impressed the manager with his quick feet. From the very little I've seen of McAleny, I'm hoping that he is the natural number 10 we've lacked so far this season as all the others who have had a go at playing there have done is prove that it's not a position they are at home in – now, all we need is a natural in the sitting midfielder/Makelele role and we might be getting somewhere!
One of the other things Doyle and McAleny seem to have added is a bit more attacking pace – something that was desperately required with the decision to leave out our two quickest forward thinking players. This should have offered the opportunity to hit Wednesday with effective counter attacks as the home side chased an equaliser and that's why it was so disappointing to hear the manager talk about us not having the composure required to exploit such opportunities when they arose.
This brings me back to what I'm pretty sure is going to be my overriding feeling about this squad when I recall it in the future – just how poor it is when you consider how much it cost to put together and to pay in wages. Russell Slade had taken to saying, very often, in his media appearances that we are in a period of transition – this is an approach often used by under fire managers in a bid to deflect attention away from poor results and performances, but, to be fair, it's also true this time.
However, it's felt like we were in team going through a transitional phase for about eighteen months now as players arrive and depart at a bewildering rate and one of the downsides of this is that those who have been here all along can be either ignored or pushed to the back of the queue. I'm thinking here in particular of Matt Connolly, a player who I still maintain should have been a regular starter this season. Granted, he's not been at his best lately (but who has?) and giving away a slightly dodgy penalty within minutes of coming on for the injured Lee Peltier isn't going to help his cause, but this is a player whose recent career path has seen him fighting and winning promotion battles for Championship clubs and yet he's now, at an age when he should be approaching the best years of his career, reduced to being a bit part player in a team being sucked towards the relegation zone.
This constant shuffling of the pack in the apparent belief that every one who is at another team has to be better than what we have got here already is a sure fire sign of a club lacking an identity or coherent plan – I daresay all of these recent "periods of transition" were entered into with a clear aim in mind, but then everything soon gets ripped up as it's decided we have to start all over again.
Although he will be staying at the club in an advisory capacity, yesterday's game gave Wednesday fans the opportunity to say goodbye to owner and Chairman Milan Mandaric following the takeover by a Thai based consortium in the last week and it was interesting to hear what manager Stuart Gray had to say on the matter in his post match press conference;-
"When you've heard the chairman speaking, he's handing it over to proper football people who want to get into the Premier League, like I do and the players do."
As a Cardiff fan, I read those words I've highlighted and think "if only, if only" – it's not the sole cause of all that has gone wrong in the last season and a half, but I strongly believe that the outlook would be a lot healthier for the club if our owner overcame his apparent mistrust of "proper football people" and got at least one of them in to act as a conduit between dug out and Boardroom.
* pictures courtesy of http://www.walesonline.co.uk/