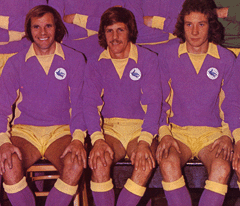 Last season there were plenty of matches where the Development team, featuring a fair smattering of over age players, steamrollered sides at Cardiff City Stadium as they won all but one of their home matches during the regular league season, but this time around, while they still enjoy a 100% home winning record, it's much tougher for them. Last night's somewhat lucky 2-1 victory over Crystal Palace which put them three points clear at the top of the table was a case in point – where home matches tended to be won by three and four goal margins, only one of the league games so far this season have been won by more than a single goal margin.
As for reasons why this should be, I'd say there are two main ones. Firstly, there is more demand from other clubs for our players on loan now and, secondly, we seem less inclined to use over age players than we were before. In a way, the first circumstance leads to the second one – for example, Filip Kiss, nowhere near our first team, but a very influential member of the Development team last season, is away on loan, but he had missed matches for the Under 21's before he went to Ross County. Of course, some of those who have been loaned out are now back at the club – Deji Oshilaja started after his successful spell at Newport and I would guess that Kadeem Harris, who was so impressive at this level this season before he went off to Brentford, would have featured as well if he had not been out with a hamstring injury which will probably rule him out for another month or so, but, somewhat surprisingly, Joe Mason did not figure and Ben Nugent was only an unused sub.
So, apart from goalkeeper Joe Lewis, it was a team without any over age players which faced up to a Palace team that included Lewis Price, Pat McCarthy, Jose Campana and Aaron Wilbraham – it is to the youngsters great credit therefore that, although they were never at their fluent best, they were able to chisel out a win after falling behind early on.
The start City made to the game was misleading in many ways – within seconds of the kick off they put together a lovely passing movement which ended with Palace relieved to concede  a corner after City had strung together something like ten or twelve passes with Tommy O'Sullivan prominent. However, that was as good as it got for the home team in terms of the pass and move football which Kevin Cooper likes his side to play – what followed was often disjointed with the ball surrendered very cheaply on plenty of occasions.
Palace weren't much better in that regard mind, but, buoyed by scoring so quickly, they certainly had the better of the first half. That goal arrived in just six minutes when, despite having more than one opportunity to clear, City's failure to deal with a free kick was punished when Sullay Kaikai was allowed space and time to fire past a helpless Lewis from  about ten yards out. The visitors really should have doubled the lead within two minutes as a lovely cross from the left saw an unmarked Gus Sow rise to head goalwards from no more than six yards only for Lewis to make a brilliant block – it was not the last time the keeper would come to his teams rescue, but he really shouldn't have been given the opportunity to make the save.
Although goalmouth action tended to be at a premium in the first forty five minutes, it was Palace who provided what little there was. Their sub Ibra Sekajja had a free run in on goal after the otherwise impressive Oshilaja stood appealing for an offside flag which didn't come, but Lewis blocked the forward's shot and the keeper also did well to deny the visitors from another close range effort – all City had to offer in reply was a shot from Andreas Cornelius from the edge of the penalty area which curled not too far wide and a couple of long range efforts by O'Sullivan with the first comfortably saved by Price after his miskick went to the City midfielder and the second flying some way wide.
To be honest, it was a little like watching the first team this season as ten minutes chunks of the game flew past with not even the slightest suggestion of a goal coming – in fact, I honestly doubt it if leading scorer Rhys Healey touched the ball more than five times in the first half. At this level though Healey has become a real goal poacher this season and within seconds of the restart he received the ball to feet about fifteen yards out, turned his marker and fired an angled shot beyond Price and into the corner of the net. It wasn't a spectacular goal, but it was so impressive in it's economy of movement and efficiency of the finish. Indeed, given he was there watching it, I found it hard not to make a comparison with our manager – it was a goal Ole Gunnar Solskjær would have been pleased to score.
For a while after that, City threatened to get on top, but they still couldn't find the precision to their passing to convert promising looking situations into genuine threats to Price's goal. With Healey now more of a feature in the game, there was always the hope that he could create something out of nothing again, but his instant shot from the corner of the penalty area flew not far wide and another angled effort from him was deflected over for a corner. In truth, although City were more in the game now, it was still Palace who looked the livelier going forward and Lewis was still unquestionably the busier keeper.
The last ten minutes of the match saw a complete change in the balance of the game though. Whatever the cause of it was, City now looked unquestionably the stronger outfit and they began to make considerable inroads down the left hand side of the visitors defence – the first example of this came when Jaye Bowen put over a superb cross which just begged to be headed in at the far post. Up to this moment, the much maligned Andres Cornelius' performance had mirrored so many of his team mates in that there had been some good moments and some pretty poor ones, but this was the sort of chance which, surely, he had been bought to the club to bury – instead he headed wastefully over and his frustration at the miss was plain to see afterwards.
I read on a messageboard overnight that our new manager believes Cornelius is overweight and lacking in fitness, maybe that explains the decision to play him for the full ninety minutes last night, but I thought he lasted the game pretty well physically and, to be fair to him, he showed a degree of mental strength as he continued to get into areas where he might miss as badly again as he had done a few minutes earlier. This showed when right back Luke Coulson got to the bye line and sent over a great low cross to the far post, this time Cornelius touched it goalwards from a more difficult opportunityand it looked for all the world as if he had scored until Price clawed the ball out just as it was crossing the line.
Nearly all of the play was heading towards the Palace goal now, but they were still able to break dangerously and Lewis again impressed with a fine double save from Reise Allassani and then from Wilbraham's follow up. It looked like the match would end in the draw which probably would have been a fair outcome overall as the match went into three minutes of added time and about two of them had gone when Theo Wharton (such a good performer at this level) beat his man to become the latest City player to get in down the right wing – this time, the cross was low to the near post and Cornelius' finish found the net via the underside of the crossbar to win the game.
Had Cornelius looked like an £7.5 million player in the game? No. Had his finishing been good? Not really – his striking partner had been the one to take the eye in that department. Had his all round game been good? There were one or two impressive things, but, even at this level, he looked raw at times. However, thinking about that saying "mighty oaks from little acorns grow", something good finally happened for a young kid whose time at Cardiff has been a bit of a nightmare so far – I sincerely hope, for both the club and his sakes, that Cornelius can begin to move forward at Cardiff after this, very small, step in the right direction.